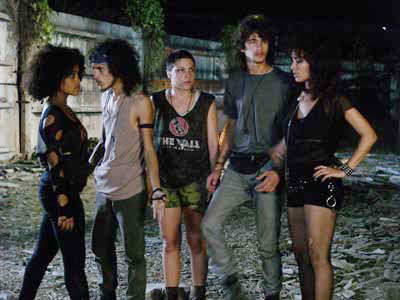 LOS ANGELES – The 15th annual Los Angeles Latino International Film Festival is taking place in Hollywood from July 17 – 25, and the Hispanic-oriented film fete is screening a number of Cuban features and documentaries this year. They include: The nonfiction works Los 100 Sones Cubanos (100 Cuban Songs); the nonfiction, hip-hop themed Revolution about El Band Aldo, which, according to LALIFF, is censored in Cuba; the surfing doc Havana Surf; the animated feature with music Chico & Rita; and those who missed June screenings at the Los Angeles Film Festival of the Boleto a Paraiso (Ticket to Paradise) have another opportunity to buy a ticket to this extraordinary feature at 5:15 p.m. on July 21.
Director/co-writer Gerardo Chijona's unforgettable, riveting Ticket to Paradise helps to redefine so-called "socialist realism," which, under the Stalinists, was often neither "socialist" nor "realist," but frequently propagandistic in the crudest sense. However, as the earlier festival's artistic director David Ansen noted at a screening of Ticket to Paradise, "People under the illusion that Cuba only makes terribly self-flattering movies have to see this film." Instead of brawny proletarians and peasants riding shiny tractors in a workers' paradise, viewers of the ironically named Paradise will see images of AIDS, prostitution, drug use, suicide, sexual abuse/ incest, crime, homosexuality, graphic nudity, sex acts, homelessness, dumpster diving, alienated youth, underground heavy metal concerts, Cuba's counterculture, etc.
The feature is set during the 1990s' so-called "Special Period," after the collapse of the Soviet Union. Although Cuba lost its greatest economic supporters, Havana's USSR and Comecon East Bloc allies, the socialist David still had to contend with that Yanquí Goliath only 90 miles away. During a Q&A after the LAFF screening, Paradise's cinematographer Raul Perez Ureta put it this way: "One fine day the Soviet Union was gone but Cuba was still in conflict with the U.S. There was no electricity, no food, no nothing" – except, perhaps, the economic embargo Washington had imposed on Havana half a century ago and perpetuates to this day. Ureta added that this was "euphemistically called the 'Special Period' of social problems." These harsh hardships and shortages that befell the Caribbean island (which, a proud Cuban interviewee asserts in the documentary about Cuban art schools, Unfinished Space, only the people of Cuba could have survived) led to widespread disaffection among the children of the revolution, something akin, at least in part, to a lost generation, as Paradise reveals.
A Spanish-Cuban co-production made with the participation of the official ICAIC (Instituto Cubano del Arte y la Industria Cinematográficos), Paradise is far more hard hitting than any Hollywood, theatrically released feature dealing with AIDS, teen sexuality, et al, I can think of, including 2003's powerful Thirteen, starring Holly Hunter as a beleaguered mom of a teen gone wild. (The 1994 New Zealand Maori masterpiece Once Were Warriors also comes to mind.) Ureta stated: "After the film premiered, it was very much discussed and did very well with distribution and the press. The health and education ministries requested discussing the film with students."
According to Ureta, AIDS was introduced to Cuba "by nascent tourism; many young women turned to prostitution," as well as by Cuban veterans of the anti-apartheid war fought in Angola. The cinematographer went on to say that "special hospitals were created" by the Cuban government to care for AIDS patients, where they "received special treatment." However, Ureta admitted that the government practiced severe measures during the onset of the AIDs epidemic, in a misguided effort to contain the plague and protect the rest of the population from infection. The patients "couldn't leave the hospitals and were like prisoners. There was great political discussion and this error was corrected, and the hospitals opened their doors."
Ureta also commented on Cuba's earlier harsh anti-gay policies: "There was a very chauvinist attitude against homosexuality, gays were put into barns. We've advanced and gone beyond that, and made things like the hospitals with free care."
If there is a propagandistic element to the frank Ticket to Paradise, it could be in the depiction of these excellent medical facilities, with their motivated, benevolent doctors and nurses, which reminded me of the New Deal camp the Joad family visited in the 1940 John Ford classic The Grapes of Wrath. Even during the severe deprivations during the depths of the Special Period, revolutionary Cubans somehow provided free healthcare for the least of those amongst them – something bourgeois America has yet to do. (The feature also does not show Cuban security forces practicing brutality when rock concerts are broken up, prostitutes arrested, etc.)
The ensemble cast delivers powerhouse performances, notably Miriel Cejas as Eunice, the runaway teen sexually molested by her father, and her longhaired boyfriend Alejandro (Hector Medina). Chijona deftly directs them and has created a searing cinematic work reminiscent and in the best tradition of the self-critical trend of Cuban cinema, as exemplified by Tomas Gutierrez Alea's 1968 classic, Memories of Underdevelopment. Like his motion picture predecessor, Chijona has made a most memorable movie, one that further develops, refines and redefines socialist realism.
Hopefully, the senseless 50-year-old blockade and embargo of Cuba will end soon – so, among many other reasons, American moviegoers can have the right to buy tickets to see more great films, like Ticket to Paradise.
For LALIFF information see: http://latinofilm.org/; (323)446-2770.
Photo via Los Angeles Film Festival.