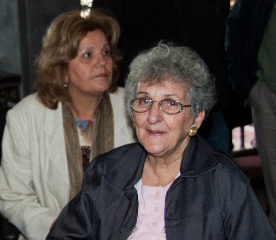 HAVANA, Cuba — Not only Americans, but people all over the world, remember their reaction of horror on Sept. 11, 2001, when terrorists attacked the World Trade Center and thousands of innocent lives were stolen.
A Cuban mother, Irma Sehwerert, remembers thinking, "If five heroes could have done something to prevent this tragedy, wouldn't it be applauded as a great act?"
Ironically, Irma's son, 53-year-old Rene Gonzalez, is serving a 15-year sentence in U.S. prison, even though, according to his mom, the activities which led to his conviction were precisely to prevent such terrorist acts and loss of life in his homeland.
The actual charge against Rene – "failing to register as an agent of a foreign government" – sounds almost administrative. But what he did took a lot of guts. In the Cuban-mob dominated city of Miami he tried to find out in advance about terrorist activities being planned by terrorist groups in Miami.
In an interview at the House of Friendship here in Havana's Vedado neighborhood, Irma explains, "If the American people really knew what was going on, what we in Cuba have had to put up with, they'd understand."
Irma remembers like yesterday the day in October 1976, when the news flashed through the Havana office where she worked, that a Cubana Airlines flight had been bombed.
"There was a big uproar," she relates. "My co-worker came to my desk and told me what she had heard on the radio. All work stopped as we learned the details. Seventy-one passengers, and no survivors!"
The dead included Cuba's entire youth fencing team – just a bunch of teenagers bubbling with pride and enthusiasm as they returned home triumphantly from their successful participation in the Pan American Games. Irma especially remembers hearing that the team's coach, a young woman who was pregnant, was among those lives lost.
"It was one of the saddest days of my life," she recalls.
The flight had been bombed by one of several Florida-based anti-Cuba groups. The bomb was placed in the aircraft's bathroom while on a stopover at Jamaica's Kingston airport.
Irma recounts the response of the nation. "I waited in line 11 hours to pay my respects to the families. Everyone from my office went together." Irma's teenage son Rene Gonzalez was among those in line too – he went with his classmates.
We are indignant, Irma says, that the assassins who carried out the bombing are still walking around free in Miami. Orlando Bosch and Luis Posada Carriles are leaders of that terrorist movement. Both have admitted, and even bragged about, their roles in the bombing. Irma, like other Cubans, is not only indignant, she's concerned about the future.
Irma takes a breath and then offers a detailed list of terrorist acts planned and carried out from Miami. The danger is not limited to bombs, she explains. She mentions the 1981 outbreak of hemorrhagic dengue fever, a deadly form of that virus which is especially fatal to children under one year of age. The outbreak was traced to biological warfare. The epidemic resulted in deaths of 101 children and babies, Irma noted sadly. [Reporter's note: Are claims of biological warfare far-fetched? Where's the evidence? After the interview I googled "1981 Cuba dengue epidemic" and found a New York Times report that Eduardo Arocena, head of Omega Seven, an anti-Cuba terrorist group "testified that he had visited Cuba in 1980 in connection with a mission to introduce 'some germs' into the country."]
Irma continues her list: A swine virus that attacked the island's main meat supplies, pork livestock. Then with a shudder she recalls the details of the sabotage of a day care center in May 1980. Disaster was narrowly averted, she says. "It was a miracle." Over five hundred children were rescued by firemen, police, neighbors and students from a nearby high school.
The list goes on – the death of an Italian tourist in a hotel bombing, bombings of sugar processing plants. Total casualties number in the thousands, she says.
"So," Irma repeats, "I would ask the people of the U.S. – if there were five men who could have acted to prevent the tragedy of the Twin Towers, wouldn't you consider them heroes? That's what the Five are – heroes."
Irma has a special feeling for the people of the United States: most of her mother's family lives in the U.S., and she and her husband Cándido René González spent the first few years of their married life in Chicago. It was there that their two sons, Rene and Roberto, were born. Irma still remembers the address of their little apartment on North Ashland Avenue. Their life was typical of working class families in the 1950s. Irma had a factory job at a greeting card printing company. She recounts how she lost that job when she and all her co-workers were fired for trying to organize a union. The young family moved to East Chicago, Ind., when Candido got a job at Inland Steel. He hadn't been working there long when he took part in the largest strike in U.S. history. Along with half a million other steelworkers, Candido walked the picket line for 116 days in 1959 in the struggle to protect the union contract from job cuts. To make ends meet during the strike, Irma worked in a tomato cannery and then took another factory job, this time on an assembly line painting the outside of toothpaste tubes, she says with a smile. The speed-up made it "the hardest job I had in my life," she still remembers.
The young immigrant family returned to Cuba in 1961, after the triumph of the Cuban revolution. "So much bad had happened in Cuba under the Batista dictatorship. Over 20,000 young Cubans had been killed by the dictatorship. We thought for sure the U.S. would help us. When we were disappointed to see that didn't happen, we returned to help build our country."
Rene and Roberto went to school in Cuba. The two boys were very close, says Irma. Rene, the older brother, was a good-hearted and responsible child. "If the boys misbehaved and I punished them, Roberto could forget about it and go to bed fine. But Rene needed to know that he was forgiven before he could rest."
Even as a child he couldn't stand injustice, his mother continued. Little kids can be so mean, she said, and in their neighborhood there was a mentally handicapped child who was constantly being teased. "One day Rene came home dirty from head to toe. What happened?" I asked. It turned out that Rene had gotten into a fight with one of the big kids who was instigating the bullying.
It's not hard to get Irma to talk about her sons. They were still quite young when the island was devastated by Hurricane Flora in 1963. Their grandmother in the States sent the family a huge box of clothes. "I asked them, why don't we just send the whole box, without even opening it, to some children who lost everything? Without hesitation, they both agreed."
Like every other Cuban, Rene is a "beisball" fan. His team is the city of Santa Clara's "Villa Clara," Irma reports. He also likes running and swimming, his mom says. But most of all he likes reading. Even in prison, he is studying via correspondence course for a degree in economics with a professor at the University of Havana. "He gets A's in everything," the proud mom reports with a smile.
Rene and his wife, Olga Salanueva, have two daughters, Irma and Ivette. Ivette was just a few months old when her dad was arrested. She's now eight but has been separated from him her whole life. Her older sister, Irma, has completed her degree in psychology, reports the grandmother.
Cubans and people all over the world are outraged that Olga has been barred from seeing her husband for the entire decade since his arrest. The U.S. has refused to grant her a visa to visit him. This is particularly sinister as far as Irma is concerned. After Rene's arrest, great pressure was put on him to plead guilty. He was put in solitary confinement, and then his wife was taken into custody for three months. The young family was torn apart as relatives scrambled to care for the two young children. As the wife of Rene, a U.S. citizen, Olga originally came to the U.S. on a U.S. government-issued passport. She has never been charged with any immigration violations. The State Department has refused to answer questions as to why her visa applications have been repeatedly denied, in apparent violation of established international human rights norms.
Irma is just as concerned with the other four young Cubans serving even longer sentences for the same heroic actions. The families of the Five are like a big family, she says, even though we didn't even know each other existed before this.
To her, the five men are true heroes. "These are young people who undertook this work on their own accord," she said. "No one made them. They are all educated, university graduates. They left their wives and children to make sure people didn't keep attacking Cuba."
The other four imprisoned anti-terrorist heroes are Gerardo Hernández, Ramón Labañino, Antonio Guerrero and Fernando González. Gerardo's wife, Adriana Perez, has also been denied a visa, and has not seen her husband in over 10 years.
Irma feels that if the American people knew the facts of the case they would demand justice for her son and his fellow defendants.
"I know the American people are good-hearted and fair-minded," she says, "and if they knew what was going on they would call them heroes too."
Photo: Irma Sehwerert, mother of Rene Gonzalez, (sitting) with her friend, Marianna at Havana's House of Friendship. Scott Marshall/PW.