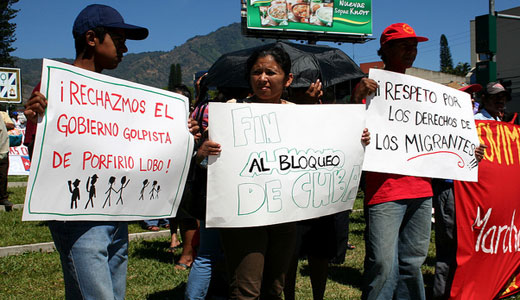 Hurricane Sandy ravaged eastern Cuba on October 25 and humanitarian aid was soon on the way from throughout Cuba and from Venezuela, Russia, and Bolivia. U.S. activists called for easing the U.S. blockade against Cuba so U.S. construction material could arrive. Cuban observer Iroel Sánchez had another idea: "The best humanitarian aid Cuba could receive – the equivalent of billions of tons – would be to end the blockade."
The United Nations General Assembly takes that notion up on November 13 when for the 21st consecutive year it votes on a Cuban sponsored resolution calling for the blockade's demise. Last year the U.S. and Israel were the only dissenters to the same resolution out of 186 voting nations.
In preparation, the Cuban Foreign ministry has supplied the UN with a report on workings, effects, and history of the blockade, a core piece of U.S. Cuban policy. This comprehensive and detailed report accessible on the Ministry's website examines blockade operations and impact in their totality and thus provides an alternative to sporadic media reports on particular instances of blockade related suffering and shortages. The current 14,000-word document focuses heavily on new developments cropping up during the year ending on April 30, 2012.
The report begins by citing a statement in June from Adam Szubin, Treasury Department official in charge of sanctions, as signifying continued U.S. dedication, after half a century, to enforcing the blockade. Announcing a record $619 million fine imposed on a Netherlands bank for handling dollars claimed by Cuba, Szubin asserted that sanctions do reflect U. S. national security and foreign policy interests, and that OFAC (the Treasury enforcement division) "pursues them exhaustively."
The introductory segment notes that, "Policies of economic asphyxiation … haven't let up for even an instant [since 1959]. Successive U.S. governments are obsessed with destroying the political, social, and economic system chosen by the Cuban people in exercise of rights of self determination and sovereignty." Not only are U.S. policies genocidal, but also, "The anti- Cuban blockade continues as the most unjust, all-encompassing, severe and prolonged system of unilateral sanctions ever applied against any country in the world."
Multiple illustrations are offered of how Cuba is prevented from exporting and importing to and from the United States and denied access to goods U.S. affiliated companies produce in third countries. Cuba is prohibited from using U.S. dollars in international financial transactions. U.S. banks, their affiliates abroad, and U.S. controlled institutions like the World Bank, International Monetary Fund, and the Inter-American Development Bank refuse to consider loans. In the process of monitoring foreign banks, OFAC has frozen $245 million in Cuban assets.
The report reviews new U.S. laws and regulations pertaining to the blockade and applauds U.S. and worldwide opposition. It reviews adverse effects on health care, food supply, export industries, foreign investment in Cuba, and Cuban patents. "Extra-territorial" enforcement actions and interference with international aid to Cuba are discussed. Interference with educational and cultural interchanges is routine, as are restrictions placed on foreign-based technologies essential to Cuba's construction, information technology, communications, and tourism industries.
Monetary losses associated with particular categories of blockade enforcement are recorded. Expressed in dollars, they reach into the millions. Thus, "Between April, 2011 and March, 2012, the construction industry was deprived of $1.027 million with the result that up to 2000 houses weren't built, or some 14 thousand weren't maintained, or nine thousand weren't repaired." In all, losses over 50 years amount to 108 billion dollars, or as expressed in terms of a depreciating dollar, one trillion 66 billion dollars. The U.S. blockade is "the principal obstacle to economic and social development of the island," the report claims.
This kind of blockade resembles real war in the suffering caused by both and often in their common goals. The U.S. government infuses its blockade policy with the language of war. Presidential re-authorizations of the blockade, for example, invoke the 1917 Trading with the Enemy Act, and Cuba periodically is designated a "terrorist" nation. An Eisenhower official in 1959 called for measures leaving Cuba with shortages and suffering in order to overthrow the government there. Preparations for invading Cuba's Bay of Pigs would shortly follow.
So the U.S. is mobilized for grim conflict, while Cuba would and does work in peace. The contrast, for example, is striking between the U.S. facility once known as the School of the Americas where, according to critics, the U.S. Army trains assassins and human rights abusers and Cuba's Latin American School of Medicine where students from forty countries receive medical training."
In other words, the U.S. blockades an island neighbor while, at the same time, Cuba was enabling Juan Carlos Reinao Merilao, an indigenous inhabitant of Chile, not only to serve as a physician, but also, indirectly, to become major of Araucanía municipality.
Photo: Protesters demand an end to the blockade against Cuba. laurizza/Flickr