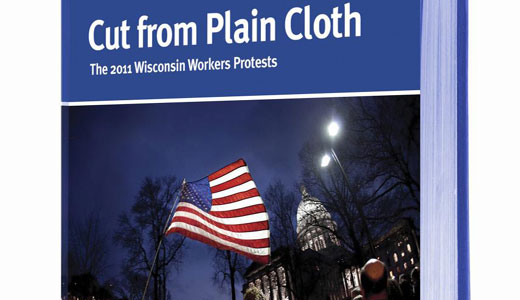 In 2011, TIME magazine named "The Protestor" as 'Person of the Year.' One of the protests that made headlines and captured imaginations around the world that year was the fight against Gov. Scott Walker of Wisconsin.
The images of these protests have now been preserved in the coffee table-style book – 'Cut from plain cloth, the 2011 Wisconsin Worker Protests'. The author is Dennis Weidemann, the son of a toolmaker. The book he has compiled walks us through the life, culture, and spirit of the rallies that made news around the world.
The photographs that adorn the volume are as remarkable and diverse as the demonstration participants themselves. In addition to himself, Wiedemann employs the talents of a number of photographers to capture such images as children on the shoulders of their parents, college youths engaging in their first protest, and gray bearded veterans of a lifetime struggle, trooping out once more to defend the working class.
The photos are both stark black & white, illustrating the silhouettes of protesters in the dim streetlights surrounding the capitol, and colorful, showing people in their multicolored winter wool hats adorned with protest buttons. Also colorful, and clearly visible, on buttons, held aloft, and embroidered on patches, is the red-white-and-blue of the American flag. The lenses of the photographers do not fail to document the diversity of the faces – black, white, brown, native, and Asian, all in unity against the attack on worker's rights.
In addition to the preface and the introduction, the 161 page book is divided into 19 sections, with such provocative titles as – ' La Revolucion', 'A Feast for Everyman', 'Arise and Be Heard', and my favorite – 'Sons of Ireland' which begins – "If there is drinking, fighting, or fun to be had, chances are an Irishman is in the middle of it. Few other ethnic groups have such a celebrated history of rabble-rousing, or are more deeply rooted in American labor. It is only fitting that in the search to find a firebrand at the rallies, it led to the bastion of mischief – the Irish."
This is but a small sample of Wiedemann's frank and playful commentary as he records his thoughts, anecdotes, and observations of the ongoing protests.
The book is not just a keepsake, it is a testament to the people of Wisconsin and all the working class allies who joined them and sent messages, as well as funds, to sustain the protests.
As you turn the pages of this outstanding work, it is clear that it was complied with the same love, spirit, and determination that fueled the protests themselves. It deserves a place among the permanent collection of your library.
"Cut from Plain Cloth, The 2011 Wisconsin Workers Protests"
By Denis Weidemann
Published by Manitenahk Books, December 2011
Hardcover, 168 pages
Photo: official Facebook page