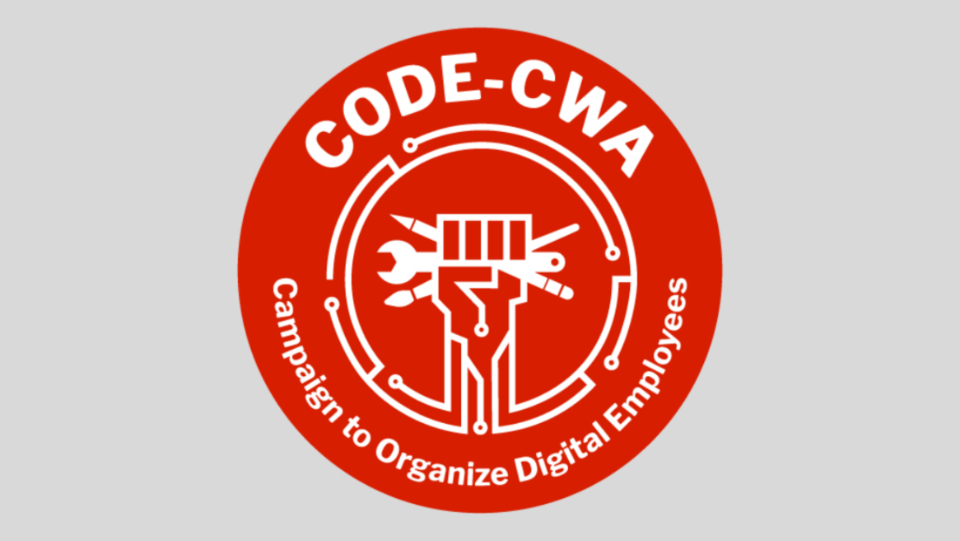 ROCKVILLE, Md. — The Communications Workers have gained at least 300 workers at ZeniMax Media Studios, a video game production company with two plants in Rockville, Md., and others in Hunt Valley, Md., and Dallas. All are a Microsoft subsidiary and all went union through card-check recognition, CWA said on Jan. 3.
Card check verified a supermajority of ZeniMax quality assurance (QA) workers signed election authorization cards. It's a fruit of CWA's success in convincing Microsoft to remain neutral and have its subsidiaries do so, too, during union organizing drives.
"Microsoft has lived up to its commitment to its workers and let them decide for themselves whether they want a union," CWA President Chris Shelton stated.
The ZeniMax card check win marks another victory for the union's CodeCWA campaign, which targets workers in high-tech firms. The AFL-CIO President Liz Shuler had hailed Microsoft's neutrality agreement when it was announced months ago, as a milestone for bringing workers' rights to high-tech firm employees. She said drives such as CWA's are a top priority for labor's changing response to the changing economy.
ZeniMax also pushes the campaign to 25 victories at units representing more than 3,000 workers. But the ZeniMax win, and Microsoft's agreement, doesn't mean a let-up, though, Shelton said, even while lauding the card-check victory.
"Other video game and tech giants made a conscious choice to attack, undermine, and demoralize their own employees when they join together to form a union," he explained. "Microsoft is charting a different course which will strengthen its corporate culture and ability to serve its customers and should serve as a model for the industry and as a blueprint for regulators."
ZeniMax workers whom CWA quoted are elated.
"We're thrilled to kick off 2023 in a workplace that's stronger and more equitable than it was last year," senior QA tester Skylar Hinnant of one Rockville plant said. He termed it "an empowering victory that allows us to protect ourselves and each other in a way we never could without a union. Our hope and belief is this is the year in which game workers across the country exercise their power and reshape the industry."
"Before us is an opportunity to make big changes and bring equity to the video game industry. We want to put an end to sudden periods of crunch, unfair pay, and lack of growth opportunities within the company. Our union will push for truly competitive pay, better communication between management and workers, a clear path for those that want to progress their career, and more," added senior QA audio tester Victoria Banos, who works at Hunt Valley.
Workers told Technical.ly, an electronic news site for the industry, that key issues in the ZeniMax campaign's success included equality and transparency in pay and the need for "a seat at the table" on major issues affecting their schedules and their lives—in this case pressure to return to the office rather than continuing to work from home despite the continuing, though lessening, coronavirus pandemic.
"We discovered a couple of our QA leads were making the same amount as the QA associate leads, and it just didn't make sense," lead tester Rhyanna Eichner said. "The more we talked about it, the less sense it made between several roles. We really want transparency in pay and roles and all manner of things." She added many testers are tired of being overworked, underpaid "and taken advantage of thanks to their passion for what they do."
Joe Slack, a senior QA tester at one of the firm's two Rockville facilities, said the return-to-work pressure united workers, too, even though the starting date for a full return has been constantly pushed back. It made them realize they need more say in their working conditions, which unionization gives them.
While ZeniMax and Microsoft represent positive wins for unions in the high-tech gaming sector, not all is peaches and cream, as Shelton warned. Bosses at Activision Blizzard's Proletariat Studio in Boston, which employs 57 workers, have conducted a nasty anti-union campaign there even though other Activision plants unionized with CWA—and even though Microsoft is about to take over the Boston plant.
So Proletariat workers will cast ballots in a National Labor Relations Board-run recognition election, CWA said in a separate statement. The Proletariat Workers Alliance turned in a supermajority of cards, too, and sought card-check recognition. But the firm, which ran hostile anti-union drives at Blizzard Albany (N.Y.) and Raven Software in Wisconsin, refused. CWA won 14-0 among 17 workers at Albany but Blizzard is challenging the victory.
"Everyone in the video game industry knows Activision Blizzard's reputation for creating a hostile work environment, so earlier this year, when we heard Blizzard was planning to acquire Proletariat, we started to discuss how we could protect the great culture we created here," software engineer Dustin Yost told CWA. "By forming a union and negotiating a contract, we can make sure that we are able to continue doing our best work and create innovative experiences at the frontier of game development."
"Activision's attempts to prevent its workers from joining together in a union have not only been a waste of time and money, they have caused further damage to morale and underlined the company's reputation for creating a toxic, hostile work environment," added CWA Secretary-Treasurer Sara Steffens, a News Guild member and former organizer.
"Microsoft has shown that even the largest American corporations can choose a different path and allow workers to freely and fairly choose whether or not they want union representation. It's not too late for Activision's leadership to change course."