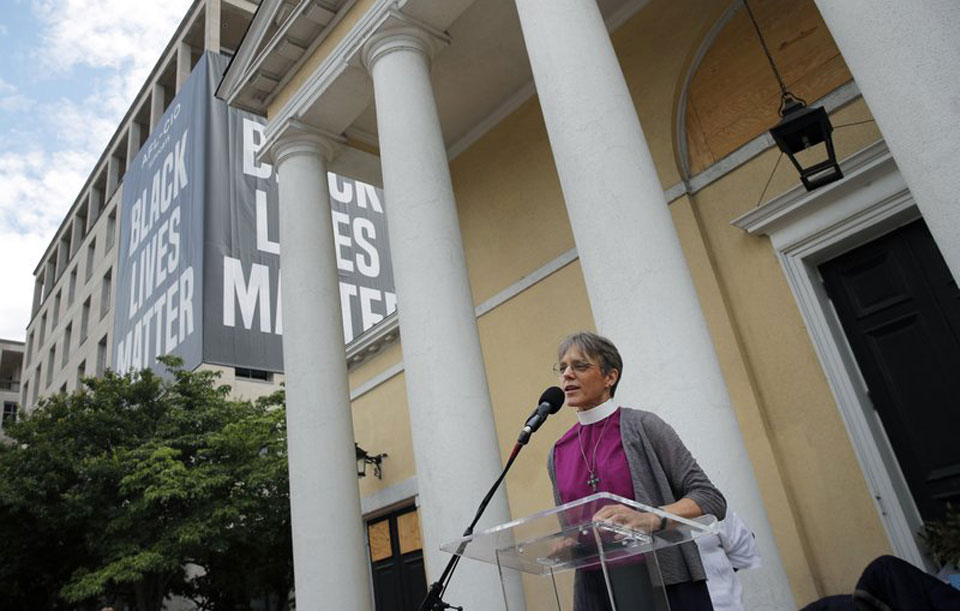 WASHINGTON—Anticipating a possible rerun of December's white nationalist pro-Donald Trump riot downtown, Washington, D.C., Mayor Muriel Bowser activated 340 members of the city's National Guard to help police patrol the streets and keep the peace on Jan. 6, during the time Congress counts—and debates—Democratic presidential nominee Joe Biden's win in the Electoral College.
Bowser also urged area residents to stay out of the center of the Nation's Capital, particularly around the White House and the U.S. Capitol, in another move to avoid violence from the pro-Trumpites expected to descend upon the city. She also announced massive street closures.
And she urged anyone encountering a white nationalist group to "avoid confrontation."
The last white nationalist riot, on Dec. 12, saw four people—police and counter-protesters—injured, almost 36 rioters arrested, Black Lives Matter banners seized and burned, at least BLM sign vandalized, along with two Black churches.
"I am asking Washingtonians and those who live in the region to stay out of the downtown area on Tuesday and Wednesday and not to engage with demonstrators who come to our city seeking confrontation, and we will do what we must to ensure all who attend remain peaceful," Bowser said at a press conference.
Businesses spent prior days boarding up storefront windows with massive sheets of plywood, and many planned to shut their doors. The Metropolitan Police Department banned all firearms within permitted protest areas and up to 1,000 feet away from them.
And Bowser's detailed written announcement also reminded rioters that D.C. does not have a "concealed carry" firearms law and that it doesn't recognize legal reciprocity for any such state laws. That means anyone with a concealed gun will be arrested and locked up, her office announced.
Four separate protests got permits. Police expected 10,000-15,000 people to appear, but James Epley, leader of one white nationalist group, the "Silent Majority," hoped for "hundreds of thousands," news services reported.
They also reported one convicted pro-Trump felon, longtime GOP operative,  Roger Stone plans to speak. So does one of Trump's most-incredible and inflammatory attorneys, former New York City Mayor Rudy Giuliani, a constant purveyor–with no evidence–of Trump's lies about voter fraud.
All the white nationalists and similar racists are egged on by right-wing GOP Oval Office occupant Trump, who lost the electoral vote to Biden, 306-232. A dozen GOP senators, led by Ted Cruz (Texas) and Josh Howley (Missouri), plus right-wing GOP House members, plan to challenge the count.
"Statistically impossible to have lost the 2020 Election. Big protest in D.C. on January 6th. Be there, will be wild!" one recent Trump tweet read.
The Howley-Cruz-GOP attempt to throw out the Electoral College count and thus install Trump in office beyond Jan. 20 is part of the White House denizen's attempt to hang on to power, despite the U.S. Constitution. Even moderate Democrats, such as Sen. Tim Kaine of Virginia, are now denouncing Trump's coup attempt.
Bowser had good reason to activate the Guard. The day she did so, Jan. 5, the Metropolitan Police Department provided a reminder of the prior carnage the white nationalists visited upon the Nation's Capital the last time they descended upon the town.
MPD arrested a leader of that prior riot, Enrique Tarrio, 36, of The Proud Boys, on charges of both property destruction—he openly admitted he tore down and destroyed a Black Lives Matter banner from an historic Black church—and illegal ammunition.
Tarrio was carrying two gun magazines designed to convert single-shot weapons into repeaters. Tarrio led the riot after the U.S. Supreme Court's definitive ruling throwing out Trump's legal case to overturn Pennsylvania's electoral votes. In that prior riot, the "Stop the steal" white nationalists targeted Black churches and injured the police and counterprotesters.
Bowser isn't the only political leader forced to activate the National Guard. Gov. Tony Evers, D-Wis., activated 500 Guards on Jan. 4 to patrol the streets of Kenosha, anticipating potential white nationalist violence after charges are announced in the police shooting of unarmed Black Jacob Blake in August. Blake, hit by seven bullets in the back, is permanently paralyzed.
The white nationalists and fellow Trumpites are also rumbling about spreading more chaos in D.C. on Inauguration Day, Jan. 20. Biden plans to take the presidential oath then at an outdoor ceremony on the U.S. Capitol's West Front, but with only invited guests present, not a large crowd. He's canceled the parade, too. Bowser has not yet discussed security precautions for Inauguration Day.