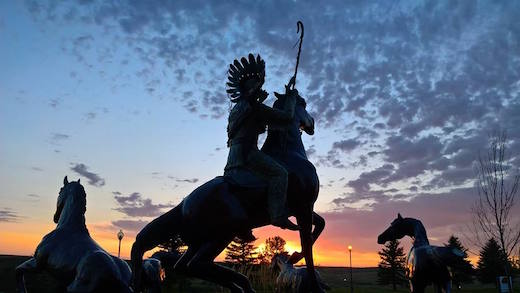 NEAR THE STANDING ROCK SIOUX RESERVATION, N.D. — I am reporting from our first day at the protest camp, Oceti Sakowin (Seven Fires Council of the Great Sioux Nation). We arrived here Friday. It is the main encampment of the Standing Rock Sioux Tribe in its unyielding standoff to stop the Dakota Access pipeline from crossing Indian Treaty lands.
The Standing Rock Sioux Tribe and its supporters are fighting to stop the $3.8 billion Dakota Access pipeline from crossing Indian treaty lands. The pipeline that is slated to carry 470,000 to 570,000 barrels of crude oil per day for Texas-based Energy Transfer Partners is planned to cross the Missouri River, a stone's throw from the Standing Rock Sioux Reservation in North Dakota, an existential threat to the water system upon which so many people depend.
The encampment is awesome and is run like a small town. There are tipis and camping tents everywhere. Three meals are served daily. Security and medical staff are readily available as needed.
On August 26, there was a march to the construction site a mile away. Several hundred marched amid cries of " What do we want?" with the response " Stop the pipeline!" and " When do we want it?" followed by the answer "Now!" The enthusiasm and determination of the marchers was tremendous. We felt invincible.
This was followed by an hour of drumming at main gate of the abortive construction. There is no activity on the part of Dakota Access since the matter has gone to court.
There are many tribes represented at the encampment. Tribal flags adorn the fence of the main gate to the site.
After the march, announcements were made that victory in this struggle will set a precedent for all tribes in the United States. A call was issued to the people of the world to aid in this struggle against rapacious corporate greed.
Speakers also announced that more tribal delegations were on the way with more supplies. The Crow nation is sending 700 lbs. of bison meat and 200 lbs. of rice are on the way from Midwest nations. The Tlingit Nation is sending a large store of salmon and caribou.
The Standing Rock Sioux Nation brought in a huge refrigerated truck in which to keep the incoming food.
The encampment is peaceful, orderly and harmonious. It is impressively well organized and the spirit of cooperation was everywhere. We are determined to maintain the camp until victory is ours. History is being made.
Photo: The sun sets on the plains just outside Prairie Knights hotel on the Standing Rock Sioux Reservation. | Melanie Bender/PW