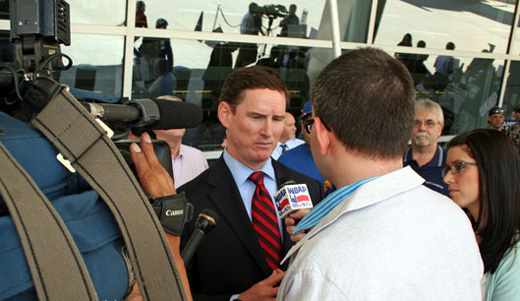 DALLAS – Dallas County Judge Clay Jenkins, the highest elected officer in the county, turned heads here last week.
On April 21, during local meetings of the Democratic Party, Jenkins rose as if to make a campaign speech. Instead, he made a heartfelt appeal for people to turn out in solidarity with picketing American Airlines workers here April 23. On Facebook, he wrote, "I will join employees of American Airlines at 11:30 a.m. Monday in front of Terminal D39 at DFW in support of the US Air merger overtures and in opposition of AMR's request to the bankruptcy court to cancel the contracts of its employees. Please join me if you can – Clay Jenkins."
Unionists quickly picked up Jenkin's post and added a photo of him. The principal officer of the Dallas AFL-CIO wrote, "In my considerable years as an activist in the labor community, I've never witnessed any other public official display, so publicly, their support of working men and women."
It was a notable part of the solidarity pouring in from various and sometimes surprising quarters here leading up to April 23, the day that American Airlines management took their union-busting ambitions to court.
Joining the Association of Professional Flight Attendants picket at Terminal D of the Dallas Ft-Worth Airport was an outpouring from other unions.
The Communications Workers, the Auto Workers, and United Food and Commercial Workers were there in force. Leaders of the Dallas AFL-CIO were there. Union-affiliated organizations like the Alliance for Retired Americans turned out.
Don Jacquess, a candidate for U.S. Congress came, but that was no surprise as he is also an Ironworker. The big surprise was the number of candidates and elected office holders who joined the solidarity effort. State Rep. Roberto Alonzo picketed right along with the brothers and sisters from the unions. And then there was Clay Jenkins.
North Texas working people and their political friends have good reason to rally around the fight at the airport. American Airlines went to court specifically to get the bankruptcy judge to allow them to bust all their union contracts. They intend to lay off 13,000 union members, freeze or terminate pension plans, curb health benefits, reduce time off, and impose many other cuts.
On the picket line, the union members chanted, "Merge, don't purge!" because they support a proposed merger with U.S. Airways, instead of entrusting their lives to the bankruptcy court, on the theory that any new management would be better than the one they have.
Photo: Dallas County Judge Clay Jenkins, the highest elected officer in the county, speaks to reporters at the April 23 rally. Jim Lane/PW