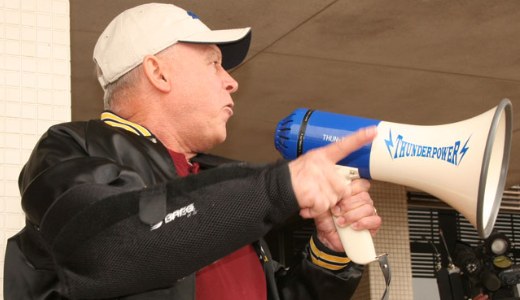 DALLAS – A diverse crowd of about 250 people here joined the simultaneous demonstrations all over the nation in solidarity with the public workers in Wisconsin. They gathered at noon, immediately following a Workers Rights Board public hearing, at the Beckley Courthouse near downtown. The "open mike" agenda brought union members, unorganized teachers, student activists and long-time community organizers before the crowd.
The speakers vied for most militant. The crowd was urged to do everything possible to overcome the crisis in Wisconsin and at home.
The Texas budget deficit is seven times as large as Wisconsin's, and far more drastic layoffs are anticipated here. Speakers repeatedly emphasized that the Republicans in Texas and Wisconsin are engaged in union busting, not fiscal responsibility.
The statewide assault on workers goes back decades, and Republicans are now trying to finish the job. Texans lost their ability to get an attorney in workers' comp cases in 1989, and so-called "tort-reform" has diminished their ability to get legal representation for other crimes against workers. The assault against unions is an attempt to remove the final defense that individual workers have, one speaker said.
Prior to the rally, about 75 people gathered inside the courthouse for a penetrating look at the situation in Texas as it relates to Wisconsin. Panelists representing teachers, legal aid workers and state employees talked about the cuts that are underway. Legal aid services may lose a large part of their funding. State workers expect to lose 10,000 jobs and all the services that go with them. School workers anticipate 100,000 job cuts.
For every public job lost, 1.4 more jobs will be lost in the private sector, said American Federation of Teachers member Hobie Hukill. Thus, the resulting 250,000 jobs lost will raise the unemployment rate approximately 2 percent.
"From Wisconsin on down, this business of 'budget crisis' is a fraud. Nothing more!" Hukill said.
Image: Teamster Billy Zachary brought his fighting message to the Dallas crowd. Jim Lane/PW