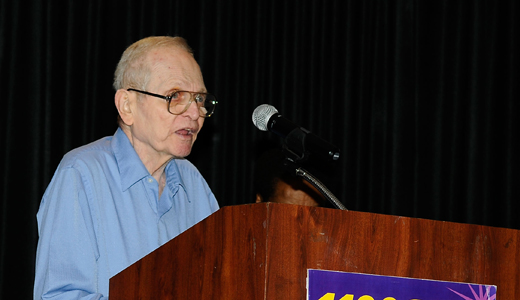 A memorial meeting was held in New York City on Dec. 20, 2015 for Danny Rubin, a long time member and leader of the CPUSA. Rubin's work included major contributions to many of the important struggles of the progressive movements from the 1950's up until the time of his death last year. People who knew and worked with him are preparing a full biographical obituary but remarks at the memorial made by Jarvis Tyner, New York State Chairperson of the CPUSA touched on many of the important contributions he made to the movements. Tyner's speech follows:
My heart is heavy with sorrow today as I think of my dear friend and comrade Danny Rubin.
I joined the Communist Party USA 55 years ago in Philadelphia. I was 20 years old, married with an infant son, a low-paid struggling shop worker, an active union member and a vocal opponent of racism and the Cold War.
I wanted so much to join with those who were changing the world. The party opened the door to activism and big political thinking for me. I had met some wonderful local young people in the party of different races and nationalities, who shared my hopes and dreams. It was a rich political and social experience for a young African American worker like me.
The first national leader of the Party I met was Danny Rubin, also from Philadelphia. At that time he was the party's national youth secretary. Danny was not a dynamic speaker but his thinking was extraordinary and his manner was very honest and convincing. Danny and his wife Dorothy were role models for our Philadelphia youth.
I read Danny's writings and heard him speak about the role of youth and how important the rise of the civil rights movement was and how it advanced the struggle for real progress on all fronts for democracy. He came to Philly often back then and was a tremendous help. He taught us organization, how to broaden our work and find new ways to build the party and the movement under a political climate still poisoned by McCarthyism. We did grow. At one point we were one of the largest and most interracial Party youth sections in the country.
Danny believed in the working class. He did not come from the working class but he did work in an industrial union shop for a period after college and law school. He often made reference to his shop experience in discussions of the party's work among basic workers.
Danny had the great experience of working closely with Henry Winston, the national chair of the party for many years. In his tribute to Winston in 2012 he said, "It is hard to overstate the importance of the contribution of Henry Winston to the party and to me personally. My mother, my wife of 58 years, Dorothy, and Winnie were the most important adults in my life." He went on to say, "When Winston returned (from prison) to political life (1961), it was decided that he would mentor me."
For 10 years Danny and Winnie met for hours every day. Danny talked a lot about how much he learned from Winston, especially, he said, on the centrality of the fight against racism.
So many were mentored by Winston (myself included), but I was also mentored by Danny Rubin. If it were not for the support and guidance I received from Danny in my first years in the party I likely would not have become a party leader much less run twice for the vice presidency of the United States on the Communist Party ticket.
Danny had done such an outstanding job rebuilding the youth section of the party that J. Edgar Hoover singled him out as "the most dangerous man in America." Because of his outstanding work, the party elevated him to high position of national 0rganizational secretary.
Danny was a master organizer. Over the years, I was part of thousands of meetings along with Danny and in most of those meetings it was Danny whose job it was to see to it that the tens of thousands of decisions from those meetings were carried out. And he did his job masterfully. He also headed our Jewish Commission for some years and produced a number of articles and a valuable booklet on the struggle for peace in the Middle East.
In the turmoil of the collapse of the Soviet Union and Eastern European socialist states in 1991 Danny was among those comrades who were in conflict with the majority view of the Political Bureau and after the 25th convention he left the party and helped found the "Committees of Correspondents for Democracy and Socialism."
In 2000 I was happy to receive a call from my old comrade and mentor. He wanted to talk. I was part of a number of friendly discussions with him and two other former party leaders about renewing their relationship with the party. Danny skillfully maintained non-antagonistic duel memberships for a time. He was elected to the highest national bodies of the party again and did a lot of writing and education work for the national party. As his health began to decline, Danny committed himself to the effort to rebuild the Brooklyn club of the party. With Danny as chair, the club grew into an active, respected and wel- connected collective in New York's largest borough.
In his last period, up to his death, he was an active member of the Executive Committee of the New York District of the CPUSA and the National Committee, the highest body between national conventions.
Danny had a brilliant mind. He was a master organizer. But that is not all. Danny not only led in the implementation of so many decisions, he was also a major voice in making those decisions.
He had an enormous intellect. He was national education director of the party for many years and he wrote two Marxist theoretical works. Can Capitalism Last? was a particular favorite of mine. His articles on the organizational challenges facing the party were fine examples of Marxist thinking. I especially liked his article, "The Party Can and Must Be Built, Starting from Its Base." He wrote that wise piece for the pre-convention discussion in 2014.
Danny was a courageous comrade. When he was dragged before the McCarran Act Committee he refused to cooperate. Watching the movie Trumbo recently I was reminded of the persecution of so many party leaders during that same period. Those comrades faced not just the loss of their livelihood, but if they did not register as a Soviet foreign agent (a patently false charge), Danny and other leaders faced 10 years in prison and a $10,000 fine every day they did not register.
You do the math: In just a few days of refusal one's life could be totally ruined. But Danny and his comrades did not comply, and because they refused to comply it strengthened the pressure to make the United States Supreme Court rule the McCarran Act unconstitutional. Attorney John Abt and our lawyers won that case.
When party leaders traveled around the country in those days, usually it was by car, the Party had no credit cards. They carried cash. On one trip some guy tried to rob Danny at knifepoint. Danny fought him off with his bare hands and suffered cuts as a result. The thief had messed with the wrong man that day and ended up running away without a dime of the Party's money.
There was a tender side: Danny was repelled by racist and male misogynistic behavior. He functioned on a high political, moral plane when it came to supporting people victimized by capitalism, racism and colonialism. Danny was always good at finding the right words to challenge any acts of racism and insensitivity in our party. He also had a great sense of humor and an infectious laugh.
During the 1960s Danny traveled to the Jim Crow South and made many political contacts and friendships with leading members of various civil rights groups.
Danny was an activist and an objective thinker: He was not satisfied with imagining worst-case scenarios and doing nothing. Instead he mastered the art of the possible. He saw the best potential in people and helped them to grow and blossom. He was a deeply optimistic person who lived his life with the idea that a better world is possible – or to his way of thinking, probable.
He was a legendary party leader who changed the lives of thousands of young people all over this country and helped make it possible for our party to make a great contribution in this changing world.
Knowing Danny, he would always insist, at gatherings of good people, that some mention had to be made of the immediate big political challenges of the day.
Today that would be the 2016 presidential elections.
We like "Bernie from Brooklyn," who is building a real mass base and very effectively pushing this election to the left.
But Danny would want it understood the grave danger we'd face if a racist provocateur like Trump ends up in the White House.
Danny would call on all of us to do whatever we could to avoid that catastrophe.
I, like so many, loved Danny like an older brother. He was so indelibly a part of the fabric of many lives for so many decades.
He truly lived a life with a purpose. In Danny's name we must continue the fight for the Bill of Rights Socialism that he championed.
On behalf of the entire CPUSA and in a special way the New York District, let me once again extend our deepest comradely condolences to the family of Danny Rubin – to his loving wife Dorothy, who was side by side with Danny all the while, to his children Rose, Joe, and his daughter-in-law Delores, his grandchildren Hector, Jason, Jesse and Salena. We thank you for helping to make it possible for Danny to make the enormous contribution to our movement and to humanity that he has made.
Photo of Danny Rubin speaking. NY District CPUSA.