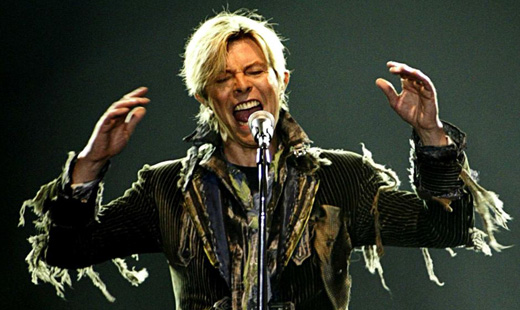 Imagine what life was like for us kids in the 1970s. We were coming of age in a rather awkward cultural gap that opened up after the grand adventure that was the sixties. Not only did all the grooviness evaporate before we sat at the table, there was also a premature nostalgia spreading for the 1950s, but it didn't result in any of the raucous pleasures of that era so much as offer up counterfeit treasure. So no Elvis or James Dean – instead we got Fonzie. We needed a savior. We needed a starman.
Which is where David Bowie comes in. I'm not certain that, despite his vast success and high profile, he ever fit into the mainstream. Instead he stood out in high relief as an utterly alien component. The first Bowie record I ever bought was Changes. It told me to turn and face the strange and it meant it. Seventies Bowie was a subversive force that perhaps shone bright in a sort of freak splendor for regular people, but quickly became a beacon to those of us who didn't quite fit, or didn't want to.
Far from an overnight success, David Bowie (born David Jones) had been around since the mod era and had been in a couple of R n' B combos that never charted. Then he was a mime. Then he was trying to be Anthony Newley. Then he was trying to be Bob Dylan, Lots of ch-ch-changes but the perpetually stalled career was a wonderful chrysalis for what he finally emerged as: which was a new and provocative sort of cultural force. At the time of his first breakthrough (in the role of Ziggy Stardust- rock's first meta concept) he may have seemed a part of his surroundings to a degree. There was an emerging "glam rock" sensibility that encompassed the likes of Roxy Music, Elton John and T Rex. But none of these other acts had quite the ingredients or the trajectory of Bowie. While some of these acts overlapped with what Bowie was doing they didn't offer the peculiar and artful intersection of artifice and sincerity that Bowie did. There was an intellectual curiosity and fearlessness in what Bowie fashioned. He was provocative in terms of sexual norms and made that a virtue rather than a mere stunt.
Bowie's significance to us kids of the times was not only as an artist but as an educator. He pried open, for me (and so many others), a world that included Andy Warhol, the Velvet Underground, Iggy and the Stooges, William S. Burroughs, Bertolt Brecht, Jaques Brel, Kraftwerk and much more. All of this was of immense value to those of us left utterly bored by CB radios and mellow corporate rock. Bowie was warmly welcomed as the first white artist to appear on Soul Train and a few years later challenged MTV on the lack of black artists on the music channel. Bowie's persona and work took the knife (Bowie knife?) to the barriers between man and woman, black and white, past and future. That knife was either a threat (to the conventional) or a tool to those of us who wanted more openings to peer through.
And Bowie was an artist. I never felt that he was a mere entertainer, but rather a true original force and brilliant synthesizer. And he didn't stay still but progressed, shedding identities and modes of work and style to offer new canvases. I particularly remember the shock of the new that his Berlin era records made in consort with Brian Eno provided.
The 1980s were a bit strange, because Bowie became (for a brief while) a far more conventional figure and seemed to suddenly be moving towards… well … normality. Despite starting the decade with the wonderful Scary Monsters… he was soon producing his least adventurous music and enjoying his biggest hits. I think a lot of us felt like Bowie was slipping from our world and falling to Earth. There was MTV, movies with Muppets, and that embarrassing remake of Dancing In The Streets with Mick Jagger! His greatest value during this era was his enormous influence playing out in the careers of new stars. Gary Numan, Boy George, Eurhythmics, ABC and so very many others seemed to bring to life specific Bowie personas: you could have predicted the UK pop charts with 70s Bowie album sleeves alone.
But Bowie returned, with coming decades seeing him relinquish the mainstream and quietly return to challenging material. In recent years he had been quiet due to health challenges following a collapse on stage. When he reemerged it was at full intensity in the work, but without live appearances. In the very recent period he battling cancer whilst producing a final album and an off Broadway play. It was a generous parting from a challenging and rewarding cultural icon.
Black Star is now available worldwide, and Lazarus is playing an extended run at New York Theater Workshop 79 East 4th Street, New York, NY 1000
Photo: AP