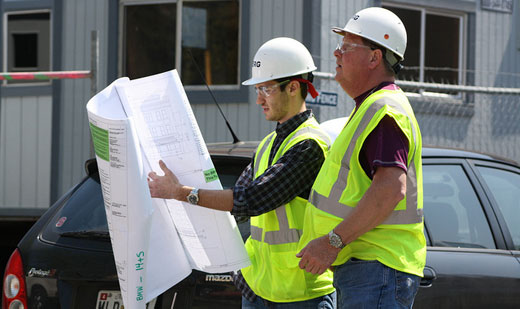 WASHINGTON – Having failed in yet another frontal attack on construction workers' wages, through defeat of their plan to kill Davis-Bacon Act prevailing wage requirements, workers' foes are trying a new tack: Change the wage base, to make the wages as low as possible.
That's what they set out to do at a mid-June hearing before the ideologically polarized House Education and the Workforce Committee – a panel packed with Republican foes of workers and their pay.
The hearing came after construction unions and their allies convinced enough GOP lawmakers, earlier this year, to again defy their party line, and keep Davis-Bacon. Davis-Bacon, enacted by Republicans in 1931, prevents cut-rate contractors from undercutting their colleagues and underpaying workers by mandating that any project using federal funds must pay locally prevailing wages.
Labor Department surveys determine the prevailing wages, which are not necessarily union wages, area by area.
What the foes of Davis-Bacon wanted to do this time was to substitute Bureau of Labor Statistics wage data on construction workers' wages for data on local wages, which DOL's Wage and Hour Division now collects.
"This idea was rejected in 1997, and must be rejected now," said Ross Eisenbrey of the Economic Policy Institute, the pro-worker think tank. He was the one pro-worker witness at the Davis-Bacon hearing. "BLS surveys are incapable of accomplishing Davis-Bacon's statutory mandate" of establishing prevailing wages, he said. The brainstorm to use BLS wage data come from the Heritage Foundation, Eisenbrey said. He did not remind the lawmakers that Heritage is a noted right-wing think tank.
Tea Party Rep. Paul Gosar, R-Ariz., took Heritage's scheme and wrote it into his Davis-Bacon alteration bill, HR448. That measure "does not prescribe how BLS should meet the Davis-Bacon Act's statutory requirements while using 'scientific methods,'" Eisenbrey continued. "But it is clear that the suggestion offered by the Heritage Foundation and others — that the (BLS) Occupational Employment Statistics (OES) data be substituted for the current system — is unacceptable.
"OES data do not include fringe benefits," he noted. Davis-Bacon "has required (them) since 1964. Any determination that ignores 20% or more of the typical construction worker's compensation would obviously not protect the locally prevailing compensation, would undermine the local labor market, and would make it easier for migrant contractors to underbid local firms.
"The OES does not capture and report exact wage rates and is incapable of determining a single rate paid to a majority of workers in a given classification and locality. Unlike the Wage and Hour Division survey, the OES measures 12 wage intervals or ranges for wages, not the actual rate. For example, wages falling in Range D in the May 2012 survey could vary by as much as $3.74 an hour, from $14.50 to $18.24, or $30,160 to $37,959 on an annual basis. From the OES it is virtually impossible to know whether a single rate is being paid to a majority of workers in any classification in a local area."
And Davis-Bacon says one factor in determining locally prevailing wages is a comparison with wages "on projects of a similar character" to the project the particular federal funds would pay for, Eisenbrey added. "This poses several hurdles for BLS, whose data collection does not distinguish between different locations and types of projects," he noted.
"If laborers and mechanics working on highway projects are paid different rates than are laborers and mechanics working on building projects in the same locality, then the Secretary of Labor's wage determinations must also differentiate between laborers and mechanics working on highway projects and building projects. As currently administered, Davis-Bacon wage determinations reflect these distinctions," but the Occupational Employment Survey of BLS does not, Eisenbrey said.
The House panel took no immediate action on HR448, but statements by its ruling Republicans made it clear they favored Heritage's scheme to cut construction workers' wages. The GOPers repeatedly trotted out worn-out arguments and studies – from the Right Wing – contending that Davis-Bacon wages are too high, cost the government too much and are always union wages.
Eisenbrey dismissed those GOP/right wing arguments.
"The need to keep the federal government from depressing construction industry wages, the need to support the development of the next generation of skilled workers in the construction trades, and the need to ensure the highest quality work on federal construction projects are just as great today as they were 30 years ago or even 80 years ago," he said. "The Davis-Bacon Act has served the public well, and nothing should be done that might undermine the effectiveness of the act in achieving these important purposes."
Photo: Elvert Barnes/Flickr (CC)