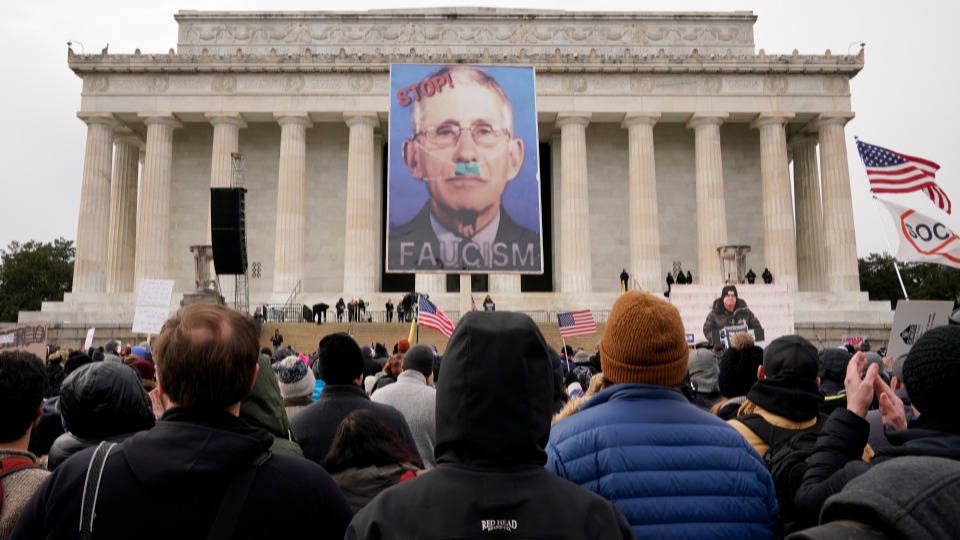 Right-wing sabotage of public health measures to end the pandemic entered a dangerous new phase at the Jan. 23 "Defeat the Mandates" rally in Washington, D.C. Extreme right-wing and fascist movements opposing the COVID-19 vaccine and mask mandates merged with the already existing anti-vaccination movement, forming a potent anti-science force.
The rally deliberately served to bookend the anti-abortion Jan. 21 "March for Life Rally." Opponents of all vaccination mandates joined with Republicans, QAnon conspiracists, medical quacks, anti-Semites, Christian fundamentalists, Proud Boys, white nationalists, and fascists. They attacked, including with physical threats, the Biden administration, public health officials, medical professionals, and scientists.
Anti-vaxxers were once a fringe movement consisting mainly of religious fundamentalists, libertarians, grifters, celebrities, and some liberals. The extreme right wing has engulfed this movement and now boasts tens of millions of followers. Dr. David Gorski, a scientist-activist, surgeon, and cancer researcher who studied the growing association between the anti-vaccine and extreme-right anti-mandates movements, believes the already existing anti-vaccination movement is showing an increasing affinity with fascism.
The movement revolves mainly around an anti-Semitic conspiracy theory that a "global elite" (thinly disguising the old trope of a global Jewish conspiracy) seeks world domination through vaccines. Anti-Semitism aligns with the extreme-right GOP, fascist anti-vaccine mandate movement, and the powerful right-wing propaganda and brainwashing machine, beginning with Fox News.
The Center for Countering Digital Hate estimates 62 million Americans follow vaccine disinformation on social media sites. Big Tech, including Facebook (Meta), Instagram, Twitter, and YouTube, is reaping over $1.1 billion in profits, and the anti-vax industry is reaping another $35 million in profits. Seventy percent of all social media shares of lies spread during the pandemic originate from content created by a small group dubbed the "Disinformation Dozen."
They include Jan. 23 rally speakers Robert F. Kennedy, Jr., who spun a mad tale about Bill Gates, satellite surveillance, and 5G technology, and invoked Anne Frank, who perished in the Holocaust. Another speaker, Del Bigtree, called for dispensing "justice" to scientists, public health officials, and journalists. "Unlike the Nuremberg Trials that only tried those doctors that destroyed the lives of those human beings, we're going to come after the press," Bigtree told the crowd.
Broadly, the anti-vax influencers include the likes of entertainer Bill Maher and journalist Bari Weiss, who belittled the importance of mandates on a recent show, and podcaster Joe Rogan who is spreading vaccine disinformation to millions of his listeners. In response, Neil Young, Joni Mitchell, and other artists demanded the removal of their music from Spotify, the media platform which prominently hosts Rogan.
The movement intersects with the same forces behind legislation banning books under the guise of "parental control" and those terrorizing local school boards to scrub the teaching of actual U.S. history, impose teacher "loyalty oaths," and dismantle public education.
The movement seeks to go even beyond the executive orders by GOP governors and legislation banning school and workplace COVID-19 vaccine and masking mandates and other public health measures. Their goal is banning all inoculation mandates, including measles-rubella and polio. And already, some Republican-dominated legislatures have begun passing such laws. Scientists and public health officials warn dangerous new outbreaks of polio and measles will result.
These developments create a political atmosphere where scientific expertise is debased, dismissed, and criminalized, and where the extreme right and fascists target scientists, doctors, and health officials for harassment and death threats. Quack cures and "genetic purity" replace science, brute force replaces expertise and education, and white supremacy and racial purity reign. Anti-intellectualism and "purity" have long been hallmarks of fascist ideology going back a century.
A counter-movement among scientists, medical professionals, and public health officials, including No License for Disinformation, is growing to combat the anti-science movement. This emerging force is a critical part of the overall democratic majority in the country.
One of the leaders of this movement is Dr. Peter Hotez, a co-developer of the People's Vaccine. He gained recognition in the late 1990s fighting disinformation that mumps-rubella-measles vaccines caused autism. Hotez calls for creating a "Southern Poverty Law Center"-type advocacy group to defend scientists and medical professionals.
Anti-science movements have been part of U.S. history since the 1700s. The latest incarnation emerged with the anti-vax movement in the 2000s after decades of public health successes like the campaign to inoculate school children against polio and the acceptance of other public health measures.
But in 2011, anti-vaxxers began aligning with the Tea Party to form a potent political force under the banner of "health freedom" and "parental rights." When the COVID-19 pandemic began, this phenomenon merged with anti-masking, anti-lockdown, and fascist movements.
Most anti-vaxxers adhere to the Republican Party, with lower vaccination rates and higher case and death rates across red states. "200,000 Americans since last summer, who are unvaccinated, have lost their lives to COVID out of this defiance and far-right-wing, anti-science aggression," Hotez said.
"It's killing far more Americans than global terrorism or nuclear proliferation, or cyber-attacks or all the other stuff that we build infrastructure to combat. The refrain I use is: 'Anti-science kills,'" said Hotez, who is Jewish and has received anti-Semitic hate. Victims of right-wing propaganda are convinced to commit "self-immolation" out of allegiance to a political party.
The current anti-vaccine, anti-mandate movement is a threat multiplier, said Hotez. Lies and disinformation are a "national security issue" and "a "triple-headed monster." The threat consists of "anti-science disinformation promoters, particularly in conservative media, nongovernmental anti-science nonprofits that provide the false statistics and talking points to pundits." A third threat "comes from state actors such as the Russian government, flooding the U.S. with disinformation about vaccines."
The Biden administration, the scientific community, and public health officials have not countered this threat aggressively enough, says Hotez. Many worried about political repercussions and thought it would disappear on its own. "I think we were really naive," said Joe Smyser, chief executive of the Public Good Project, which tracks and combats vaccine misinformation. "This movement was allowed to get stronger and stronger with almost no pushback."
In another example, medical professionals who pedal quackery are rarely stripped of their licenses to practice by state medical boards. One notable example is Dr. Joseph Ladapo, who was nominated to head the Florida Department of Health by Republican Gov. Ron DeSantis.
The spread of anti-vaccine disinformation through the right-wing propaganda and brainwashing machine—particularly Fox, Newsmax, and from the presidential platform by Trump—compounds the danger. These outlets and the "Disinformation Dozen" promote quack cures for COVID, including hydroxychloroquine, the horse deworming medicine ivermectin, and even urine therapy. The science of viruses and pandemics, vaccines, masking, and social distancing, by contrast, is attacked endlessly.
The disinformation plays on skepticism that has arisen in response to the private for-profit health care system, Big Pharma corruption, medical malpractice, and historic medical abuses like forced sterilization, and the Centers for Disease Control (CDC) Tuskegee study of untreated syphilis on African American men.
Meanwhile, Russian disinformation aims to widen social rifts between different racial communities, with specific disinformation targeting particular communities. The disinformation blames the Biden administration for not effectively dealing with the pandemic and promoting a policy of forced vaccinations. This propaganda is posted mainly on extreme right-wing websites.
But more recently, Russia's state media has been "really leaning into the culture war debates over vaccine and mask mandates," said Bret Schafer, a disinformation expert at the Alliance for Securing Democracy. Russia Today (RT) and other state-controlled media amplify American and international skeptics of vaccines and mask mandates.
Defending the truth, science, scientists, medical professionals, public health workers, teachers, and election workers from attack is critical for defending democracy. The American people can defeat this fascist menace by confronting it in every battle arena, including the 2022 elections by electing pro-science, pro-public health elected officials.