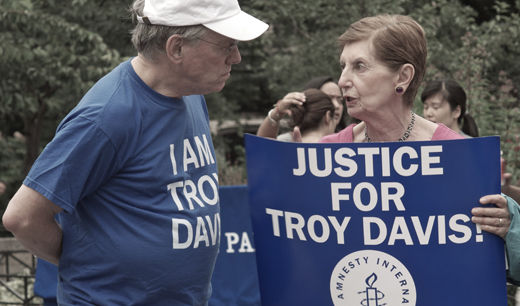 Troy Davis, an African American inmate held on Georgia's death row for nearly two decades, will have chance to win his freedom Wednesday as a Savannah, Ga., federal court holds a new evidentiary hearing on his case.
The Supreme Court ordered the new hearing last year after an international campaign brought attention to the probability of a wrongful conviction. Davis was sentenced to death for the killing of a white police officer, Mark MacPhail, in 1991. Seven of nine witnesses have since recanted their testimony, claiming coercion from police anxious to secure a quick conviction.
Davis has maintained his innocence throughout. His execution has been stopped three times.
The Supreme Court made an extraordinary decision in ordering a new hearing in the case: "Last August, for the first time in nearly half a century, the U.S. Supreme Court took a case filed directly to its docket, instead of hearing an appeal of a lower-court ruling. It accepted Davis' last-ditch innocence claim after Davis had exhausted all his appeals."
NAACP head Benjamin Jealous points to the unique concerns of the Supreme Court ruling: "The ruling is unusual in that the Supreme Court has not granted this writ of habeas corpus in more than 50 years. Their decision is a strong indication that they are concerned about the constitutionality of executing the innocent – as am I." http://www.naacp.org/home/index.htm?gclid=CObO_7aFtqICFSQ65QodAyHY6A
In addition to the NAACP, Amnesty International and others have campaigned extensively on behalf of Davis.
His appeal has won broad support around the world, including from Jimmy Carter and Pope Benedict XVI, to mention a few.
Press reports indicate that the burden of proof in the evidentiary hearing is quite high. Reasonable doubt is no longer the standard. Instead, the defendant will apparently have to clearly establish his innocence.
Davis' appeal has been hampered by federal anti-terrorism statutes. News reports indicate that until the Supreme Court stepped in, Davis' attempts to get his new evidence presented in court had been repeatedly stymied by the federal Antiterrorism and Effective Death Penalty Act, legislation enacted in 1996 to "streamline" appeals of capital sentences.
Rallies were held on Tuesday in support of Davis' hearing. Amnesty International called for a "Day of Solidarity" in support of the death row inmate.
His conviction was based solely on witnesses' testimony. No DNA or physical evidence was presented.
Photo: http://www.flickr.com/photos/rob-sinclair/4725313419/ cc 2.0