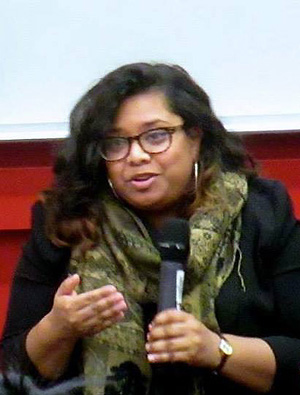 WASHINGTON — The recent gathering of 328 college and graduate students from across the nation here at the 45th annual "Grassroots Legislative Conference," hosted by the United States Student Association (USSA), which has strong ties with the labor movement, could be called nothing short of a "tour de force" in youth activism. "LegCon" is designed to train students in congressional lobbying. Determined, organized, thoughtful, and unafraid, the students present at this year's LegCon were very clear about a guiding principle: students must lead their own organization and strategize together if the fight for accessible higher education in this country is to be won.
LegCon was intentionally held at Washington Court Hotel, where the employees are represented by UNITE HERE service workers union. Workshop titles included "Union 101," "Beyond Yes Means Yes: Preventing Sexual Assault on Campus," and "Fighting the Attack on the Youth Vote!"
A quality college education should be a right for all, but for millions of students college is still either just a dream or a sentence to a lifetime of debt that never disappears, even if the student dies. National student debt has topped $1.2 trillion, which is greater than all national credit card and housing debt combined. There are college campuses in Miami, Milwaukee, and the Bronx where over 40 percent of the student population is homeless, and hundreds of college-campus food pantries are cropping up, according to Associate Professor Sara Goldrick-Rab of Univ. of Wisconsin-Madison.
Data from the Department of Education website says that only nine percent of the lowest quartile income students who enter college complete their degrees.
In one random group meeting of 29 students at LegCon, the combined debt of the students sitting around the circle was $1,645,000.00.
Goliath of student loans, the Sallie Mae Corporation holds $162.5 billion of student debt over the nation's head. In 2010 and 2011 the corporation spent $6.8 million of their profit on lobbying activities, pressing their agenda of making student loans predatory. The federal government also currently is making a larger profit from student loans than ever before.
USSA is aggressive about recruiting students to their conferences whose voices are often marginalized. Sophia Zaman, current president of the USSA, said she was proud that this year LegCon included the largest representation of community college students in the organization's history, and that a broad diversity of states were represented as well. "We are engaging a community of students that are deeply affected by current [higher education] policies, turning them into leaders, decision makers."
Community college students, LGBTQ students, students of color, first generation college students, undocumented students, and women made up the overwhelming majority of the conference participants.
Guest keynote speaker Robert Samuels, president of the American Federation of Teachers for the University of California System, shared his arguments with the assembled students for why USSA's goal of accessible education would be completely possible if national funding priorities were altered. Samuels estimates that it would cost the country $195 billion to provide a free college education for all students. In 2011, federal and state governments spent an estimated $201 billion on higher education, including $40 billion in tax breaks for wealthy 'college trust fund' investors.
In the immediate term, the USSA is asking legislators to support President Obama's requests to increase Federal Work Study funding by $225 million, Federal Supplemental Educational Opportunity Grants (FSEOG) by $242 million, increase the Pell Grant maximum award to $5,830, and expand the Pay As You Earn Program (PAYE) for all borrowers. In addition, the USSA is asking Congress to increase funding to the TRIO program by $52 million, which is designed to uplift low-income students, veterans, and students with disabilities.
Other "asks" include:
*Eliminating "box 23" from FAFSA forms, which requires students to disclose any conviction related to possession or sale of illegal drugs while receiving federal student aid. USSA argues that this barrier targets low income and students of color, going against the very reason FAFSA was created.
*Making federal student aid available to undocumented students with Deferred Action status.
*Recognizing same-sex civil unions on the FAFSA application.
*Supporting the Voting Rights Amendment Act, designed to reverse the Supreme Court's ruling last year, which invalidated Section 4 of the Voting Rights Act of 1965. The Voting Rights Amendment Act of 2014 would restore the integrity of the original law, which required that districts with a history of racial discrimination obtain federal permission before changing their voting policies.
The students at LegCon have taken charge of their social movement like it is the fight of their lives, and indeed it is. Andrea Perkins is one such student at University of Oregon, completing her studies off campus in Chicago. Perkins is an indigenous youth leader and activist, representing the Idle No More movement and the Young Communist League, USA.
Perkins says that her home community of the Chinook Nation of Oregon and Washington has "had it up to here" with capitalist profiteering at the expense of human health and well-being. The Keystone XL pipeline is slated to run straight through the backyards, and even the houses, of thousands of first nations peoples living on reservations.
Perkins made a presentation explaining as much at LegCon. Already the damage done by tar sands extraction and fracking have rendered indigenous lands, in square miles larger than the size of England, uninhabitable across the U.S. and Canada (though indigenous children and families without other options continue to live in these toxic environments).
Jose Caceres, member of the Dreamers of Virginia, is a community college student in Arlington, VA. "When I graduated high school in 2011, I found out that I had to pay out-of-state tuition due to my legal status. I have a younger sister who was five years old when we came to this country, and I don't want her to face the same obstacles I've had to face. I also fight for my parents."
Caceres reports that at a recent National Congress of the Dreamers in Arizona, the organization chose to highlight two campaigns: Tuition equity for undocumented students, and ending deportations. "Basically, we want DACA for all," Caceres said. "I like that here at LegCon they're being inclusive of Dreamers, I wasn't expecting that. Also I like meeting students from other parts of the movement, from around the country."
Skylar from New Jersey is organizing around a bill that would allow transgendered people in the state to change their gender on their birth certificates. "Once you can change the birth certificate, it's a lot easier to change your gender on the other documents like driver's license, etc," Skylar explains. Chris Christie vetoed the bill in January, however students continue to push for the legislation as part of the set of bills known as the Higher Education Legislative Package or "HELP." How does this bill affect students especially? Skylar explains. "With this bill, students wouldn't have to disclose their past personal history, and wouldn't be outed as transgendered to their peers. Violence aimed at transgendered people on college campuses would really go down."
Conference organizers were dealt an unexpected turn of events when two inches of snow from the night before shut the federal government down, making it impossible to lobby as planned. Quickly, USSA staff rearranged the day's activities to include a morning of phone banking to legislators and a social media blitz. "When Congress comes into their offices tomorrow," declared Zaman, "they'll have so many phone messages from us they won't know what to do."
Photo: Sophia Zaman, current president of USSA.