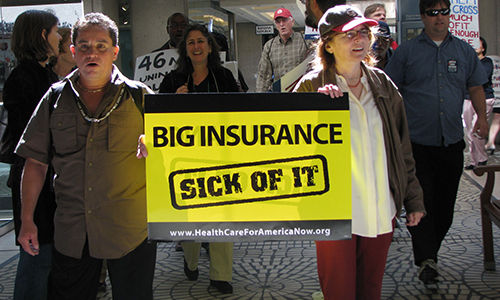 SAN FRANCISCO – In a scene right out of Michael Moore's latest film, "Capitalism: A Love Story," chanting, sign-bearing health care activists swarmed through lunch-hour crowds in this city's financial district Oct. 6, and into the office tower where Anthem Blue Cross/WellPoint CEO Angela Braley has her headquarters, bent on making a citizens' arrest.
Before marching on Braley's office, some 200 backers of a strong public option in health care reform legislation, including many single-payer supporters, had gathered briefly at the foot of Market Street to hear horror stories from area Blue Cross policyholders.
One said after two recent visits to participating hospitals, Blue Cross had refused to pay the emergency room doctor. The incident finally damaged his credit. "It's kind of a joke that people are afraid of the public option," he said, "when we've got enough unfairness and bureaucracy right here with Anthem Blue Cross."
Another told how her aunt's health insurance was cancelled after Blue Cross found out the aunt had cancer, adding "That is a crime!"
A third recounted Blue Cross' denial of coverage to his 26-year-old daughter because she had earlier suffered a sore wrist. Two years later, he said, his daughter was offered insurance for an unaffordable $800 a month. "There's too much greed and not enough health care need in this system," he concluded.
With that, organizers declared there was enough evidence to make a citizens' arrest of Braley and the crowd, chorusing "Public option now!" set out across the plaza, up the stairs, through a revolving door and into the lobby, which they festooned with yellow tape bearing the legend, "It's a crime to deny our care!"
Informed that Braley was "not in her office," the demonstrators lingered a while, chanting, before streaming back into the sunlit plaza, still proclaiming their message.
In the crowd was SEIU Local 24/7 organizer Emily Heath, who said her union of security officers "has seen what most unions have seen in the last few years – health care is the Number One issue. If we can level the playing field so that it will cost companies less, and all Americans will have access, we will be able to negotiate better contracts for our workers."
Heath said besides their historically low wages, security officers often lack benefits many people think working families have, like sick days and bereavement leave.
Also demonstrating was Bud Beal, president of the Alameda County Federation of Retired Union Members (FORUM). Beal said his FORUM chapter is "solid for single payer," though the public option appears more achievable at the moment.
Though Beal has the same coverage now that he had while working, he said premiums and co-pays are going up, and "if things don't change, at some point I won't be able to afford health care.
"If the Democrats would stick together and tell the Republicans where to go," he added, "we could get somewhere!"
The San Francisco action was organized by the California Labor Federation, the Health Access coalition, SEIU, ACORN and MoveOn.org, as part of Health Care for America Now, the country's largest health care campaign. Actions were also held in four other California cities – Los Angeles, Sacramento, Santa Ana and San Diego – as well as in nearly 50 other cities across the nation.
One of those was Charleston, W. Va, where HCAN supporters applauded Sen. Jay Rockefeller for championing the public option in Senate debate.
The actions were part of HCAN's recently-launched campaign, "Big Insurance: Sick of It!" HCAN is demanding a strong public option, affordable health care both for workers and for those not in the workforce, and rejection of proposals to tax health care benefits.