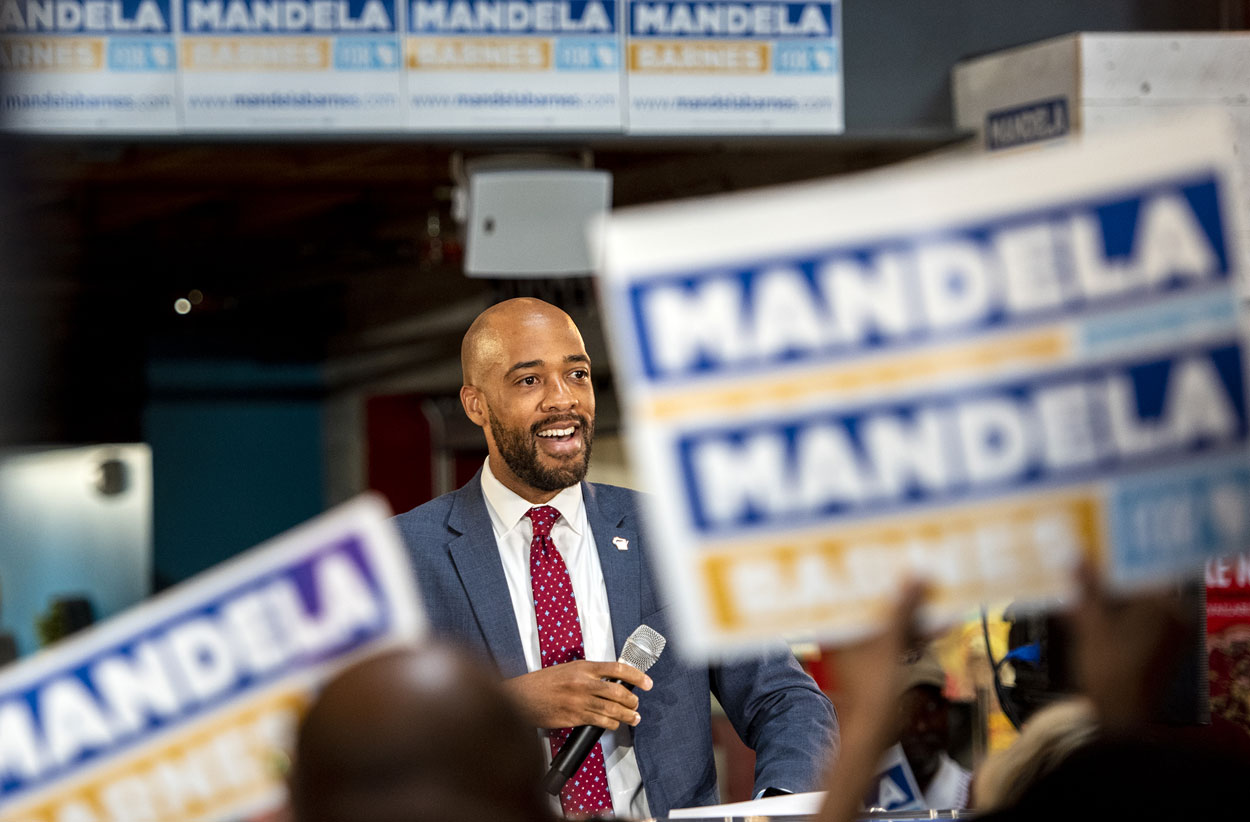 MADISON, Wis.—Wisconsin's Democratic Senate primary seems like it isn't much of a contest as voters go to the polls today but the moment those polls close the race for U.S. Senate in that state will become one of the most important in the nation. Lt. Gov. Mandela Barnes has, in the Democratic primary, cleared the Democratic field with everyone uniting behind him but his race for the Senate seat against Ron Johnson, beginning tonight, could well determine the fate of democracy in America in the closely divided U.S. Senate.
Equally as crucial is the governor's race where Democrat Tony Evers will face the winner of today's Republican primary where Rebecca Kleefisch, backed by former Gov. Scott Walker, faces a businessman, Tim Michels, backed by Trump. Evers has been able to veto many bills coming out of the Republican-controlled Senate and his loss in November to either of the Republicans could put the swing state's electoral machinery in the hands of election deniers who would not think twice about throwing out presidential electors chosen by the people and replacing them with ones chosen by the Republican legislature.
Barnes, a strong progressive, is campaigning in a swing state with a sharp ideological split and his general election foe, incumbent Republican Ron Johnson, is one of the foremost Trumpite election deniers in the U.S. Senate. Johnson, ranks up there with Missouri's Josh Hawley and Texan Ted Cruz. Polls indicate that Johnson is the shakiest of the Senate's Republicans seeking re-election.
Barnes is not counting chickens before they hatch, however, since Johnson, in the past, has overcome negative polls showing him behind.
Barnes has the advantage of a united party behind him. His backers range from U.S. House Majority Whip Jim Clyburn, D-S.C., and the Congressional Black Caucus to Sens. Bernie Sanders, Ind-Vt., and Rep. Alexandria Ocasio-Cortez, D-N.Y. They include organized labor.
"Mandela Barnes grew up in a proud union household. He understands the role unions play in building strong communities and providing families with opportunities to get ahead," state AFL-CIO President Stephanie Bloomingdale said on August 1 in announcing its backing of Barnes.

"As Wisconsin's next U.S. senator, Mandela will fight for policies that create good jobs, boost American manufacturing, and invest in Wisconsin's working people."
How rabid of a Trumpite is Johnson? One of his top aides—without his knowledge, Johnson says—tried to deliver a slate of fake Wisconsin Donald Trump electors to Vice President Mike Pence on Jan. 6, 2021, even as more than 1,000 Trumpite insurrectionists invaded the Capitol, shouting "Hang Mike Pence!" and "Trump! Trump! Trump!" among other chants. Pence's aides refused to take the delivery.
The Trumpites trashed the building, occupied—and made a mess of—the Senate, and forced Pence and everybody else to flee for their lives.
And with all that, Johnson, the man Barnes wants to unseat, still backs Trump's "Stop the steal!" lie and his attempted coup d'etat. Biden narrowly carried Wisconsin. This race may be just as close. The most recent polls, two months ago, show Barnes leading Johnson 46%-44%, within the margin of error.
Understandably, protecting the integrity of democracy is a top plank in Barnes' platform, one of two key issues he emphasizes. The other is enhancing manufacturing, emphasizing it must be with union workers.
"Wealthy corporations and special interests subvert the will of the voters by spending millions in dark money to influence elections and elected officials. And, over the past months, extreme politicians have even tried to overturn fair and secure elections—simply because they didn't like the results," Barnes says on his campaign website.
"In a democracy, we should be able to fix this by making our voices heard at the ballot box and holding our leaders accountable for both their actions and inactions. Sadly, today, that accountability is under attack like never before. Across the country, lawmakers are proposing radical voting rights restrictions, limiting absentee and early voting, and even making it a crime for volunteers to hand out bottles of water to people waiting in line to vote.
"And even when voters overcome those obstacles, their voices still are often drowned out by politicians who have rigged the system through partisan gerrymandering–literally picking which voters they want to represent, rather than the other way around.
"All of these attacks have a common thread: To remove all measures of accountability to the voters and rig the game so they can stay in power.
"It's time to change that."
Barnes says he and Wisconsin Gov. Tony Evers (D)–who also seeks re-election this fall—"led the charge for non-partisan reforms, fair maps, and access to the ballot box for every eligible voter" in the state. Johnson, Barnes says, "is proposing a full partisan takeover of our federal elections" in Wisconsin.
Democracy on the ballot
"Make no mistake, our democracy is on the ballot in 2022, and we need a senator who has a plan to make elected officials accountable to the voters, to stand up to the corrupting influence of dark money, and to ensure the rights of voters are protected," says Barnes.
Another big Barnes theme is to both enact the Protect The Right To Organize Act and to bring factories back to Wisconsin, which—despite its factory losses—is still, in percentage terms, the most manufacturing-heavy state in the U.S.
Barnes hit Johnson for backing Trumpite Postmaster General Louis DeJoy's decision to have the USPS's new fleet of vehicles—some of them electric—manufactured in a to-be-built plant in anti-union South Carolina, and not by a vehicle-ready plant in Oshkosh, Wis., whose 1,000 workers are represented by Auto Workers Local 578.
"The factory where my dad worked is a strip mall now," Barnes says. "And the factory where my granddad worked is shuttered and sitting empty. We shouldn't accept that as inevitable. We should work to make sure the brightest days of manufacturing in Wisconsin are ahead of us, not behind us. We need to bring good jobs back home to Wisconsin and guarantee good opportunities for everyone."
Besides the PRO Act, Barnes supports a $15 national minimum wage, plus Wisconsin Democratic Sen. Tammy Baldwin's "Made in America" provisions inserted in legislation. Barnes wants to put more teeth in the National Labor Relations Board, to ban the economic replacement of strikers by scabs, and opposes so-called "Right To Work" laws.
"The right to unionize for better treatment is essential to ensuring Wisconsin's bright economic future and growing a strong middle class," Barnes declares.
Evers, too, faces a tight race. He ousted two-term Republican—and union-hater—Scott Walker from the governor's chair four years ago, 49.5%-48.4%. Walker's not running again. Evers has spent much of his four-year term stymieing right-wing schemes the Republican-gerrymandered legislature passed.
"In the GOP primary for governor, former Lieut. Gov. Rebecca Kleefisch and self-funding businessman Tim Michels are leading the pack, and both have questioned the results of the 2020 election, though neither has fully denied its legitimacy," one political analyst reported on a podcast. " Michels owns the state's biggest construction company.
"Here's Kleefisch in a campaign video on her website: 'Nobody can say with a straight face that the 2020 election was normal,'"  the analyst added. That's as far as she goes. Trump's former VP, Mike Pence, backs Kleefisch. That leads Michels to charge she's part of the anti-Trump Republican "establishment."
Michels, who has Trump's endorsement, also sets up teachers as his bogeyman. "The top-down mindset of the education establishment will yield to the wishes of parents," he fulminates, using right-wing code words.
Election deniers dominate Minnesota GOP primary
Election deniers dominate the Minnesota Republican ballot. Democratic incumbents Gov. Tim Walz, a union member from Education Minnesota—the state's joint AFT-NEA affiliate—and Keith Ellison, a past chair of the Congressional Progressive Caucus and a leader among AGs in challenging Trump's diktats from 2017-21, seek re-election.
The Republican leader, former state legislator Scott Jensen, M.D., stops just short of being an election denier, at least on his website. Instead, like Republican Attorney General hopeful, former State Rep. Doug Wardlow, he charges Walz, Ellison, and Secretary of State Steve Simon with turning a blind eye to election fraud in Minnesota. There was none. Biden won Minnesota 52%-45%, by 233,012 votes.
Jensen also espouses an extreme right-wing elections theory, now pending in a North Carolina case before the U.S. Supreme Court. It declares state legislatures—and only state legislatures—have "the power to change election rules and laws," to use his words. And he uses code words to show his Trump-like opposition, even as an M.D.., to anti-coronavirus measures, notably closing schools.
"Tim Walz, Keith Ellison, and Steve Simon ignored the Constitution and unilaterally changed how we held our election in 2020. They did this by taking advantage of the Governor's emergency powers while there was ample time to seek a bipartisan and legal solution. Backroom deals and emergency powers should not have been used to change election laws," Jensen alleges.
"Ellison and Simon don't seem to care about election integrity. In 2020 they teamed up to weaken our election laws," Wardlow charges in a video on his website. Two other AG hopefuls want to throw out the 2020 results (Karen Mueller) or initiate a statewide investigation of the election (Adam Jarchow).
Vermont to send its first-ever woman to Congress
Vermont is virtually guaranteed to become the 50th and final state to elect a woman to Congress. Sens. Patrick Leahy (D) and Bernie Sanders (Ind) and Rep. Peter Welch (D), its sole House member, have held their seats for so long that nobody else of any party or gender had a chance to move up.
But Leahy is retiring and Welch is running for his seat. That leaves Welch's House seat up for grabs, and the two top Democrats are Lieut. Gov. Molly Gray and State Senate President Pro Tempore Becca Balint. Two of the three Republicans and the lone independent are also female.
Gray and Balint differ little on the issues. If elected—and race raters proclaim Vermont a "safe Democratic" House seat—Balint would also be the Green Mountain State's first openly gay federal lawmaker. Gray would improve the Affordable Care Act on the way to eventually enacting Medicare For All, a longtime cause of Sanders and progressive unions, led by National Nurses United.
Connecticut expects no surprises
In all statewide and congressional races, candidates for both parties, including Democratic Gov. Ned Lamont, Democratic Sen. Richard Blumenthal, and House Appropriations Committee Chair Rosa DeLauro of New Haven are set to win primaries or, at worst,  have only "nuisance" foes. The same is true of the Republicans.
This fall, the closest U.S. House race could be in the Fourth District, which includes Danbury, Newtown, and part of Waterbury, the hometown of incumbent Democrat Jahana Hayes. The former National Teacher of the Year and National Education Association member seeks a third term against Republican former State Sen. George Logan.
Hayes won her first two terms in a district that blended two prior districts, one of them a classic swing district. Hayes won the first race (2018) 56%-44% and her second (2020) 55%-43%.
Hayes strongly stands against the U.S. Supreme Court's ruling that took the constitutional right to abortion away. And given that one of the earliest—and one of the worst—school massacres was at Sandy Hook Elementary School in Newtown, history teacher Hayes is a strong champion of gun control in general and an assault weapons ban in particular.
"Assault weapons are meant for war. They have no place in our neighborhoods or our schools. The American people are tired of living in fear," she said. The murderer in Newtown a decade ago killed 20 little kids and six teachers.