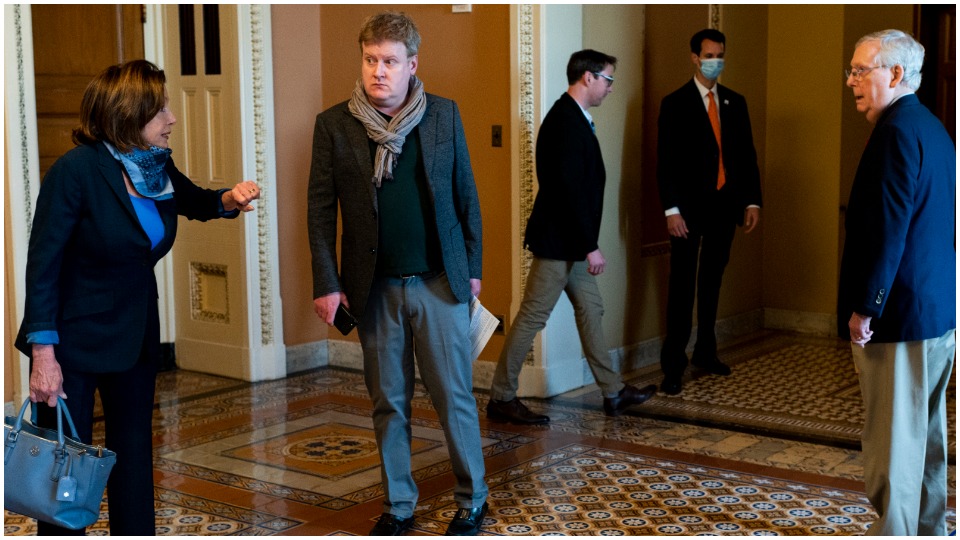 WASHINGTON—House Democrats released a new $3 trillion stimulus bill on May 12, designed to cope with the continuing economic collapse that coronavirus-caused closures have caused. There's money for protective personal equipment (PPE), hazardous duty pay for front-line workers, and a number of other pro-worker provisions.
The 1,815-page measure is tentatively scheduled for a May 15 vote and is expected to pass the House on party lines before going to the Senate. Republican Senate Majority Leader Mitch McConnell and members of his GOP caucus are already lining up to block the proposal, however, declaring it "dead on arrival."
AFL-CIO President Richard Trumka was happy with the House's legislation, saying "FDR would be proud." Rep. Pramila Jayapal, D-Wash., co-chair of the Congressional Progressive Caucus, and Saru Jayaraman, founder of the Restaurant Opportunities Center, were less satisfied. Both said the Dems missed an opportunity to restructure the economy towards workers—with Jayaraman denouncing capitalists for the rigged economy, to boot. Among the shortcomings highlighted were the lack of a pay guarantee for everyone and the fact the bill has no worker rights measures in it.
Up to $10,000 hazard pay
The Democrats' bill includes grants to pay "essential workers"—and the definition of who's essential is broad, including grocery workers, meat plant workers, warehouse workers, airline workers, restaurant meal deliverers, and more. They'll all be eligible for $13 more an hour, up to a maximum of $10,000 on top of their current pay. The added pay would be retroactive from Jan. 27 through 60 days after the end of the "national emergency" from the coronavirus pandemic.
And bosses can use those federal grants only to top off workers' pay, not replace it. They also can't displace essential workers or cut their hours, the measure says.
The measure, called the Heroes Act, also includes $1 trillion, available in various ways, for states, local governments, and tribal governments, through Sept. 30, 2023. Without it, "the only thing those workers are getting so far is a pink slip," AFSMCE President Lee Saunders said in a statement.
"The only way to beat COVID and reopen the economy is to save vital public services and the public service workers who provide them," he said. "This bill…does exactly that," Saunders explained.
"This legislation, instead of bailing out wealthy corporations, invests in the services and the people who make our communities strong: People who provide clean water, safe roads, strong schools, fully staffed hospitals, and much more," he added in a statement.
Trumka lauded the legislation. "The Heroes Act includes an emergency workplace infectious disease standard, gives aid for state and local governments, public schools, the U.S. Postal Service, and pension relief, keeps workers on payrolls to avoid mass layoffs, extends unemployment insurance, provides more direct payments to working people, extends health care coverage, and provides housing and food benefits, and much more," he said.
Assuming lawmakers pass the measure, it would become the Democratic-run House's bargaining position with the Senate's right-wing Republicans. That's a direct contrast with the last two economic stimulus bills, including the $2.2 trillion measure of March 18.
Then, Senate Majority Leader McConnell ordered lawmakers to leave town, giving workers and Democrats a "take-it-or-leave-it" choice: His bill, or nothing at all. If McConnell blocks this one, Trumka said, "this could very well be his final term in the Senate." McConnell faces the voters this fall.
PPE push
Besides the money, another big win for workers in this measure orders the Occupational Safety and Health Administration (OSHA) to issue an emergency standard mandating that health care facilities craft and implement anti-virus protection plans for their workers. That's a key cause of National Nurses United. The union repeatedly points out how hospitals and nursing homes have stinted on PPE because there's no OSHA safety standard.
And the bill adds at least $1.3 billion for buying PPE—and that's just in one section.
Buying PPE for nurses and other essential workers is particularly important because the nation's top coronavirus expert, Dr. Anthony Fauci of the National Institute of Allergies and Infectious Diseases, warned senators on Tuesday that "some states acting too quickly" to reopen businesses and public areas would likely produce a coronavirus comeback in fall. Most are GOP-run.
Such a catastrophe would be on top of the 1.4 million confirmed coronavirus cases in the U.S., as of the morning of May 13, and 83,000+ deaths. The number of coronavirus cases is so large that it's as if every person in Dallas, plus 14,000 more people, were ill.
The Democrats' bill also gives OSHA $100 million more, directs it to hire more inspectors, and demands they concentrate on probing the nation's pork, chicken, and beef processing plants, sites of high coronavirus outbreaks.
Support for families
Also included in the House legislation is another round of direct stimulus for American families, with checks totaling up to $6,000 of help per family.
Like the earlier round of payments approved in March and paid out starting in April, the new proposal calls for $1,200 for individuals making up to $75,000 a year, and $2,400 for couples with family income up to $150,000, with smaller amounts phasing out at higher income levels.
Unlike the previous direct payments, though, this round would provide more help for families with children. Every dependent child, up to a maximum of three, would qualify a family for an additional $1,200 of assistance. The earlier stimulus package only gave $500 per child under age 17.
Even now, in early May, much of those funds are still being distributed. In the meantime, as unemployment climbs and unpaid rent and bills pile up, working families are falling further and further behind.
Missed opportunities
While the AFL-CIO's Trumka was generally happy with the proposed stimulus, others were less satisfied. For them, it didn't go far enough. Some green groups called it a giveaway to corporate lobbyists. One even charged it had a tax cut for the rich, though a reading of the tax provisions did not disclose one. Jayaraman was especially vehement about corporate influence on the measure.
In an evening Zoom conference call with Jayaraman and Arkansas chicken plant worker and Venceremos co-founder/activist Magali Licolli, Rep. Jayapal said that instead of $1,200 per adult grants, "We should take care of everybody, then target more aid to the lowest-paid workers," such as Licolli's colleagues.
"You maintain economic pressure" to reopen the country the right way, Jayapal added, "when you put money into people's pockets" so they aren't forced to take such low-wage jobs. But the Dems' bill doesn't do that. House Speaker Nancy Pelosi, D-Calif, rejected Jayapal's and the caucus's plan for guaranteed pay of up to $100,000, plus health care coverage, for all.
"I'm still looking at it," Jayapal said of the legislation Pelosi unveiled.
"We had 15 million service workers" in a million U.S. restaurants "and half of them aren't coming back," because of permanent closures and service cuts, Jayaraman explained. Many of the others won't get the checks or jobless benefits, either, she noted.
"These people will be unemployed not for six months, but for three or four years…. This is not happening because of incompetence, ignorance, or stupidity. The system was set up to deny, deny, deny" benefits "based on the capitalist philosophy to keep unemployment insurance as hard to get as possible so people will take jobs at low pay as possible."
But there also some other disappointments for workers and unions, and not just the lack of pay guarantees and worker rights.
For example, the Postal Service, which is hemorrhaging money due to a 50% drop in its money-making First Class mail, asked for $75 billion, and the nation's postal unions back that sum. Otherwise, Postmaster General Megan Brennan says, it could literally run out of money by Sept. 30. The Democrats give it one-third of that and said USPS's top priority should be to buy and equip all its frontline workers with PPE.
Mass transit agencies and the presidents of the nation's two big transit unions—John Costa of the Amalgamated Transit Union and John Samuelsen of the Transport Workers and—said transit systems need $32 billion combined to take them through the end of this calendar year and through calendar 2021.
The House bill, which runs through this Sept. 30, allots $15.75 billion. It reserves $11.75 billion for transit agencies serving metro areas housing at least three million people each—from #1 New York, #2 Los Angeles-Long Beach, and #3 Chicago through to #15 San Diego.
New York City's MTA alone needs $3.9 billion to get through Dec. 31, and $6.5 billion next year, given huge declines in both state aid and farebox revenue—some 90%—CEO Patrick Foye told reporters on May 12 just before Democrats unveiled their measure.
And all transit agencies, including two not at the press conference but which are more dependent on farebox revenue, the Chicago Transit Authority and Washington's Metro, "are faced with the same struggles," Costa said in a follow-up phone interview with People's World. Foye and the others cited ridership declines from 80% on one system to 95% on the Long Island Rail Road.
All the transit leaders emphasized that without functioning mass transit "cities would come to a halt, the economy would come to a halt, and the recovery would be hampered."
But the transit money also satisfies other requests by the transit leaders: It's specifically directed towards replacing lost revenue—the bigger the loss, the bigger the grant—and towards keeping workers employed, the measure says.
Losers: Tax-dodging employers, payday lenders, Trump
In other good news for workers, the House measure doesn't include three favorite schemes of Republican leaders: GOP President Donald Trump's demands for a cut in the capital gains tax and suspension of the Social Security and Medicare payroll taxes, and McConnell's "red line" that businesses who protect workers or customers from the coronavirus should be immune from lawsuits unless they don't follow federal protection guidelines.
"Emergency broadband connectivity" to wire the whole country, a top Communications Workers cause, would get $8.8 billion. And the poor couldn't be cut off of broadband service; it'd be part of the federal government's current telephone "lifeline" program.
The Democratic bill also provides a partial solution for the financially troubled multi-employer pension plans, which could affect millions of workers, especially Teamsters, Seafarers, Machinists, grocery workers, and coal miners. The measure would set up a hybrid system where those plans would be frozen and workers and beneficiaries gradually be transferred to so-called "composite plans," with potential benefit freezes, but not cuts.
And the bill would take coordination of buying and distributing medical supplies, including PPE, gloves, gowns, ventilators, and respirators, out of Trump's hands, protecting against the president's politically motivated distribution that has favored states helmed by Trump loyalist governors.
Blue-state governors, plus Maryland Republican Larry Hogan, have screamed about Trump agents seizing and diverting supplies they ordered. Many have resorted to evasive measures, such as chartering state flights directly to China and Korea to pick up PPE and test kits.
The bill orders Trump to name a "Medical Supplies Response Coordinator to coordinate the efforts of the federal government" in supplying and distributing "critical supplies and equipment related to detecting, diagnosing, preventing, and treating" the coronavirus.
The measure also bans debt collectors from garnishing wages and other payments to consumers and non-profit groups, or seizing or foreclosing on houses and other property. Without naming payday lenders, it caps creditors' interest rates and charges creditors.  And it bans evictions from federally-funded housing.
The payday lending and debt collection industries, two of the sleaziest and most evil in the U.S., have been lobbying Trump's Treasury Department to let them cash in on the billions in small business aid Congress allotted in prior stimulus bills.
And two big corporate tax breaks McConnell snuck into the $2.2 trillion stimulus bill, which passed in March, would be repealed. One would let businesses immediately write off all their equipment expenses, not 80%. The other section would let businesses carry losses backward as well as forward, thus getting refunds from the Treasury for past tax payments. That section particularly helped real estate developers—such as Donald Trump.
Like free stuff? So do we. Here at People's World, we believe strongly in the mission of keeping the labor and democratic movements informed so they are prepared for the struggle. But we need your help. While our content is free for readers (something we are proud of) it takes money — a lot of it — to produce and cover the stories you see in our pages. Only you, our readers and supporters, can keep us going. Only you can make sure we keep the news that matters free of paywalls and advertisements. If you enjoy reading People's World and the stories we bring you, support our work by becoming a $5 monthly sustainer today.