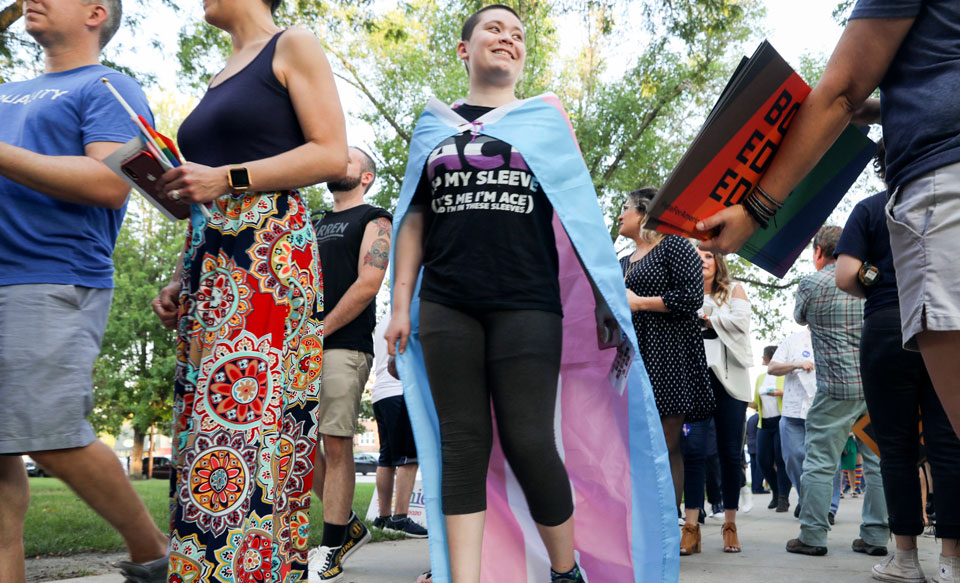 Last Friday Democratic candidates took the stage at Coe College in Cedar Rapids, Iowa, to attend the first LGBTQ presidential forum. The gathering was historic in that it was the first time that Presidential nominees got together to discuss the prevailing issues affecting LGBTQ communities across the country. The event was co-hosted by GLAAD, One Iowa, The Gazette and The Advocate.
The forum was live-streamed exclusively on YouTube, and included top democratic picks, such as include Former Vice President Joe Biden, U.S. Senator Cory Booker, Mayor Pete Buttigieg, former Secretary of Housing and Urban Development Julián Castro, U.S. Rep. Tulsi Gabbard, U.S. Sen. Kamala Harris, U.S. Sen. Amy Klobuchar, former Pennsylvania Rep. Joe Sestak, U.S Sen. Elizabeth Warren, and author Marianne Williamson.
Among some of the highlights of the night were discussions surrounding protections for LGBTQ individuals in the workplace, the sweeping violence that trans women of color face in this country, and the staggering poverty and homelessness that LGBTQ youth experience.
During the Forum, each candidate had an opportunity to speak on their history of political advocacy for LGBTQ rights, and answer for any questionable stances. Former Vice President, Joe Biden, found himself repeatedly in the hot seat for his previous track record on gay rights. Although famously recognized for pushing President Barack Obama to publicly support marriage equality in 2012, his track record has been spotty at best.
Moderator, Lyz Lenz, was quick to point out that Biden had previously been in favor of Don't Ask, Don't Tell and the Defense of Marriage Act. Furthermore, she referred to Biden's comments regarding current Vice President Mike Pence, calling the longtime anti-LGBTQ politician "a decent man." Biden reacted defensively saying that this was just his way of negotiating with Republicans "when you want to get things done."
On the other hand, several Democratic candidates came prepared to discuss policy. New Jersey Democratic Sen. Cory Booker, highlighted his anti-lynching bill and emphasized the need for trans-specific protections. The Newark mayor spoke seamlessly about his pro-LGBTQ track record, stating that the first flag he raised as mayor in 2006 was the pride flag.
Elizabeth Warren, similarly, received a positive reaction from the crowd after she used her allotted time to read off the names of the trans women of color who had been had been fatally shot or killed in 2019. She urged the crowd to speak up for trans communities during this "moment of crisis," and called on Congress to act. Although the moderator was quick to point out that Warren was initially unsupportive of gender-affirming surgery in 2012, she also reiterated that she has since reversed her position.
Julian Castro started off by stating that within his first 100 days as President he would roll back all discriminatory anti-LGBTQ policies enacted by the Trump administration, and create a task force to investigate the murder of trans women across the country. Castro was also the only politician who discussed LGBTQ asylum seekers, and the importance of reforming the current immigration system.
Now a week later, voters can't help but wonder what comes next? The second LGBTQ forum is scheduled for October 10, 2019, and will be hosted by the Human Rights Campaign and CNN. Although the first forum was a necessary start to a critical discussion – the next president won't be elected until 2020, and LGBTQ communities continue to face ongoing threats to their employment and healthcare under the Trump administration.
As it stands transgender individuals currently experience the highest rates of violence within the LGBTQIA+ community. According to studies conducted by GLAAD, 2017 set a record for the deadliest year for trans individuals, with 28 recorded deaths due to fatal violence. This year is on track to be equally as dangerous for trans women of color. Furthermore, an astonishing 47% of black trans women will become incarcerated in their lifetimes, a fact Booker linked to the issue of police bias during Friday's forum.
This is all to say that the urgency around LGBTQ issues is in need of swift and immediate action. Democratic candidates may not have executive power but many still hold legislative influence, access to resources and a massive national platform.
In the same light, there were many issues in the LGBTQ community left unaddressed. During Friday's forum, a protestor disrupted the event, yelling, "ABOLISH FOSTA-SESTA." No candidate has yet acknowledged the harmful policy that overwhelmingly affects LGBTQ sex workers. Legislation like SESTA/FOSTA (the Stop Enabling Sex Traffickers Act and the Allow States and Victims to Fight Online Sex Trafficking Act) has set a dangerous precedent and increased the stigma around consensual sex work.
The enactment of the controversial bill ended up affecting many of the online platforms where sex workers advertise; successfully shutting down Backpage, and the personals section of Craigslist. Compounded with institutional racial bias, many sex workers of color now face harsher sentences over what is commonly considered survival work in their communities.
The next LGBTQ forum is scheduled to be 4-hours, gay and trans rights are finally taking center stage – making it that much more critical for progressive leadership to step up. LGBTQ individuals, particularly trans women of color, are in desperate need of support from both inside and outside the community. With the election looming, just a little over a year away, fighting against Trump's harmful anti-LGBTQ policies is only the first step in a long line of work that needs to be accomplished.