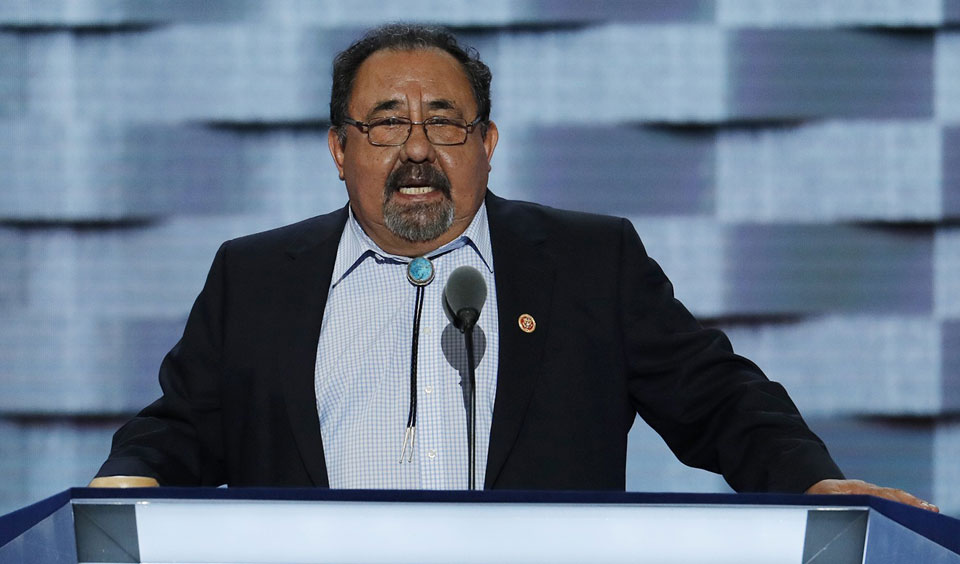 If you were watching the corporate news or listening to Donald Trump the morning following the midterm election you would have had the impression that Arizona had voted Republican, once again, but this was just wishful thinking on their part. The reality is that Democrats made huge gains in the Grand Canyon State led by Democratic Rep. Kyrsten Sinema who defeated right-winger Rep. Martha McSally to flip retiring Sen. Jeff Flake's seat and become Arizona's first woman and first LGBT Senator.
Sinema had promised to fight for healthcare and to protect Social Security and Medicare, while McSally's campaign touted McSally's military record with lots of red-baiting, anti-immigrant racism, and lies about Sinema. McSally tied herself to Trump who campaigned for her in Arizona. So while Sinema was trailing McSally by one percent at the end of election day, she has been able to catch up and surpass McSally as the counting continues and is now the winner. Where counts are continuing other Democrats are continuing to make gains.
Counts take a long time here because in Arizona most people vote by mail, returning ballots that were sent out a month before the elections. The ballots arriving before election days are verified by election workers prior to the election day, and then counted together with ballots from election day voters. Only two-thirds of the ballots, then, were counted by the end of the election night. Counting of the other third, some 700,000 ballots, did not start until last Thursday and is still ongoing. These one third tend to favor Democratic candidates.
There are also thousands of provisional ballots. Most are from people who had received mail-in ballots but showed up at the polls without them. Election workers need to make sure these folks did not mail in their ballot before they can be counted. Other provisionals are from folks who have changed addresses or are challenged for other reasons. This third tend to include younger, lower income, and more urban voters so in Arizona statewide elections Democrats always gain the week following election day.
Now that we are well into the counting the Democratic victory has become clear. Democrats not only flipped the US Senate seat, but former Rep. Anne Kirkpatrick handily won McSally's U.S. House seat for another flip. Other Democratic statewide victories were made by Kathy Hoffman, an educator and part of last Spring's teachers' uprising who will be the new Superintendent of Public Instruction, a very sweet victory for our teachers and parents. State Legislator Katie Hobbs is now in dead heat to become Secretary of State, an important office in Arizona which doesn't have a Lt. Governor making her next in line to succeed to the governorship if a vacancy occurs – very common in Arizona where our governors have been impeached, resigned in scandals, or gone to prison.
In the election for two seats on the Corporation Commission, which regulates utilities, Democrats are also coming on strong. Democrat Sandra Kennedy is leading in that race. Kennedy was first elected to the Commission in 2010, becoming the first African American elected to statewide office west of the Mississippi, She lost the seat four years ago, but now is back with another African American woman, Kiana Sears, trailing in fourth place, but with a chance to catch up.
Going into the election Arizona had 13 offices elected statewide all held by particularly right-wing Republicans. Nine of these offices were up for election and the Democrats should win four and are closing in on the fifth. All five are Democratic women with labor endorsements defeating Republican men. Republicans managed to hold on to the Governorship, Attorney General, State Treasurer, and Mine inspector.
The Arizona state legislature has been particularly right-wing, mounting one attack after another on the people. The legislature is made up of 30 districts each of which elects one senator and two representatives. Democrats hold 13 seats in the Senate with a chance of gaining one as the counting proceeds. Unexpectedly, Democrats managed to gain four seats in the House of representatives for a total of 29 seats. They need one more seat to gain a 30-30 split in which case they can block any legislation since we have no Lt. Governor to cut the tie. Democratic candidate Felicia French, who is trailing in a close race in Northern Arizona's District 6, has an outside chance to be the 30th. The movement by teachers inspired by a successful strike and broad community support played an important role in the legislative races where several teachers became candidates. A strong independent campaign by labor also helped. Women will now comprise over 40 percent of the new Legislature.
Across the state, many progressive candidates participated and won in local races. Progressive school board members won reelection, notably, Adelita Grijalva at the Tucson Unified School District, Patrick Morales in Tempe Elementary, and Eva Carillo Dong, unopposed at Sunnyside in Tucson. Voters also turned down a proposition to greatly expand school vouchers. Voters in Flagstaff defeated an attempted attack on their $15 an hour minimum wage law.
Rep. Raul Grijalva, chair of the Congressional Progressive Caucus, easily won reelection in a landslide. Grijalva, who is Congress' foremost environmentalist, is slated to become chair of the House Natural resources Committee. Polluters beware!