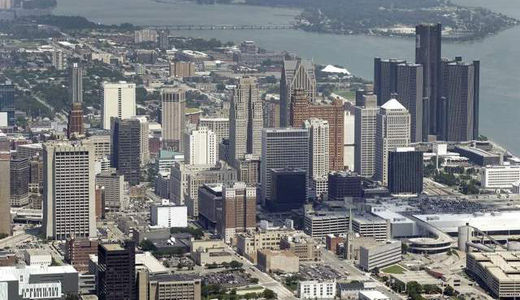 Everyone is congratulating Michigan Gov. Rick Snyder and his emergency manager, Kevyn Orr, for helping to craft a bankruptcy settlement in Detroit.
Judge Steven Rhodes allowed some haircuts to creditors, although there are rights to the international bridge crossing into Canada and other goodies in the bargain to soften creditor losses. But city pensioners lost health care and cost of living increases, along with 4.5 percent pension cuts. The pensioners will get a monthly allowance to help with their health care, but do we know the future of Obamacare? In any case, $125 doesn't pay much of a health care premium.
The exit plan included a "Grand Bargain" under which foundations (Ford, Kresge and others) will contribute millions so that the priceless collection at the Detroit Institute of Arts won't be auctioned off to pay pension creditors. Much of the city art collection had been gifted from the big auto families over the years – the Ford, Fisher, and Dodge families. They weren't about to see those bequests get sold off to pay pension debts. Gov. Snyder did have to persuade his Republican legislature to sign off on the deal since the State of Michigan also had to take a stake in the "Grand Bargain." Doing so helped seal his re-election to the governorship.
As much as some people want to blame Detroit for mismanagement and corruption, they easily forget that the auto industry that once thrived here and paid good wages to workers, who could thereby pay taxes and support local business, abandoned the city and even the country for cheaper labor. Automation yielding today's production outcome has also contributed to a work force only a small fraction of its former size.
How many other cities in the country are in financial trouble? What kind of "Grand Bargain" can they craft?
How Scranton, Pa., decided to confront its crisis was to put all city workers on minimum wage! Other cities facing a dwindling tax base have outstanding pension debt as well. What is the solution to saving our cities?
Last year Robert Reich put out a documentary, Inequality for All, which dramatically showed the link between the attack on unions and the decline of the standard of living for the "middle class." One billionaire frankly stated that it wasn't billionaires who created jobs, but people with good paying jobs who put a demand on goods who were the job creators.
There are so many cities in crisis, with workers being forced to take cuts, services being eroded, and public education getting gutted. What's really needed is not austerity, but higher wages. We need to raise the minimum wage and support the $15 an hour movement.
We need good paying jobs brought back, and we can start with infrastructure jobs. All our bridges and sewer systems are well beyond their life span and it's dangerous not to fix them. Individuals wind up paying out of pocket every time a tire hits a pothole or when there's a flood from a broken old sewer pipe.
We need to take the money away from the war budget and shift it to our cities. It's unspeakable the amount of money going for drones and nuclear weapon refurbishing. That money can go to insulating homes and businesses, and research for controlling environmental havoc, or to drug and medical research.
We need to raise the wages of health care workers and educators and service workers. People can't live on three minimum-wage jobs. They need one good paying job with benefits, vacation and sick time.
The cities by themselves cannot solve these problems. There are cities large and small, and much of rural America, that are struggling. Cities that are surviving find themselves raising taxes to pay for services and infrastructure that should be paid from state and federal funds, like roads, police, and schools. But that money has been siphoned off to the rich through tax cuts, and to fatten the military and its contractors.
Let's cut the military and fund the cities! Let's demand that the rich pay their share! Let's support the $15 hour campaigns and Black Friday Walmart demos!
Photo: Paul Sancya/AP