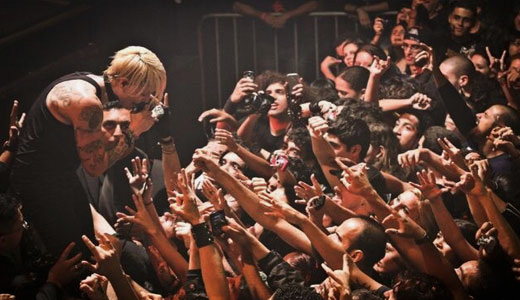 The annual Mayhem Fest, a tour that primarily features metal bands, has announced its 2014 lineup. Curiously, record label Victory Records has cut one of its artists – nu metal band Otep, whose eponymous singer is a lesbian and LGBT activist – out of the tour. It may be no coincidence that the festival's main sponsor is Rockstar Energy Drink, a corporation with ties to a homophobic, conservative political pundit.
Otep Shamaya, singer, poet, and advocate of gay rights and animal rights, tweeted about her band's exclusion, noting, "Lots of people are asking why we aren't on Mayhem Fest this year. Could it be that one of their corporate sponsors is openly homophobic?"
Quite possibly. Rockstar was founded in 1998 by Russell Weiner, who just so happens to be the son of conservative talkshow host Michael Savage. Savage was fired from cable television channel MSNBC back in 2003 after referring to an unidentified gay caller as a "sodomite who should get AIDS and die." Savage went further, saying that the caller was a "pig" and a "piece of garbage." He later said of gay people, "these bums mean nothing to me."
Cathy Renna, spokeswoman for the Gay and Lesbian Alliance Against Defamation, said that Savage's firing was the right decision. She remarked, "It's about time. This attack made the clearest case for why Savage has no place on any reputable news network."
As for Weiner himself? At a 2010 Rockstar-sponsored concert, he warmed up the crowd by chanting, "Who's heterosexual and proud? If you aren't, hopefully you will be soon!" He also proclaimed, "I'm proud to be the son of Savage!"
The energy drink company's association with these anti-gay positions is troubling for metal artists like Shamaya, who are working hard to show those not familiar with the metal scene that the heavy metal subculture is not, as it has sometimes been portrayed in the media, homophobic.
Since forming her band, said Shamaya, "It never crossed my mind that I was a rarity or something unique. And it never crossed my mind that I should hide what I am. I think the lesbian community is just now showing all of itself; all of its faces. Whereas before, people might have a certain idea of [some stereotype of] what a lesbian is. The more exposure people get to the LGBT community, I think that's good."
Despite the hatred attached to groups like Rockstar, Shamaya sees the culture surrounding the music as moving in a more accepting direction. "Being an out lesbian in heavy metal," she says, is different now. At shows, "we see guys bringing their boyfriends, girls bringing girlfriends, and mixed couples coming in now. It's becoming a very inclusive tribe of people coming together behind the message."
Rob Halford, frontman of metal band Judas Priest, said that his coming out as gay decades ago forever changed metal's views on LGBT issues for the better. "There are now areas of this music that are more compassionate, more tolerant, more open, more accepting, and more aware. We have destroyed the myth that heavy metal bands don't have that capacity."
Though it hasn't been confirmed that Rockstar's inclusion on this year's Mayhem Fest is directly responsible for Otep's exclusion, it certainly doesn't help the metal scene to be associated with any company that supports conservatives like Savage.
"There is still a long way to go," Halford concluded. "But heavy metal now is a completely different world compared to heavy metal in 1980. There are still a lot of issues that need to be addressed, but I think slowly but surely, things are getting better."
Photo: Otep performance in Indianapolis. Otep official Twitter page