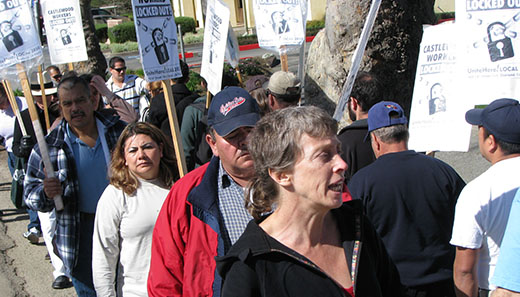 OAKLAND, Calif. – Union and community supporters from miles around flocked to a delicious gourmet dinner here Aug. 14, prepared and served by dozens of Castlewood Country Club workers who have been locked out of their jobs at the posh Pleasanton club for nearly six months.
The "Fiesta for Justice" raised funds to aid the workers, who have been represented by Unite Here! Local 2850 for over three decades.
The club "used to be a beautiful place to work, but everything changed when the new board president took office," Angel Melendez, a longtime cook at the club, told the capacity crowd. "Their first goal was to get rid of the union, because without a contract, it would be easier to get rid of us."
The 61 food servers, cooks, bartenders and janitors have been locked out since Feb. 25, after they and their union rejected management's insistence that they pay $739 per month for family health coverage. The workers, who average about $12.50 an hour, had not previously contributed to their health coverage.
Management rejected their offer to pay $225 a month for the family coverage, to limit health coverage to full-time workers, and to accept a wage freeze in the first year and very low wage hikes in later years.
"I have a wife and two children," Melendez said. "I need medical care for them. We are not going to give that up. We'll be here for a thousand years if that's what it takes!"
Calling the club's latest offer "even worse," janitor Francisca Carranza told the crowd, "Castlewood's management wasn't expecting that we are backed up by all of you. She added, "If we're not doing what we're doing today, what will the future be for our kids who come after us?"
The locked-out workers have received support from area elected officials, including Pleasanton's mayor, Jennifer Hosterman, and its City Council, as well as Assemblymembers Alberto Torrico, Mary Hayashi and Tom Torlakson, and Alameda County Supervisor Scott Haggerty.
Among the dinner guests were some supportive country club members.
Castlewood Country Club says it has spent over $337,000 on expenses related to the conflict, including at least $35,000 from canceled events. Unite Here! Local 2850 president Wei-Ling Huber told the diners that amount far exceeds what the club would have spent by accepting the workers' proposals.
One event which was not canceled was a $2,400-a-plate fundraising dinner earlier this month for Republican candidate David Harmer, campaigning to unseat area Democratic Rep. Jerry McNerney in November. Harmer has reportedly taken flak for crossing the workers' picket line.
Leadership of the Alameda Labor Council, and affiliated unions which have given generously to the workers' hardship fund, were also well represented at the dinner. Council President Dionisio Rosario told the workers they are displaying "incredible courage to stand up in the face of losing your job. Despite the difficult times, you have chosen to stand up and fight."
In addition to their regular pickets several times a week, the workers and their supporters have held a number of special mobilizations coinciding with special events at the club.
For the latest news on the Castlewood workers' struggle, see endthelockout.org.
Photo: Marilyn Bechtel