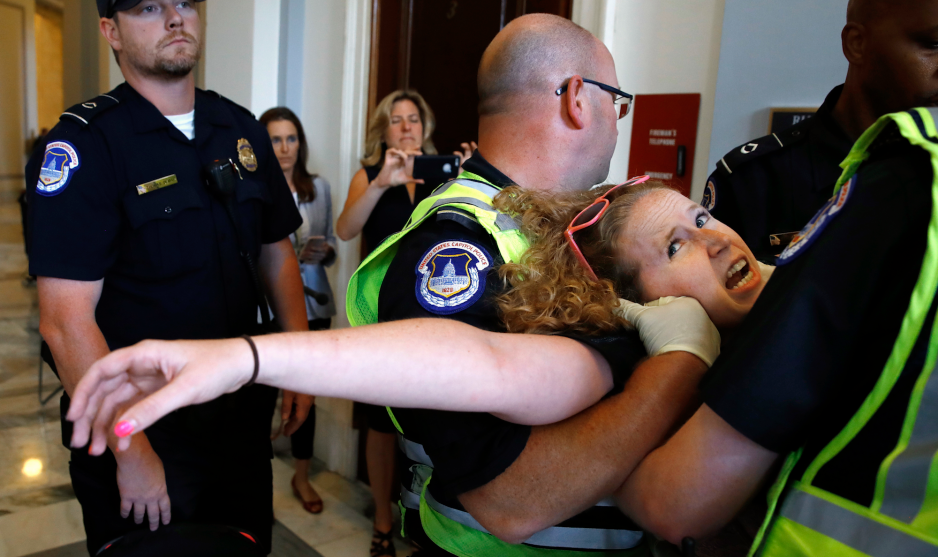 The disabled are taking a stand this week as they battle the Trump's administration' attempt to destroy Medicaid, the lifeline for millions of them. Many individuals with disabilities have moved to the front lines of the national fight to save healthcare for all Americans because the Trump cuts mean keeping them from being able to function on a daily basis and worse yet more illness and even shorter lives. For their families the assault on their healthcare by the GOP means potential economic collapse.
Many of the Republican policies would generate cuts to the Medicaid services used by the broader public if enacted. In addition, according to the Congressional Budget Office, 22 fewer million Americans would have health insurance in 2026 Under the Senate Republican health care bill, compared to the amount that would have it under the Affordable Care Act. This would leave a large sector of the disabled population at a disadvantage.
The response: sit-ins, sit downs and protests across the nation viewed this week on television and on the Internet. Dramatic videos of people being handcuffed and dragged by police and security guards out of their wheelchairs and down the long hallways of government and legislative offices have shocked the nation and the world as people ask how this could happen in the United States of America.The images, however, have become a rallying cry for everyone affected by the assault on healthcare in America to follow their example and step up the resistance from one end of the nation to the other.
ADAPT/Atlantis Community, Inc., is coalition whose efforts are usually focused on increasing accessibility for disabled people on public transit systems. In Denver on Tuesday a number of protesters belonging to this group occupied Sen. Cory Gardner's office Tuesday afternoon, just hours after Senate Republicans decided not to try and vote on the Senate's version of the bill, the Better Care Reconciliation Act of 2017. The protest, which is being live streamed online, has continued on for multiple days.
Some 60 disability rights activists from ADAPT were dragged out during a similar demonstration at Senate Majority Leader, Mitch McConnell's office. McConnell, who has been a leading voice in the battle to dismantle Obamacare, had Capitol Hill Police forcibly remove protesters in wheelchairs during the staged "die-in."
Photos of the incident online showed several severely disabled individuals being hauled off with little regard to their safety or physical well being. Reports came in of people in wheelchairs being dropped, Some cried out in protest as they were carried away."Don't mess with my Medicaid!" they pleaded.
Healthcare workers receive extensive training in how to transfer people to and from wheelchairs because  many have developed severely atrophied muscles and bones because of their situation. Movement in and out of wheelchairs that would be harmless to individuals without such handicaps can become dangerous or even deadly for handicapped individuals. Sending in untrained police or security guards to drag individuals faced with these situations is seen as unconscionable by the many thousands of healthcare workers and family members who work with the handicapped and developmentally disabled
A total of 43 protesters were arrested and charged with "crowding, obstructing, or incommoding."
Less than a week thereafter, McConnell delayed a vote on the Senate healthcare bill until after the July 4 recess. Senators opposed to the draconian plan say he will use the time to try to bribe resistant GOP senators who fear the backlash from their constituents into supporting the bill with promises of programs in their individual states. It's a process Republican Sen. Susan Collins, who opposes the bill, called "nibbling around the edges" but basically leaving the bad bill intact.