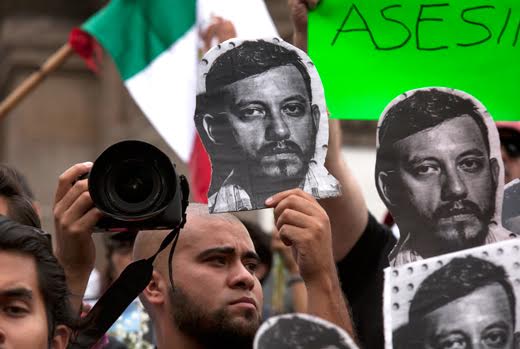 In 1978, I traveled by a "Two Star Line" bus from the Revolution Monument in Mexico City to the port city of Veracruz on the Gulf coast. In the process I fell in love with the whole state of Veracruz: From the raffish old port to the flowery capital, Xalapa Enriquez. But even then, it was clear that ugly violence coexisted with beauty.
Vanilla cultivators, mostly members of the Totonaca indigenous people, were under siege from wealthy outside interests which wanted to oust them from their land to make room for beef cattle raising. The ranchers had support from the ruling Revolutionary Institutional Party, while the vanilla farmers created a grassroots defense movement to keep themselves from being driven off their "ejido" lands, communally-owned but individually farmed vanilla orchards that had been guaranteed to them by the land reform program of President Lazaro Cardenas in the 1930s.
While I was there a schoolteacher who had been playing a leadership role in the vanilla farmer protests was shot to death, a crime attributed by local people to the allied PRI and cattle ranching interests.
Today, it would appear that similar dynamics obtain in Veracruz politics. The PRI governor of the state, Javier Duarte de Ochoa, is in the spotlight for a series of scandals including the killing of no fewer than 15 journalists, as well as accusations of drug connections and other crimes. But he appears to be fully backed by Mexico's President, Enrique Peña Nieto, also from the PRI, whom had a similarly scandal-ridden run in his previous job as governor of Mexico state.
The latest horror is the murder, on Friday July 31, of a man and four women in a shared apartment in the Narvarte neighborhood of Mexico City. The dead, who had been tortured and the women raped, included photojournalist Ruben Espinosa from the left wing magazine Proceso, Nadia Vera Perez, a left wing youth activist and anthropologist who had been part of the anti-Peña Nieto "I am number 132" student movement in Veracruz during the 2012 national elections, Mile Virginia Martin, an aspiring model of Colombian nationality, Yesenia Quiroz, a young student, and Olivia Alejandra Negrete, a domestic employee.
Both Nadia Vera Perez and Ruben Espinosa had clashed with Governor Duarte of Veracruz and had expressed fear for their lives. Nadia Vera had previously recorded a chilling video message in which she bluntly stated that if anything happened to her, blame should be laid at Duarte's doorstep.
Ruben Espinosa was evidently on Duarte's special list because of his photojournalism activities, including the investigation of a previous murder of a journalist, Regina Martinez, and especially because of a photo that Proceso published of Duarte with a caption suggesting that he runs a lawless regime. Duarte had recently advised journalists to "behavior yourselves."
It is not clear if the other three women had political involvements.
There is a bad situation of violence in many areas of Mexico. The fate of the 43 students from the Raul Isidro Burgos Normal School in Ayotzinapa, state of Guerrero, is as yet unknown in spite of an international campaign by their parents and supporters. In the process for looking for the 43, searchers found scores of mass graves, and nobody knows who the bodies in them belong to, just that they are not the students. The number of missing in Mexico's internal violence is at least 20,000. About 100,000 people have lost their lives since former President Felipe Calderon, of the right wing National Action Party, declared "war" on drug traffickers in 2006. But Mexico City itself has had, until recently, a relatively low violent crime rate, under a left-center city government.
Duarte was elected as governor of Veracruz in 2010 in an election marred by accusations of fraud; his strongest opposition candidate, from a left-center united front had challenged the results but without success. Since Duarte has been in power, a total of 15 journalists have been assassinated in Veracruz, and there have been many accusations of political corruption, including connections of officials with drug cartels.
In Mexico City, the PRI and its joined-at-the-hip coalition partner, the Green Ecological Party, soon moved to prevent a national investigation of the murders. The prosecutor's office of the Federal District hinted that the killings were merely a robbery gone wrong, or that, because Ms. Martin was from Colombia, this was somehow related to that country's violence. The Federal District Prosecutor seems to be ignoring the threats that Espinosa and Vera had reported; he fatuously stated that Espinosa's murder was probably not related to his photojournalistic work because he was unemployed at the time! Protests by journalists and others have been aimed not only at the PRI and the Greens, but also at the current governor of the Federal District, Miguel Angel Mancera, who was elected with the support of the Revolutionary Democratic Party, originally on the left but itself now under a cloud.
Commentator Laura Carlsen of the Americas Program points out that the U.S. has continued to fund Mexican security services to the tune of $3 billion since 2008, through the Merida Initiative and other programs. This money is supposed to help Mexico "fight drugs", but the entanglement of Mexican state agencies with the drug mafias themselves suggests that this is worse than money wasted.
At writing, Mexico City Police had arrested a suspect in the murders, Roberto Pacheco Gutierrez, and protests by journalists unions and others are mounting.
Photo: Journalists protest the murder of photojournalist Ruben Espinosa Becerril as they hold printouts of his photo, in Mexico City. | Marco Ugarte/AP