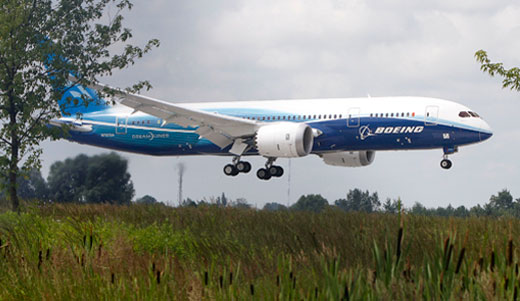 SEATTLE – Newly uncovered Boeing Co. documents show the company's own executives believed that "Project Gemini" – their plan to punish workers in this state by establishing a second 787 line in South Carolina – was their highest risk option for their new Dreamliner jet and the one most likely to fail.
This ties in with an earlier report on Boeing's tax strategy by a public interest group showing that Boeing follows a deliberate strategy of boosting profits by squeezing taxpayers for handouts in South Carolina, Washington and other states.
The Project Gemini documents were released by Machinists Union District Lodge 751 today at the International Labor Communications Association convention here at a packed press conference for national television, print and on-line media.
"The Project Gemini documents prove what we've suspected all along, that Boeing moved to South Carolina to punish our members for exercising their union tights," said Connie Kelleher, a spokeswoman for District 751
"In addition, the report on Boeing's tax strategy shows the company considers state and local governments to be cash cows to be milked at every opportunity," she declared. "We've certainly seen that, with the 787 incentives in both Washington and South Carolina."
The Project Gemini documents have already been subpoenaed by the National Labor Relations Board to be included in its complaint against Boeing. The NLRB has charged that Boeing moved its 787 work to Charleston, South Carolina, in retaliation for strikes by Machinists District 751 in 2005 and 2008.
The documents disclosed here today were first presented, in secret, to Boeing's board of directors in April 2009.
They show that Boeing executives considered Project Gemini to be the highest-risk option they had, with great likelihood of failure and the most serious consequences if that should happen.
They show that the company was so determined to break the union that it was willing to accept costs "significantly greater" than the cost of keeping the line in Everett, Washington.
The April 2011 report on Boeing's tax strategy, was written by the Institute for Wisconsin's Future, and claims "there is no company in America better at avoiding taxes than Boeing."
It included information from a workshop Boeing put on for numerous companies in 2004, titled, "Turning Your State Government Relations Department from a Money Pit into a Cash Cow."
According to the Institute, Boeing moved into its new Chicago headquarters in 2001 after obtaining $60 million in tax breaks, and in 2003 got a $3 billion tax break in Washington state in exchange for guarantees to build 787s in the state. Boeing built its new plant in South Carolina after squeezing a 63 percent discount on its local property taxes there.
The report charges that Boeing pits states against each other in a competitive bidding process and that even top South Carolina officials have no idea how much money they've given away. A local newspaper has calculated the total handouts at least $900 million, with a final value over $1billion, according to the report.
Meanwhile, the state of South Carolina has run budget deficits, forcing severe cuts in public health, education and programs for seniors and the disabled.
Photo: Boeing 787 Dreamliner making its very first landing at the Frederic Chopin airport in Warsaw, Poland, June 24. Czarek Sokolowski/AP