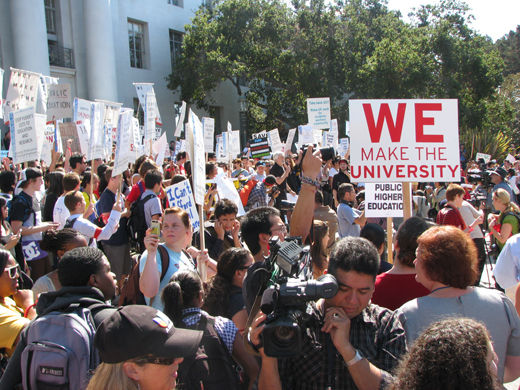 As if the severe cuts California Governor Jerry Brown outlined in his proposed budget message last month weren't drastic enough, the California non-partisan Legislative Analyst's Office (LAO) Feb. 14 released its view of the draconian scenario if Brown's proposed extension of some temporary taxes is defeated in a special election projected for June.
Brown's proposals to cope with a $25 billion-plus budget gap already call for some $12.5 billion in cuts, mostly to programs serving human needs, such as the CalWORKS welfare-to-work program, In-Home Supportive Services for the elderly and disabled, and the state's university systems.
Brown's budget does not call for new revenue, though such measures as an oil severance tax and freeing corporate property from existing property tax restrictions have previously been suggested by his fellow Democrats. The Republican legislative minority has vowed to bar any new taxes by blocking the two-thirds majority required to pass a budget.
At the request of state Senator Mark Leno, D-San Francisco, chair of the Senate Budget Committee, the LAO issued its projections for what could happen if voters reject extending temporary hikes in income and sales taxes, the vehicle license fee and some corporate taxes.
LAO's director of state finance, Jason Sisney, emphasized that his office was not making recommendations, but offering options for $13.5 billion in further cuts to meet Leno's request for a scenario in which the tax extensions failed and no new revenue was provided.
On the list:
• $4.5 billion less for K-12 public schools, resulting in – among other things – ending K-3 class size restrictions, raising the minimum age for kindergarten to five years, shortening the school year and ending state funding to transport students to school.
• $1.7 billion less for community colleges and state university systems, with consequent fee hikes of five percent for community colleges, seven percent for the California State University system and 10 percent for the University of California. CSU's enrollment could be cut by five percent, and CSU and UC financial aid cut by five percent. Cal Grants for low income students could be restricted.
• $2.6 billion less for prisons and courts.
• $1.2 billion in health and social service reductions could include cutting wages for In-Home Supportive Services caregivers to minimum wage, ending programs to investigate elder abuse and ending state subsidies to youth crime prevention programs.
• State workers could see a further 9.24 percent pay cut and a 30 percent cut in state contributions to their health care.
And so on, for most of an 11-page letter.
"What I had asked of the LAO late last month in the Budget Committee is to provide us a universe respectful of federal and state law from which we could potentially cut another $12 billion," Leno told the San Francisco Chronicle. "The numbers speak for themselves."
Photo: University of California students demonstrate on the Berkeley campus against earlier fee hikes and cuts. (Marilyn Bechtel/PW)