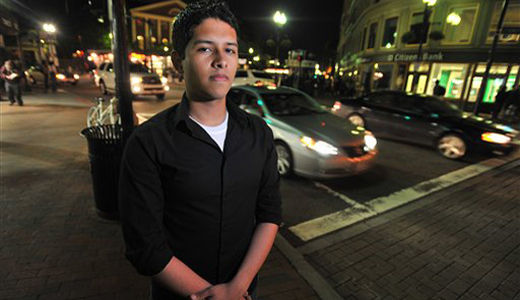 Suicide cases or the thought of suicide among undocumented youth are shocking. These are young people, who were brought to the U.S. by their parents as children, and have lived here most of their lives. Now they are being threatened with deportation.
These are real horror stories.
A couple of months ago, a 19-year-old Gustavo Rezende made national headlines for killing himself to escape deportation to Brazil. A 17-year-old undocumented student apprehended by police after making an illegal left turn behind the wheel, committed suicide in jail less than 48 hours after the arrest.
Last week Eric Balderas, a 19-year-old Harvard biology student who has lived in the U.S. since he was four, was detained at a Texas airport for hours. He now faces deportation to Mexico.
Balderas says he is the son of a single mother who left an abusive husband. She worked 12-hour days packing biscuits while raising his younger brother and sister in San Antonio, Texas.
Balderas barely remembers Mexico and considers English to be his first language. As valedictorian of his high school, Balderas had been accepted into several small liberal arts colleges but chose to attend Harvard, where he has a full scholarship.
He had previously used a Mexican passport to board planes, but recently lost it and was detained by immigration authorities while trying to travel back to Boston after visiting his mother in San Antonio.
Balderas thought he was immediately being deported and feared for his life. As he sat handcuffed he contemplated thoughts of suicide. He was detained for five hours before he was released.
He boarded a flight back to Boston, the following day, where he hopes to spend the summer conducting research at the university. He is studying molecular and cellular biology at Harvard and hopes to become a cancer researcher.
Balderas has a July 6 court date with an immigration judge, officials say.
Harvard officials immediately threw their support behind Balderas.
"Eric Balderas has already demonstrated the discipline and work ethic required for rigorous university work, and has, like so many of our undergraduates, expressed an interests in making a difference in the world," said Christine Heenan, Harvard's vice president of public affairs and communications in a statement.
We should support Heenan and others who say enough is enough, and call on lawmakers to support and pass the Dream Act.
The Dream Act is a federal bill that would allow students like Balderas and thousands of others toward a pathway to citizenship via college enrollment or military service.
A number of college president at universities such as Brown, Tufts and others support the legislation, including Harvard President Drew Faust.
Balderas and other like him are excellent students and an example of what this country needs, dedicated youth who want to help give back. Passing the Dream Act would throw a lifeline to such talented youth who are already working hard in middle and high schools throughout the country.
Sixty-five thousand undocumented youth graduate from U.S. high schools every year. These are students who are part of this country's beautiful make-up and are valuable assets to American society. Some like Balderas are the best minds this country produces, whose credentials speak for themselves. We should support and nurture such talent.
These children did not have a say when they came to the U.S. And their parents like most here only want what is best for their family's future.
How many countless suicide stories must we read about and imagine how many never make it into the news because surviving family members fear discovery and deportation?
We say not another suicide, not another life taken due to a broken immigration system.
The time is now to pass the Dream Act and Congress must have courage to support comprehensive immigration reform before it's too late.
Our children's lives depend on it.
Photo: Undocumented Harvard student Eric Balderas, 19, in Harvard Square in Cambridge, Mass. June. 11. Josh Reynolds/AP