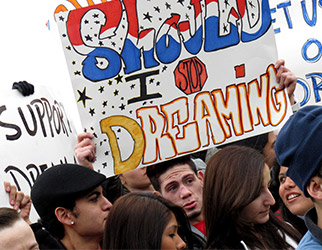 Join peoplesworld.org for a teleconference discussion.
Tuesday, May 21
8:00 p.m. Eastern, 7:00 p.m. Central, 6:00 p.m. Mountain, 5:00 p.m. Pacific
Call (605) 475-4850
Dial 1053538# when prompted
(long-distance charges may apply)
Please dial in to join us for an important teleconference Tuesday evening, May 21, titled "Dream activists put it all on the line for immigration justice." People's World contributor Scott Hiley will be interviewing Rigo and Arianna, two activists from the Immigrant Youth Justice League, a Chicago-based organization led by undocumented organizers working towards full recognition of the rights and contributions of all immigrants through education, leadership development, policy advocacy, resource gathering, and mobilization. Since 2010 IYJL has been the national leader in the National Coming Out of the Shadows strategy, urging undocumented immigrants and allies to speak publicly about our stories. This strategy, along with the slogan "Undocumented, unafraid" was first proposed by IYJL members in May 2010, and has been replicated nationally each year.
Call in May 21 to join the discussion. Send your questions to questions@peoplesworld.org during the presentation.
---
Rigo Padilla is a founding member of the Immigrant Youth Justice League and graduate student in Latin American & Latino Studies at the University of Illinois at Chicago. As an organizer he has participated in a number of campaigns and actions for immigration reform and the national DREAM Act. More recently, he has been very active in national campaigns to stop individual deportations. He has played a pivotal role in the design and advocacy for the Illinois Dream Act, and is currently playing an active role in organizing its implementation.
PHOTO:
Some rights reserved by longislandwins