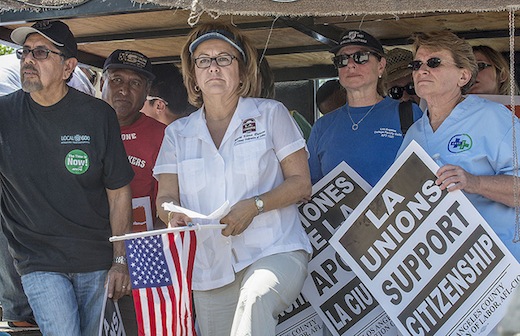 LOS ANGELES – In a speech to labor journalists here Sept. 6, one of the nation's most powerful union leaders made the case for building a union movement very different from the one that exists in America today.
"There are 800,000 full-time workers in this city who work long hours to support their families but they are not in unions and despite their hard, often back-breaking work they live in dire poverty," said Maria Elena Durazo, executive secretary-treasurer of the Los Angeles County Federation of Labor.
"This, I submit, should be a major concern of the labor movement if it intends to survive in a society where 90 percent of the people are not in unions. Too many have worked and struggled for too long to either stay in the middle class or get into it to let the union movement die. A new invigorated labor movement is the only hope we have and we can't build it alone."
Durazo was addressing journalists attending the national convention of the International Labor Communications Association, an organization of journalists who write for some 100 union publications and independent labor papers including the Peoples World.
She is preparing for the participation of her Los Angeles unions in the national convention of the AFL-CIO, which will open here Sept. 9. It is the aim of her unions and many others gathering here for the big convention to build a new type of labor movement, one which extends beyond the confines of traditional unions to include workers centers, immigrant rights groups, environmental groups, civil rights groups, LGBT organizations, youth groups and many others with a common interest in turning back what they see as a corporate-backed attack on all labor and progressive groups in America. Durazo, the daughter of Mexican immigrants, began her career in the labor movement fighting for the rights of immigrant workers in the hospitality industry.
"The workers were immigrants and they spoke Spanish and other languages," she explained. "The old union leadership didn't allow stuff to be translated into Spanish. This is an extreme example of how you create a communications problem and it is obvious it was something we had to change if the labor movement was going to survive.
"Today, we have new communications problems we have to solve. You've all heard our slogans at public gatherings: 'We are the union, the mighty mighty union.' Well even that slogan can be a problem. To a lot of people it communicates the idea that we are a closed and exclusive club that they, the majority, don't belong to
"What does it mean to the public when they see signs with letters and numbers, like AFCTWU 21 or AFT 21? It's a mystery. But if they see a sign that says we are the community college teachers they may be more apt to say 'teachers – they are good people.'"
Here is what Durazo and others who want to change the labor movement for the better seem to be saying here: Unions must communicate to the public that the fight is not just the union vs. the bosses but also the bosses vs. the best interests of the public, with the unions being one of many allies the public has in its fight with those bosses.
"Yes, we have to fight like hell for our members in their battle for a fair contract," Durazo said, "but we have to ally with the public and show how the people who want to hurt our members will harm the general well-being if they get away with doing what they want. It will impact our safety, our environment, how long or whether our libraries and schools stay open, and so much more."
Durazo said the labor movement won't be able to do this alone and that's the reason unions are reaching out. She herself had just come from a demonstration by fast-food workers in downtown LA demanding $15 an hour. "The workers there aren't ready yet to fight for a union but they understand they are being exploited and they are willing to risk their jobs to fight for $15 so we have to be there with them," she said to applause from the labor journalists.
"And there are so many allies out there in the community for us to work with," she said. "Who can't be brought around to understanding that if you pay $15 to everyone now making poverty wages today that will translate into thousands of pot holes that can be fixed on the street, that will translate to more and better public services, that will translate to thriving businesses that can employ even more people?"
Durazo and her fellow Los Angeles union leaders haven't waited for this week's national AFL-CIO labor convention to put their money where their mouths are.
Just this summer, she explained in an interview after her speech, the LA Federation of Labor hired 15 sons and daughters of immigrants, most of them Dreamers, undocumented immigrant youth who have won permission to work through an executive order by President Obama.
"Our goal was to teach them how to reach out to low-wage immigrant workers for unions, organizing in car washes, grocery stores, hotels and construction," she explained. "They had their own ideas, including not wanting to wear the union T-shirts we offered them. But after the Dreamers signed up over 1,000 undocumented immigrants we realized they could teach us."
Video: Los Angeles County Federation of Labor leader Maria Elena Durazo addresses labor journalists at the International Labor Communications Association convention:
Video edited by Eli Halbreich.
Photo: Los Angeles County Federation of Labor leader Maria Elena Durazo, center, at an immigrant rights caravan, Aug. 14, 2013. lacountyfed