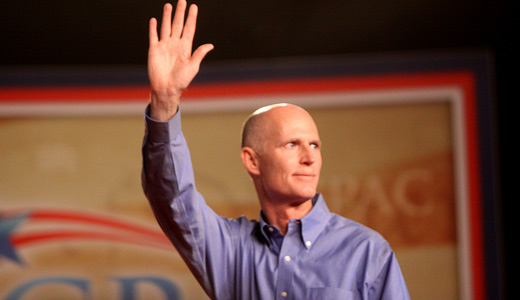 MIAMI – One could be forgiven for thinking that slashing the Department of Health and shuttering hospitals, including the state's only tuberculosis center, during the worst outbreak in 20 years isn't a particularly good idea.
But that's just what Florida Gov. Rick Scott, a Republican, and members of his party in the state legislature did.
According to the Palm Beach Post, which uncovered the story, Gov. Scott's signed April 5 a bill that slashed the state's Department of Health. The same bill also called for the closure of A. G. Holley State Hospital – the only tuberculosis treatment facility in the state. Nine days prior, the U.S. Centers for Disease Control sent a letter to the governor's office and to the health department that a tuberculosis outbreak was brewing.
The Post had made repeated requests to see the letter, which were ignored. They were only able to obtain it after a reporter showed up in June in Tallahassee, the state capital.
A. G. Holley, located close to West Palm Beach in Lantana, Fla., was closed July 2, three months after the letter from the CDC. Scott has said that he would not have shuttered the facility had he or his health department known about the existence of the letter. However, it was sent directly to his office and became public in June, well before the facility was shut.
According to the CDC report, a schizophrenic homeless man infected with TB circled through shelters and hospitals in Jacksonville. Since then, 13 people have died of tuberculosis in there, and TB has turned up across the state, even as far south as Miami, said the CDC letter.
Those 13 deaths were part of a cluster of 99 illnesses, meaning a mortality rate of more than 13 percent.
"The high number of deaths in this outbreak emphasizes the need for vigilant active case finding, improved education about TB, and ongoing screening at all sites with outbreak cases," wrote Dr. Robert Luo, author of the letter.
Up to 3,000 people may have been in close contact with contagious people in Jacksonville's homeless shelters, but, due to the transience of the population, only 253 of them have so far been found and tested for the infection. As of yet, no one knows the extent of what is likely to become a statewide outbreak.
"Today," said an article in the Palm Beach Post, "three months after it was sent to Tallahassee, the CDC report still has not been widely circulated."
While treating tuberculosis can cost only $500, it requires a great deal of care, including nine months of antibiotics. Because it is hard for the homeless to arrange for such care, they are far more likely to succumb to the illness.
Unfortunately, the money for treatment may not be there. According to the Miami Herald, the health department in Duval County, where Jacksonville is located, had a budget of $61 million in 2008 and a staff of nearly 1,000. Now, after cuts, the budget is down to $46 million and 700 staff.
Statewide, the Department of Health budget was slashed $55.6 million, including a $4 million cut to the infectious disease control.
Scott, who used to run a hospital corporation found guilty of stealing $1.7 billion from the government in Medicare fraud, complained that the state spends too much, and has worked to cut various programs.
Lantana, where the shuttered TB hospital was located, was the site of a 2009 scare in which a 19-year-old Peruvian student was found to have a particularly virile form of tuberculosis. The strain was classified as XXDR, "extremely drug resistant," according to CBS news.
According to experts, there is a need for more, not less, health spending on diseases like tuberculosis. This is especially the case now there are an unknown number of infected people in Florida, including in major metropolitan areas, who are in close contact with others.
Without the funding and action necessary to stop the spread, how it will be slowed is anyone's guess.
Photo: Stock image of Gov. Scott speaking in Orlando. Gage Skidmore // CC 2.0