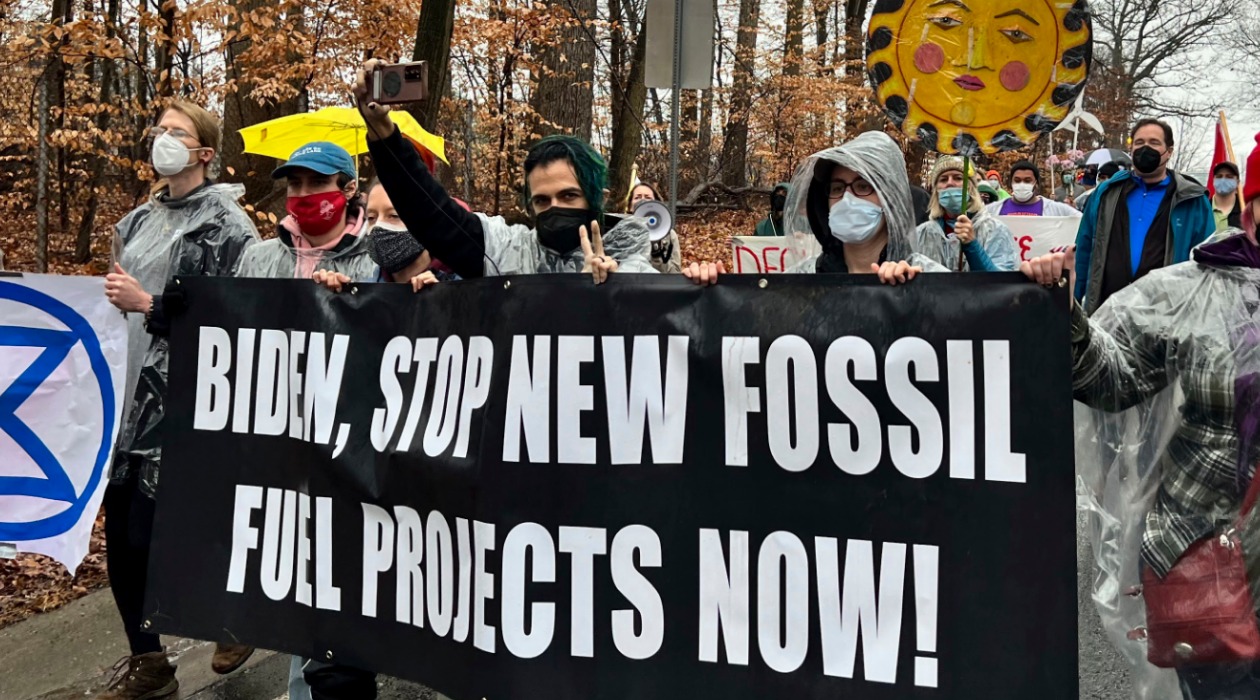 Earth Day 2022 campaigners are hitting the streets from coast to coast, today and during the coming week. The actions follow by just a few days an announcement by President Joe Biden that he is reopening public lands to fossil fuel leases in order to drive down price increases he says are driven by the war in Ukraine.
In addition to the obvious message that they are unhappy with renewed fossil fuel drilling, the marchers are demanding that Biden and Congress move quickly and forcefully not just on controlling climate change, but also to enact federally subsidized child care, create well-paying green—and union—jobs, and ensure justice for oppressed and exploited people.
But combatting climate change costs money, as do all the other domestic priorities put forward by the marchers. And Biden, under pressure from the corporate class and congressional "hawks," is diverting billions of dollars to spending for war, earmarking $1.6 billion in the last two weeks alone, for the military-industrial complex to produce arms for Ukraine. Similar diversions to corporate interests are occurring in Europe, Ukraine, and Russia itself, weakening the prospects for the worldwide fight against climate change.
Supposed oil shortages, blamed on the war rather than on their own greed, gave fossil fuel firms a reason to demand those public land leases, which will let them reap even more cash profits than they do now—a record $75 billion last year alone.
The demonstrations, which actually began with virtual events in the runup to Earth Day, are hitting the streets in Chicago and elsewhere on Friday and will run through May 5. Sites and times of local marches, complete with RSVP buttons, are at FightForOurFutures.com
In Washington, the Service Employees, the National Domestic Workers Alliance, the Painters, and the BlueGreen Alliance, a coalition of seven unions and five environmental groups, will lead a mass march on the White House at 1 p.m. on April 23rd.
Chicago will have two events: A 3:30 pm student rally at Buckingham Fountain downtown and a teach-in also on Saturday, April 23.
At 11:30 a.m. that same day, Manhattan marchers will mass at 72nd Street and Central Park West.
"Climate action at the scale of the crisis. Millions of union clean energy and care jobs. Racial, economic, and environmental justice. This was the transformational vision that got President Biden and Democrats elected," the Fight for our Futures' statement said.
"For months, we've waited for them to keep their promise and pass a bill to make that vision a reality. But special interests have continued to block progress, against the will of the people.
"Enough is enough. We cannot wait any longer. Every year the heat rises and storms worsen…. We need a massive build-out of clean energy to preserve a habitable planet, create good union jobs, and lower energy bills.
"We need Congress and state legislatures to invest in an equitable transition to clean energy, made right here in America, and to invest in care jobs to preserve a livable planet and thriving, sustainable communities…. This Earth Day, we're calling for a nationwide mobilization to crank up the pressure and get these historic investments over the finish line."
While the marches are positive, the lease plans for public lands, which Biden Interior Secretary Deb Haaland unveiled days before, are not.
Haaland tried to explain the oil and gas lease sales resumption by saying Interior had to act, following an injunction ordering the move, issued by the U.S. District Court for Western Louisiana, representing an oil-dependent red state.
She also stressed royalty fees the fossil fuel firms would pay for extracting oil and gas from national parks and public lands would be $18.75 per lease, a 50% hike over a price set more than a century ago. And the leases would cover 144,000 acres, 80% less than the firms sought. All but 9,000 acres would be in the deep-red oil state of Wyoming. Other red states get the rest.
The green groups didn't buy that line
"We need to rethink our economy so all of our children have an opportunity to earn a decent living. This starts by valuing our planet above fossil fuel industries," tweeted former AFL-CIO Executive Vice President Tefere Gebre, now a top Greenpeace official, including oversight of its organizing.
Other green groups were even more caustic about the drilling, though none said what they would specifically do to stop it. One coalition, which included the Sierra Club and Friends of the Earth, plus 11 western and Indigenous people's green groups, noted Biden never really stopped the drilling.
"The administration's claim that it must hold these lease sales is pure fiction and a reckless failure of climate leadership," said Randi Spivak, public lands director of the Center for Biological Diversity, which led that coalition. "It's as if they're ignoring the horror of firestorms, floods, and megadroughts, and accepting climate catastrophes as business as usual."
The groups' joint statement noted "the oil and gas industry continues raking in record profits while communities pay the price…Shell, Chevron, BP, and Exxon made more than $75.7 billion in 2021, some of their highest profits in the past decade."
Down the road, another "green" development could outweigh both the positive impact of the marches and the negative hit from the oil and gas leases: The California Air Resources Board's start towards banning the sale of gas and diesel-powered vehicles—thus drastically cutting greenhouse gas emissions potential—by 2035. That action would carry out a campaign promise by Democratic Gov. Gavin Newsom. By contrast, Interior's leasing sales break an explicit 2020 campaign promise by Biden.
Even 2035 isn't fast enough for some pro-green forces, in a state that's home to one of every nine U.S. vehicles. The state's Zero Emissions Vehicles (ZEV) coalition reported the city councils of Los Angeles, Oakland, Berkeley, and elsewhere, plus the state Democratic Party, want gas guzzler sales to end by 2030.
"Angelenos—particularly those who face socioeconomic and health inequities—are daily affected by the health and safety risks of air pollution resulting from the widespread use of gasoline-powered vehicles within Los Angeles," L.A.'s resolution read. "Widespread adoption of zero-emission vehicles will reduce air and climate pollution, resulting in healthier air for all Angelenos and saving lives." Los Angeles is annually ranked as the most traffic-clogged city in the U.S.
"The number of climate-exacerbated floods and wildfires in the last two months alone is absolutely staggering," said Councilman Paul Koretz, one of the two lead sponsors of the unanimously passed measure. "If you have lung cancer, you stop smoking, if your planet is on fire, you stop pouring gasoline on it. Stopping building new gas cars tomorrow wouldn't be too soon. And very soon electric vehicles will cost less than gas guzzlers."
Top labor groups on both sides of the clean energy issue—the BlueGreen Alliance and the Labor Network for Sustainability on one hand and North America's Building Trades Unions on the other—did not issue statements on either Biden's leasing announcement or the proposed California ban.
But NABTU President Sean McGarvey, in his keynote address to its legislative conference in early March, declared: "NABTU supports an all-of-the-above energy strategy that not only prioritizes combating climate change but that sustains and values workers."