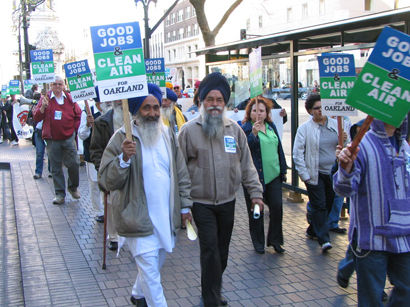 It's been an up-and-down week for environmentalists, port workers and residents of nearby communities trying to clean up the diesel pollution from trucks that contributes to soaring respiratory disease.
Their effort got a boost as New York Mayor Michael Bloomberg and Newark, N.J. Mayor Cory Booker told an Oct. 18 press conference they endorse the Port of Los Angeles' Clean Truck Program – the country's most successful program to cut toxic truck emissions. The two mayors, surrounded at a Brooklyn, N.Y. pier by dozens of local port drivers, community residents, environmental activists and union members, said they also want Congress to let local authorities regulate trucking firms doing business at their ports.
The Clean Trucks Program that launched a year ago in LoAngeles and a separate program in Long Beach, Calif. have taken over 2,000 polluting trucks off the road, and over 5,500 clean trucks are now in operation, according to the Natural Resources Defense Council (NRDC). Pre-1988 models are already banned; in January trucks must be 2004 or newer. The NRDC said the southern California ports are two years ahead of schedule toward cutting truck-produced emissions by 80 percent.
The LA Port had also moved to require trucking companies to sign comprehensive concession agreements, hiring drivers as employees instead of their current status as low-wage "independent contractors" who must own and maintain their trucks. But this provision must now await the February 2010 trial of a lawsuit by the American Trucking Association.
Long Beach's program did not include the employee requirement. And this week, in a move roundly criticized by environmentalists and community residents, that port settled with the ATA. Trucking companies there are now required only to sign a document stating they haul cargo in trucks that meet Environmental Protection Agency standards.
"The Port of Long Beach violated the public trust and sold out the citizens of Long Beach by approving a worthless settlement agreement" with the ATA, said David Pettit, director of NRDC's Southern California Clean Air Program.
Calling the result an "industry honor system," the environment-community-labor Coalition for Clean and Safe Ports said evidence also shows trucking firms are forcing the low-paid contract drivers to pay for new trucks and maintenance through exploitative schemes.
The ATA claims the Federal Aviation Administration Authorization Act of 1994 prevents ports from requiring trucking firms to meet minimal safety, environment and security standards in order to enter port property.
"For too long we've been offered a false choice between economic growth and environmental sustainability," the New York mayor told the press conference. "Today I am calling on our Congress to pass legislation that will empower ports to implement the LA Clean Truck Program across the country." Bloomberg said port drivers "deserve a shot at the middle class," and residents near ports "deserve to breathe air free of toxic fumes."
Booker pointed out that Newark residents and port workers "disproportionately bear hazards from pollution caused by outdated diesel trucks that transfer cargo shipments."
Teamsters General President James Hoffa joined the mayors in urging changes to federal legislation so ports have the ability to "clean the air, create good green jobs, and help make port trucking more efficient and profitable again."
Oakland's Mayor Ronald Dellums and Los Angeles Mayor Antonio Villaraigosa also support the Los Angeles Clean Truck Program; Dellums reiterated his backing for legislative changes last week. Oakland's port commissioners have also passed a dirty truck ban, and recently urged updating the national legislation.
To illustrate the present plight of drivers, the Coalition for Clean and Safe Ports cites the situation of Long Beach port truck driver Rafael Rivera, who recently took home a check for $138 after a week of hauling. "Between payments for the new truck, insurance, fuel, taxes and the lack of work, I'm barely making it," he told the Long Beach Press-Telegram. "I'm working 18 hours a day, six days a week, and I still can't afford my bills. I don't know what's going to happen."
Among other endorsers of the LA Clean Trucks Program are then-Senator Barack Obama, House Speaker Nancy Pelosi, California Senators Barbara Boxer and Dianne Feinstein, New Jersey Governor Jon Corzine and Senator Frank Lautenberg, 31 California Democratic Representatives, and New York Rep. Jerrold Nadler.