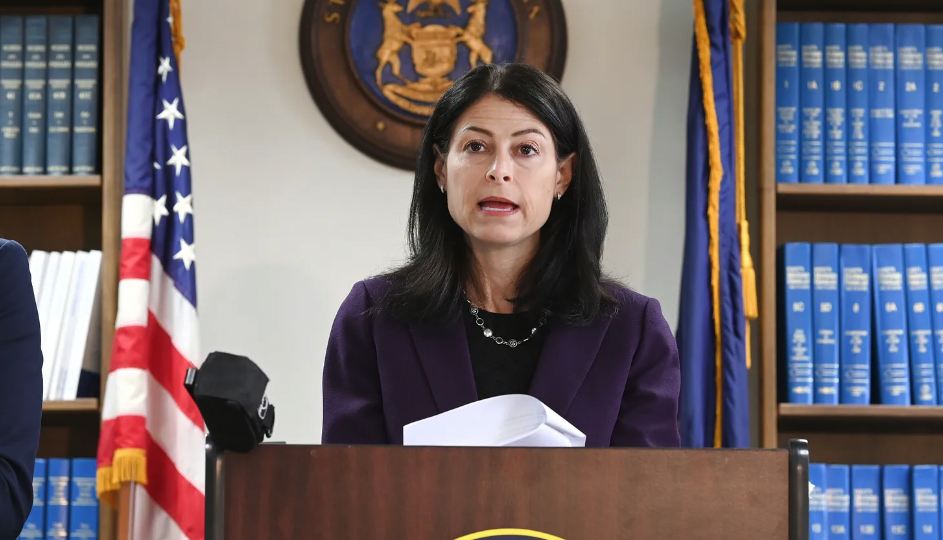 EAST LANSING, Mich.—On Feb. 14, the East Lansing City Council voted in favor of sending a letter to Michigan Attorney General Dana Nessel, for a second time, urging her to drop charges filed against a man shot by police in a Meijer parking lot in April 2022.
In a 3-1 vote, the city council agreed to draft a letter urging Nessel to drop charges against DeAnthony VanAtten or, failing that, have his case transferred to the Ingham County Prosecutor.
The council first voted last September to draft a letter to Nessel urging that VanAtten's charges be dropped.
Last August, Nessel announced seven felony charges and one misdemeanor against VanAtten relating to an incident in which he brought a handgun into the Meijer department store in East Lansing, purchased groceries, and was shot by East Lansing Police officers in the parking lot after a brief chase.
It was later revealed that VanAtten had thrown his handgun underneath a parked vehicle before he was shot in the leg and abdomen.
East Lansing Police have released several body camera and security footage videos of the incident, which can be viewed here. Please understand these videos contain imagery that may be distressing to watch.
In a draft of their letter, the members of the council urge Nessel consider three options with regard to the case:
Either drop the charges against Mr. Van Atten and release the investigation file—the outcome we prefer—or
Refer the case, and transmit the investigation file, to the Ingham County Prosecutor, or
Release those parts of the investigation file relevant to the shooting.
"There is good cause to exercise forbearance under MCL 767.29 [a section of Michigan law] and drop the charges against Mr. Van Atten," the letter states. "His alleged crimes were investigated only after he was shot by police officers in what may have been a preventable incident.
"In the public interest, criminal charges against Mr. Van Atten should be dropped, or prosecution transferred to the Ingham County Prosecutor," the letter states.
Nessel tweeted a link to a story by the Lansing State Journal about the city council's letter, with a caption that was critical of the East Lansing City Council and Mayor Ron Bacon.
"Does the East Lansing City Council and Mayor still want me to dismiss this case? Or is it ok for my department to treat gun cases seriously now? Please advise," Nessel wrote online Tuesday.
Nessel's tweet was posted less than 24 hours after three students were killed and five were critically injured in a mass shooting on the Michigan State University campus. It bears repeating that VanAtten never brandished his weapon at anyone in the store and was the only person shot in the incident.
Furthermore, at a city council meeting in September 2022, East Lansing Mayor Ron Bacon said Nessel's decision to charge VanAtten and not the officers amounted to "political theater." At the time Nessel announced the charges, she was in a re-election campaign against Republican candidate Matthew DePerno.
DeAnthony VanAtten currently faces the following charges:
One count of carrying a concealed weapon, a five-year felony;
One count of receiving and concealing a firearm, a ten-year felony;
One count felony firearm, a two-year felony;
Four counts of resisting and obstructing an officer, a two-year felony;
One count of third-degree retail fraud, a 93-day misdemeanor.