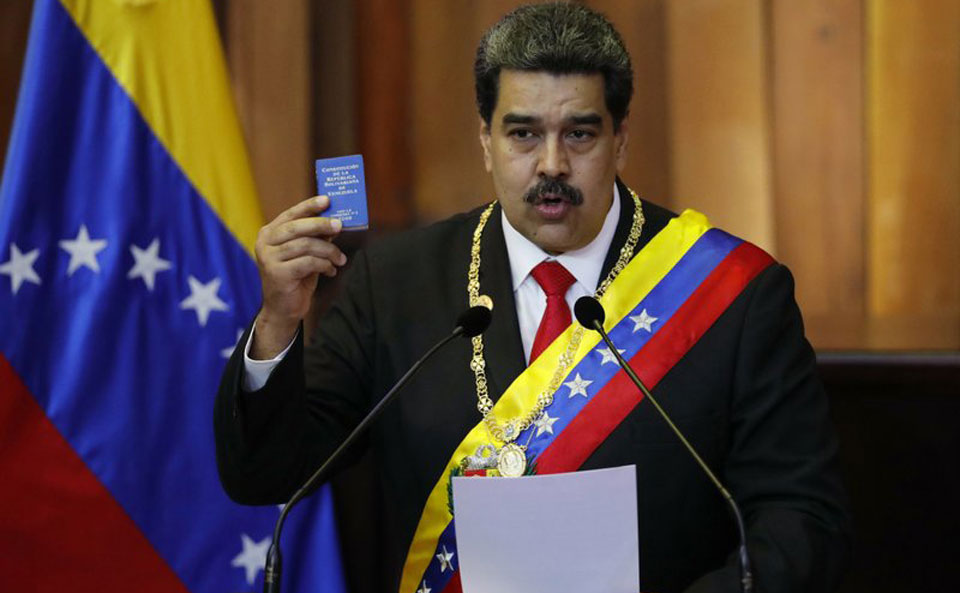 CAPARICA, Portugal — Over the last several weeks U.S. newspapers, as usual, featured bad news about Venezuela, including reports that people are fleeing the country, immigrants are being trafficked around the U.S. by right-wing governors, and that prisoner swaps between the U.S. and Venezuela involved trading CITGO bankers jailed in that country for drug-dealing relatives of Venezuelan President Nicolás Maduro held in the U.S.
People's World decided to go to someone who turned out to be one of the best sources for truthful information about what is really going in that country. We met up in Portugal recently with Carolus Wimmer, the international secretary of the Communist Party (PCV) of Venezuela. We caught up with Wimmer at the Avante! Festival in Portugal on Sept. 3
Avante! is the newspaper of the Communist Party of Portugal whose festival this year drew some 50 delegations from around the world, including representatives from the U.S. and Venezuela. Wimmer answered questions about what was behind the problems in that country including questions about why so many people are leaving a country allegedly on the path to socialism and a brighter future for everyone.
Talking with him reinforced the fact that Venezuela continues to be a leading force in the anti-imperialist movement of poor and underdeveloped countries. It's famous for providing discounted oil to sister Caribbean nations, Cuba and others.
And in left movements around the world, Venezuela, its leader Nicolás Maduro, successor to Hugo Chávez, and its military forces have been hailed as nothing short of heroes for repelling the U.S.-led invasion with the collaboration of a rightwing-led Colombia next door, and capturing a number of U.S. mercenaries trying to formally install Washington's hand-picked stooge, Juan Guaidó, in the presidency of the country.
Yet on the domestic front, Maduro and his PSUV government have come under much questioning, some of it quite sharp in tone. The PSUV is the United Socialist Party of Venezuela, with millions of members supporting the Bolivarian Revolution. The Communist Party of Venezuela (PCV) declared its solidarity with the PSUV and the Revolution led by Pres. Chávez, retaining its independent identity, however, and until only recently committing to not running candidates in its own name.
People's World met with the PCV in the Caracas party headquarters back in December, 2015 in the wake of the National Assembly elections, which the PSUV lost. Readers can refer to the full report of that meeting.
"The government, led by Chávez' party, the United Socialist Party of Venezuela (PSUV), now headed by his successor, President Nicolás Maduro," People's World wrote at the time, "can be criticized for its strategic mistakes in office, unacceptable levels of corruption that still plague this and many other Latin American countries, and mismanagement. Opportunism, sectarianism, elitism and authoritarianism were familiar problems the left tried to point out. The bottom line is that a society where 70-90 percent of production and distribution of basic goods and services still remained in private hands could hardly be said to be on an open road to socialism."
Frank talk with the PCV's Carolus Wimmer
Carolus Wimmer emigrated to Venezuela from Germany 52 years ago, and for 51 of those years he has been a member of the PCV, and international secretary for the last 26 years. In that capacity he is a frequent presence at international meetings. In 2019 he spoke at length with People's World about the U.S.-sponsored failed coup. He is a member of the International Solidarity Committee, and a member of the Executive Council of the World Peace Council. For five years he was a deputy from the city of Trujillo.
"The revolutionary movement is not continuing under Maduro," Wimmer told People's World earlier this month in Portugal. "It stopped after Chávez. The PCV did lend its support until 2018. Our party doesn't support a person but policies, programs. PSUV and PSV signed an accord in 2018 to defend the Constitution and labor rights, with regular meetings between parties, but Maduro did not follow through. He insisted on his own dialogue with the United States and Europe to eliminate their actions, but not on dialogue with the working class.
"There was progress under Chávez, who guaranteed land. Today Venezuela lacks food. The government didn't expropriate land holdings but insisted they be cultivated, and if not, then it would be distributed to farmers. After Chávez's death, latifundistas [large landowners] organized, both internationally and nationally, and paid the National Guard to kick peasants off the land, and employed Colombians at lower wages.
"More than 400 farmer leaders have been killed in recent years—contract killings, especially in peasant struggles. There have been marches on Caracas. It would be easy to find the people behind the crimes but the government doesn't.
"He (Maduro) calls himself El Presidente Obrero [the Worker President] but there's more poverty all the time. Most people get no more than $15 a month wages. Old people are dying before their time. The only response is 'The blockade!' There are more protests every month demanding more revolution.
Sees two enemies
"The PSV sees two enemies, or let's say two contradictions: imperialism versus sovereignty, and capital versus labor. People can't take it much longer. Teachers earn $30 a month. But transportation in Caracas just went up to one dollar, so it's just not worth working! People are being patient, and want to avoid giving the U.S. a reason to intervene. But patience is wearing thin.
"The state of Parinas is emblematic of Chavismo—it's called 'the cradle of revolution.' But in the November 2021 elections PSUV lost the governorship. Why? Because there's no water, no electricity, no food. So Maduro ordered the elections canceled and the court declared new elections for January 2022. The right wing won by 20% because people are hungry in a state PSUV had always won.
Money disappears
"Money disappears in corruption. The PCV role is with the people, not necessarily the government. PSUV is a social democratic party with some good international positions. If the working class stays solid it doesn't open itself to attack. But special economic zones have been approved for Venezuela—meaning no unions and no taxes on big business for 20 years. This equals neoliberalism.
"The Boston Group in the U.S. Senate represents the energy sector. They're talking with Venezuela now [as a result of shortages caused by the Russia-Ukraine War]. Oil production is much reduced, and oil data is nonexistent. China is buying some Venezuelan oil. But gold production goes on.
There were representatives of the PSUV at the Avante Festival who did not want to go into any details about the assessments made by Wimmer. They denied everything he said about how their party operates, however, but seemed to confirm Wimmer's claims about how badly they treat the PCV in parliament. They said that they now consider the PCV as part of the opposition and that they have nothing to do with it.
"There are millions of Chavistas," remaining in Venezuela, Wimmer said at another point in the interview, "but not in the government. Last year, on July 5, Independence Day, there was no Simón Bolívar, the Liberator. Instead, there was an inflated doll of Maduro! A puppet they called 'Superbigotes' (Supermustache)."
Wimmer described the bad treatment his party gets in parliament. "The Assembly is now 80% PSUV and 20% rightwing, with one PCV member, the party's Secretary General Oscar Figuera, a metal worker, but he is prevented from speaking. They turn off the mic when he stands up to speak.
"Socialism does not exist in Venezuela. It's authoritarian. Decisions are being made that should be made by the Assembly, but which the courts could rule against.
"The media are all government controlled. The PSUV has bought up all the opposition media. PSV puts out a monthly paper, but paper is expensive so we use radio a lot.
"Let me tell you about Diosdado Cabello. He's a PSUV member of the National Assembly, its former Speaker, and a captain in the military, and he claims that the PCV is financed by the U.S. government! More fake news comes from the first Vice President, who calls those who 'disturb the peace' 'criminals and terrorists.' The government's objective is to neutralize, destroy, and persecute them. Such threats are meant to inspire fear, but understand, they're also an invitation to murder, to the paramilitaries, and to anti-constitutional actions."
People's World asked about Juan Guaidó, who's often paraded before international bodies as the so-called "legitimate" president of Venezuela. "People in Venezuela don't know about Guaidó," says Wimmer. "He's a nobody. He and Leopoldo López are creatures of the U.S. The peasants are dead, but Guaidó is walking around free and no court will try him.
Then People's World asked about Venezuela's claims on the western third of neighboring Guyana (formerly British Guyana). When in Venezuela in 2015 People's World had seen official maps of the country including that substantial strip of land rich with oil. "The World Peace Council defends the Venezuelan government in global forums against sanctions," Wimmer answered. "Concerning territorial claims on Guyana, we say, no war! Let us cooperate on access to natural resources! The PCV and the PPP [the People's Progressive Party of Guyana] have good relations for mutual benefit."
How do people live?
Last March, "Maduro abandoned contracts with government workers, who now make half their salary, and of course he always blames imperialism. It's a diabolical system. Pay comes in the form of food, paid by the state as a means of control, to those who support the PSUV and make them dependent on the state. The older people are dying off. At least Cuban doctors went to Venezuela under Chávez. Bodegas [stores] exist where everything is available, but only for dollars. Inflation is out of control. Protein is difficult to obtain. Life is a daily struggle. Children are living in the street."
So how do people live? People's World asked. "People live from solidarity and family cooperation. They exchange, give and trade what they have with their neighbors. Also, people abroad send dollars to their relatives in Venezuela."
And People's World understands five or six million Venezuelans have left the country, many of them as permanent emigrants. "There are three basic types of people who've left," Wimmer replies. "First, for political reasons—middle-class people who were always against Chávez. Second, a whole class of lumpen and related elements: There's nothing more to rob in Venezuela, so they've left. As a result, personal security in the country has actually increased. Third, professionals and tradesmen. This brain drain will not easily be replaced."
But those three groups can't account for five or six million, can they? People's World asks. "From what you've been saying, there's the blockade and sanctions, plus enormous class disparities, wide economic desperation, inflation, hunger, and a lot of hopelessness and frustration, I imagine." He nods, sadly, and there's no more to say.
News updates
On Mon., Sept. 26, roads and bridges reopened between Venezuela and Colombia now that leftist Pres. Gustavo Petro has been sworn into office. "Globalization above all else," Petro said, "is trade and unity between neighbors. Anyone who measures the flow of international trade, cultural flows, population flows, will always find that the greatest amount is between neighbors, and that is how it was before sectarian madness took over hearts and brains. So it was between Colombia and Venezuela." It is to be hoped that the restoration of friendly neighborly relations will be of material benefit to both sides.
And the U.S. and Venezuela did the prisoner swap, announced Oct. 1. Seven American oil executives held n Venezuela have been exchanged for the two Maduro nephews—nephews of Maduro's wife Cilia Flores—who had been convicted in the U.S. on cocaine smuggling charges.