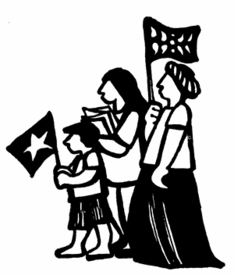 May 1 — May Day — International Workers' Holiday, and now, increasingly, a day to march for immigrant rights. This important world celebration, which was born right here in Chicago, USA, is being reclaimed by the labor and immigrant rights movements in this country, after years of being buried under Cold War, anti-communist debris.
What better way to celebrate than making a donation to the newspaper that has celebrated May Day since our first issue in 1924 with an editorial mission of "Workers and oppressed of the world, unite!"
And there are a few ways to do it.
The People's Weekly World/Nuestro Mundo will run three weeks of May Day ads. You can take out an ad — or get your union or neighborhood block club to take out an ad — to celebrate and publicize people's causes like the Employee Free Choice Act.
Large ads: $300 — maximum size is 6"x 5"
Medium ads: $150 — maximum size is 5"x3.5"
Small ads: $25 — maximum size is 2.5"x1.5"
Deadlines for ads are: April 13, April 20, April 27 for the three issues dated April 25-May 1, May 2-8, May 9-15, respectively.
You can also celebrate Cinco de Mayo (May 5) — an important holiday among many Mexican Americans that honors Mexican culture and heritage — along with the May Day ads.
Plus, the first two weeks of May are PWW pledge weeks: Time to make a pledge for as generous a donation as you can to help keep this voice of the labor and people's movements going. Expect calls and letters from our staff and volunteers about making a pledge.
Contact Barb Russum (773) 446-9920 x.205 or e-mailfor ad space and to learn how you can become involved in the May Day pledges.