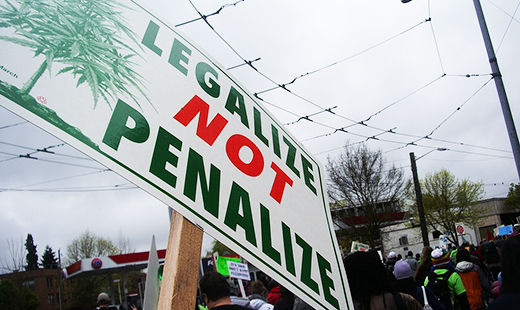 The Associated Press reports an increase in state lawmakers putting marijuana policy – from medical marijuana programs, pot dispensaries, decriminalization and even legalization – on their legislative agenda.
"Once consigned to the political fringe, marijuana policy is appearing on legislative agendas around the country thanks to an energized base of supporters and an increasingly open-minded public," the AP reports.
Seventeen states and the District of Columbia allow the use of medical marijuana and 14, have rolled back criminal penalties for possession of small amounts of pot.
Rhode Island is poised to become the 15th state to decriminalize marijuana possession.
Strapped for cash and personnel, city and county governments are making pot possession a ticketable offense. Recently, Chicago's top cop Gary McCarthy voiced support – not for full decriminalization of pot possession – but reducing it to a ticket and fine.
"I'm not a fan of decriminalization," McCarthy told reporters June 5. "However, we don't have to process that arrest with an in-custody arrest. If you receive a ticket for it, the officer is still on the street and at the same time that person has to answer for their actions."
Marijuana arrests are considered part of the failed war on drugs policies. They have also helped to create the "New Jim Crow" with law enforcement filling up jails with Black and Latino prisoners.
In an expose by Chicago-based The Reader, journalists Mick Dumke and Ben Joravsky say people of all races smoke pot in Chicago, but almost everyone busted is Black.
"The ratio of black to white arrests for marijuana possession in Chicago is 15 to 1," they wrote.
Cook County Board President Toni Preckwinkle has said the county jails and courts are jammed with petty marijuana offenders. She has indicated in the past that the "war on drugs" is a failure and doesn't help reduce crime.
Public opinion has shifted considerably on legalizing pot in the last two decades. A survey by Rasmussen last month found that 56 percent of respondents favored legalizing and regulating marijuana. A national Gallup poll last year showed support for legalizing pot had reached 50 percent, up from 46 percent in 2010 and 25 percent in the mid-'90s.
Medical marijuana helped bring marijuana policy into the mainstream back in 1996, when California became the first state to authorize the use of cannabis for medicinal use. Other states followed suit.
Dan Bernath, of the Marijuana Policy Project, a pro-legalization group, told the news service IPS in a 2009 interview, "There's been a slow realization over the last couple decades that marijuana prohibition doesn't work. Arresting 872,000 Americans every year outweighs costs of marijuana itself," he said.
Bernath said the struggling economy could be a motivating factor in policy decisions to decriminalize the plant, which is the United States' largest cash crop, greater than corn and wheat combined.
"You're talking about a $36 billion per year cash crop," he said, "potential revenue we're giving to the drug cartels."
"With Mexico, 60 percent of that illegal business and violence that comes from it is because of marijuana. In that light, we're seeing growing frustration from our partners in Latin America and South America with our failure to reduce the demand in our country."
States that have decriminalized the possession of limited amounts of marijuana are Alaska, California, Colorado, Connecticut, Maine, Massachusetts, Minnesota, Mississippi, Nebraska, Nevada, New York, North Carolina, Ohio and Oregon.
Photo: http://www.flickr.com/photos/seandulaneyphotos/2464983282/sizes/l/