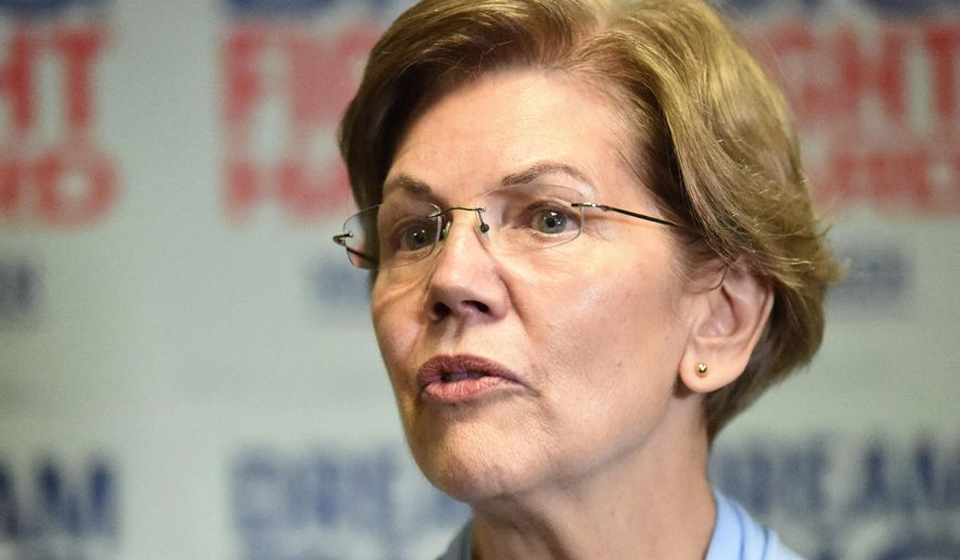 WASHINGTON—Democratic presidential hopeful Sen. Elizabeth Warren, D-Mass., has become the first prominent lawmaker to demand House impeachment of GOP President Donald Trump's attorney general, William Barr, for Barr's kowtowing to Trump's demand to cut the court sentence of convicted top Trump campaign fixer and lackey Roger Stone.
Together, the Trump-Barr sequence represents "a descent into authoritarianism," Warren told Cable News Network's Anderson Carr. If Barr doesn't quit, an impeachment probe should start, she said.
"Enough of this. We can't just sit by and watch this happen," she declared.
Warren's statement was a new twist highlighting Trump's interference and manipulation in the administration of justice. It was quickly succeeded by another complaint – from Barr, who has always done Trump's bidding.
The AG, acting like he was fed up, criticized Trump on ABC News, for essentially not leaving him alone to follow the president's orders. Trump's tweets are the flak,  Barr said on Feb. 13. "It's time to stop them," he added. Trump's tweets "make it impossible for me to do my job."
Joe Lockhart, a Whiter House press secretary under President Bill Clinton, said that it was "impossible to believe" that after all he has done to advance Trump's political interests "now Barr is genuinely upset."
"The tell here will be Trump's reaction," Lockhart added. "If he doesn't lash out, we'll all know this was pure political theater because everyone agrees Trump has no self-restraint."
Barr decided to seek an unspecified jail term for Stone, 67, after Trump tweeted Stone didn't deserve a seven-to-nine year sentence term for obstructing congressional investigation into Russian interference in the 2016 election, lying to investigators under oath and trying to block the testimony of a witness who would have exposed his lies.
Barr so angered the four Justice Department prosecutors who handled the Stone case that they took their signatures off the sentencing recommendations. One outright quit the DOJ, a principled resignation in protest. Former DOJ career workers, including prior prosecutors, predicted en masse resignations as a result of Barr's actions.
The acting U.S. attorney for D.C., where Stone was tried, said he would "defer to the court" in setting a sentence for Stone.  Trump not only jumped on the DOJ attorneys in a Feb. 13 q-and-a during a photo op but slammed the judge, Amy Berman Jackson,  in yet another tweet. She'll issue the sentence.
Barr's toadying to Trump's pro-Stone tweet was reminiscent of when the AG deliberately lied about the conclusions of Special Counsel Robert Mueller's report about Russian manipulation of the 2016 U.S. presidential election, in Trump's favor. DOJ is now probing whether the Trump campaign conspired with the Russians then – and Barr is overseeing that probe, too.
One outside group, Occupy Democrats, an offshoot of the Occupy movement, labeled Barr as Trump's "lapdog." And under pressure, Barr agreed to a demand from the House Judiciary Committee to testify about the whole mess, but not till March 31.
That's not good enough for Warren.
"What Barr has done should mean that we are demanding a resignation," she told Cooper. "And if that guy won't resign, then the House should start impeachment proceedings against him."
"And the United States Congress right now should put a rider" – an amendment to upcoming money bills — "to say, 'Hey, no funding of any investigations that Barr meddles into. No funding Barr to meddle into investigations of Donald Trump, Donald Trump's family or any of Donald Trump's cronies.' Because look what we create otherwise."
After discussing the New Hampshire results, Warren returned to going after Barr. "We have people in our Justice Department resigning because of Donald Trump's inappropriate influence and the attorney general overturning a sentencing of Donald Trump's cronies," she told Cooper.
"You know, right in front of our eyes, we are watching a descent into authoritarianism. And this just seems like a moment, to me, everybody should be speaking up," Warren said. She added the silence from the other Democratic hopefuls puzzles her.
Warren wasn't the only prominent critic of Barr's actions. One of the Stone jurors, Tameka Hart, spoke up to defend the prosecutors and blasted Barr in a tweet she shared with CNN. She said she stayed silent until Barr's sentencing cut. Trump, of course, also retaliated against her in yet another tweet.
"I want to stand up for Aaron Zelinsky, Adam Jed, Michael Marando, and Jonathan Kravis — the prosecutors on the Roger Stone trial. It pains me to see the DOJ now interfere with the hard work of the prosecutors. They acted with the utmost intelligence, integrity, and respect for our system of justice," Hart wrote.
Senate Minority Leader Charles Schumer, D-N.Y., asked the department's theoretically independent Inspector General to investigate Barr's actions and their impact, including on DOJ's career workers.
And a petition is circulating online demanding the American Bar Association disbar Barr. Rep. Bobby Rush, D-Ill., filed a resolution last December seeking Barr's disbarment, too. His HJRes 757 has gone nowhere, however.
"Since his swearing in…it has become painfully clear Mr. Barr is more interested in being the glorified gofer to the President of the United States rather than the chief law enforcement officer to the American people," Rush said then. "In doing so, Mr. Barr has undermined the public's faith in the Department of Justice and likely diminished the morale of the career public servants he oversees," in a statement then that seems prescient now.
"Mr. Barr has become a comely repulsive caricature of an oath-taker in the government of our nation. As such, he should resign immediately, and subsequently be disbarred for his flagrant disregard for the Constitution of the United States," said Rush.
Meanwhile, Barr agreed to testify before the House Judiciary Committee on the whole mess on March 31, according to a confirmation letter from panel chairman Jerrold Nadler, D-N.Y. That delay outraged tweeters to the Occupy Democrats group, too.
"Since President Trump took office, we have repeatedly warned you and your predecessors that the misuse of our criminal justice system for political purposes is both dangerous to our democracy and unacceptable to the House Judiciary Committee," the confirmation letter said. "Our Republican colleagues have warned the Department of the same. We have been consistent — and bipartisan — in this message for years.
"In your tenure as Attorney General, you have engaged in a pattern of conduct in legal matters relating to the president that raises significant concerns for this committee. In the past week alone, you have taken steps that raise grave questions about your leadership of the Department of Justice."
The top one is the Stone case, where they said, " You overruled your career prosecutors…at the apparent request of the president." Another is Trump's "removal" of Jessie Liu, the U.S. Attorney for D.C. who oversaw prosecutions of Stone, former Trump National Security Advisor Michael Flynn, who lied about his meetings with the Russian ambassador about the 2016 election, and other top Trump aides.
The third is "creation of a new 'process' by which President Trump's personal attorney Rudy Giuliani can feed the Department of Justice information, through you, about the president's political rivals."
That type of Giuliani "information" gathering, accompanied by Trump's "bribe" to the right-wing Ukrainian government to send $391 million in U.S. military aid only if the Ukrainians furnished dirt on former Democratic Vice President Joe Biden, for use in this year's campaign, got Trump into impeachment trouble in the first place.
By March 31, the date of the House hearing, Barr may be an ex-Attorney General, despite a statement of support from the White House after Barr's ABC interview. Barr's agreement to talk to the Judiciary Committee shows the importance of continuing congressional pressure on and oversight of Trump.
Answering to Congress prodded Barr to at least create the appearance of distance between himself and his boss.
"I think it's time to stop the tweeting about Department of Justice criminal cases, about the department, about people in the department, about our men and women here, about cases pending here and about judges before whom we have cases," Barr told ABC.
Trump himself continued to defend Stone, in a Feb. 13 photo-op with the visiting Ecuadorian president. "Roger Stone was treated horribly…Roger Stone for doing – nobody even knows what he did," he said.
And Trump's early-morning tweets on Feb. 14 continued to slam the Justice Department.
"Nine years recommended by four people that — perhaps they were Mueller people. I don't know who they were — prosecutors," Trump said at the photo-op. Pushed by reporters, Trump denied his pro-Stone tweet was political interference in the case, even though it was reminiscent of his interference with the military justice system when he pardoned three Navy Seals convicted of war crimes. Trump declined to say if he would pardon Stone.