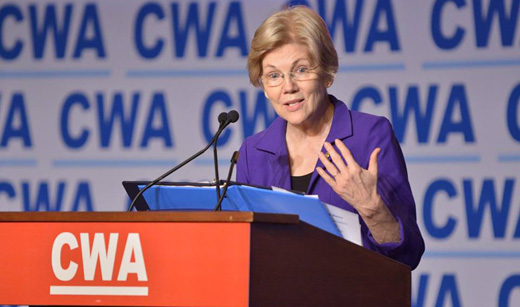 Stiff fines of millions of dollars will not change the financial finagling and fraud that produced the Great Recession, Sen. Elizabeth Warren, D-Mass., says. Her blunt solution: "If you want to change the culture of Wall Street, you need to haul out some people in handcuffs."
That line was one of many by the firebrand senator that brought the 600 delegates of the Communications Workers' Legislative-Political Conference to their feet at their opening session on June 14.
Indeed, the crowd was so enthusiastic that it prompted CWA President Chris Shelton – a Bernie Sanders supporter who nonetheless told his members they must unite behind presumed Democratic nominee Hillary Clinton to defeat Donald Trump this fall – to push for Warren for the Democrats' vice presidential nomination.
Warren repeated her prior themes against the big banks and other financial institutions that caused the crash. She dovetailed well with one of CWA's top two legislative goals: A launch of the union's multi-year, multi-group "Take On Wall Street" campaign. The other is to ensure Congress buries the job-losing Trans-Pacific Partnership (TPP) "free trade" pact.
While lauding the Dodd-Frank financial reform and reregulation act Congress passed after the 2007-2008 crash, Warren said it did not go far enough. AFL-CIO President Richard Trumka, endorsing the anti-Wall Street drive last month, has said much the same thing.
"The banks caused the worst financial crisis in three generations," said the senator, who crafted the Consumer Financial Protection Bureau – which has cracked down on finaglers ranging from Goldman Sachs to payday lenders, and reclaimed $11 billion for consumers.
"They cost jobs. They cost homes. They cost pensions. But they're not alarmed. They're doubling down on lawyers and lobbyists and trying to open more loopholes," she said of banks.
"But the good news is that, as we showed with Dodd-Frank and the CFPB, we showed that millions of activists can stand up to Wall Street, and win," Warren said.
"The bad news," she added, is that banks are still "too big to fail" – and one failure would crash the economy again – and that they still can thus load all their risks on taxpayers while reaping the profits for themselves.
But while the Communications Workers and other unions, consumer groups and their allies are campaigning for a further crackdown on the financiers and their finagling, those interests are getting aid and comfort from Congress' ruling Republicans.
Just a week before the CWA session, House Financial Services Committee Chairman Jeb Hensarling, R-Texas, under the guise of improving financial regulation, introduced a wide-ranging measure to emasculate Dodd-Frank, drawing blasts from Warren and other senators.
And Warren told CWA the financial interests snuck a provision into the 2014 end-of-the-year money bill funding federal agencies that lets big banks again trade in risky derivatives with little in back of them. The banks now have $10 trillion in such risky investments, she said.
So Warren again restated her 3-point plan to end the financial domination of the economy – and of workers – before adding her demand to send bankers to jail. The Securities and Exchange Commission and the Justice Department, which regulate financial institutions, aren't doing so. She urged CWA, and other unionists, to pressure them into such prosecutions.
Her first point is to break up the big banks, through a Dodd-Frank amendment that Sen. Sherrod Brown, D-Ohio, and others offered six years ago to cap the size of any one bank. Brown and his allies barred any depositary institution from having more than 10 percent of total U.S. deposits. He also limited non-deposit liabilities and bank leverage. His move lost.
Warren's second proposal is to "separate the boring regular banking from the risky investment banking" by reinstating the Glass-Steagall Act. The GOP-run Congress and Democratic President Bill Clinton repealed that New Deal-era firewall law in 1999.
And her third is to give the one-fourth of U.S. consumers who lack checking or savings accounts and access to banks – and who thus must turn to payday lenders, pawn shops and other shady sources – an alternative: Putting the U.S. Postal Service back into the basic banking business. Postal unions also strongly support that plan.
"It is long past time for labor and its allies to break the power of Wall Street in this country," Shelton added. So we went to our allies and said 'Let's start a movement to break up the big banks and close the tax loopholes that enrich the hedge fund billionaires and the CEOs. It won't be easy and will probably take years, but between the Democracy Fight and taking on Wall Street, we will build a movement that will transform this country."
While Warren concentrated on curbing Wall Street, Shelton and CWA Legislative Director Shane Larson reminded delegates the jobs-losing TPP is their other top cause. Both said President Barack Obama (D) and the U.S. Chamber of Commerce would push enormously to have lawmakers OK the TPP in a "lame-duck" session after the Nov. 8 election.
"We're winning because we delayed any action on TPP until this year," Shelton said. "And our coalition is holding Democrats who turned against us, like (Reps.) Ami Bera in California and Debbie Wasserman-Schultz in Florida and (Sen.) Michael Bennet in Colorado accountable and has worked to deny them endorsements and support."
All three lawmakers, including Wasserman-Schultz, who chairs the Democratic National Committee, face the voters this fall. Remembering Wasserman-Schultz's pro-Clinton bias during the Democratic primaries, CWA delegates booed. Another pro-Sanders union, the National Nurses United, has already endorsed her Florida Democratic primary foe.
Photo: Elizabeth Warren. | CWA Facebook page