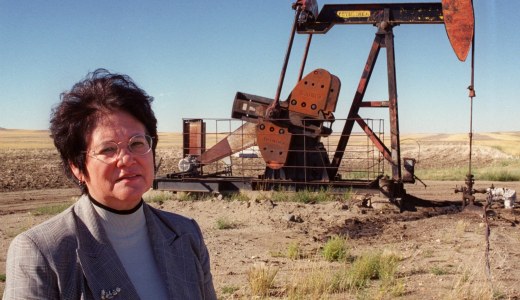 Elouise Cobell, age 65, treasurer of the Blackfeet Nation, died this past Sunday, October 16. She is especially honored for her role as the lead plaintiff in a multi-billion-dollar lawsuit, spanning the past 15 years, charging the U.S. government with cheating Native Americans out of billions of dollars in royalties from use of their land. This particular lawsuit, filed in 1996, was unlike any other in the history of the United States. Over 500,000 American Indian plaintiffs have been identified in the case.
A Los Angeles Times obituary notes, "Growing up on the Blackfeet Indian Reservation in Northwest Montana, Cobell often heard her parents and neighbors wonder why they were not being paid for allowing others to use their land."
In 1976, Cobell became treasurer of the tribe and was responsible for repairing a system that many would say was set up to fail and in "total chaos," as she told the LA Times in 2002.
To put things into perspective, this system was designed as part of the 1887 Dawes Act implemented under the Grover Cleveland administration. According to the Oklahoma Historical Society's Encyclopedia of Oklahoma History and Culture, the Dawes Act was the "culmination" of U.S. government attempts "to destroy tribes and their governments and to open Indian lands to settlements by non-Indians and to develop railroads."
As the LA Times put it, "The act tried to erode the tribal system by granting parcels of land to individual Native Americans, but not allowing them to control their new property. Instead, the land was placed in trust with the promise that owners would be paid royalties for oil and gas, grazing or recreational leases."
However the Indians received little or no payment, the Times reported in 2009.
Then, on December 8, 2009, a $3.4 billion settlement to the class action lawsuit was announced. $1.4 billion of the settlement was allocated to the Native American plaintiffs in the suit, and up to $2 billion was allocated for re-purchase of lands distributed under the Dawes Act.
President Obama signed legislation authorizing government funding of a final version of the $3.4 billion settlement in December 2010, raising the possibility of final closure after fourteen years of litigation.
This June, a federal judge approved the $3.4-billion settlement. It is the largest payment Native Americans have ever received from the U.S. government.
The settlement has yet to be distributed to the plaintiffs due to the complications in allotting such a widespread settlement with over 500,000 tribal members claimed. Cobell is among many who will never see the culmination of her work of mettle and courage.
Cobell will be remembered by her husband, Alvin; son, Turk; brother Dale Pepion; sisters Julene Kennerly, Joy Ketah and Karen Powell; and two grandchildren; as well as by millions of Native Americans around the country.
Photo: Elouise Cobell, in front of an oil well on the Blackfeet Indian Reservation near Browning, Mont., Sept. 8, 1999. (AP/Ray Ozman)