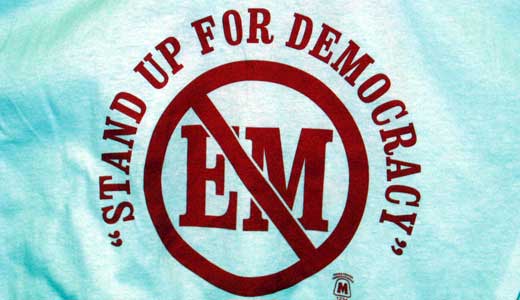 DETROIT – "In Pontiac [the elected officials] laid it out. They said 'we're locked out. We can't serve our people anymore. Our water rates are going up 25 percent. We no longer have a planning and development department. We no longer have a say in our downtown development.'"
"In Benton Harbor, a city with over 40 percent unemployment, they said, 'We have no voice in Benton Harbor.'"
That testimony came from Michigan Forward CEO Brandon Jessup at a Dec. 2 press conference entitled "Stand up for Democracy." Jessup, and others at the press conference, attacked the growing implementation of Public Act 4; the bill passed in March allowing Michigan Republican Gov. Snyder to appoint Emergency Managers to run Michigan's financially distressed communities.
As the examples of Pontiac and Benton Harbor show, when Emergency Managers assume control of local governments, the elected city council loses its power. Labor contracts can also be amended and city assets sold. Southfield Mayor Brenda Lawrence said, "This is truly about democracy and the right we have to elect and hold accountable our elected officials."
What is now sending shockwaves through the state is that the governor is reviewing Detroit's finances, a step that could lead to his appointing an emergency manager for state's largest city.
"Our cities are under attack from this administration on all ends, and all are holding on by a thread," said Lawrence. She noted the foreclosure crisis and declining property values have resulted in cities having less revenue. As if to add insult to injury, she said, "On top of that, the state cuts our revenue sharing."
On Dec. 1, Gov. Snyder's Emergency Manager appointment for Flint becomes effective. In September, Jessup said, he and others met with officials in Flint who told him "our deficit is only $2 million." Jessup said they asked, "What's the difference between our city and Allen Park or Jackson (cities that are not majority minority like Flint, Pontiac and Benton Harbor) who have a deficit upwards of $100 million, yet they don't live under an Emergency Manager nor the threat of having their public assets sold."
Detroit NAACP President Rev. Wendell Anthony also asked why communities of color are being singled out and suggested it was a violation of the constitution. If Detroit comes under the rule of an emergency manager, close to one-half of all African Americans in the state would live in a municipality ruled by Emergency Managers.
Anthony said the Republican Party is more concerned with an ultra conservative agenda than solving the financial crisis. He indicated that if the issue of the emergency manager is rooted in financial distress, the governor himself would be out of a job as the state of Michigan has its own financial crisis.
He also noted the crisis of government does not stop at the state's borders. "We have a nation in distress, a totally dysfunctional congress more concerned with eliminating the job of one man in the White House then providing jobs for 14 million in our own homes."
More than one speaker said we were asleep at the wheel when Republicans swept state races a year ago. Issuing a call to not to repeat the same mistake in 2012 Lawrence said, "Elections do matter."
Herb Sanders, legal director for AFSCME Employees Council 25 said 161,000 certified signatures are needed to have a statewide vote on Public Act 4. Petitioning has been ongoing for the past several months and the aim is finish the drive over the next two weeks, deliver the petitions to Lansing on Jan. 15, and tell the governor, "This is what democracy looks like."
Photo: John Rummel/PW