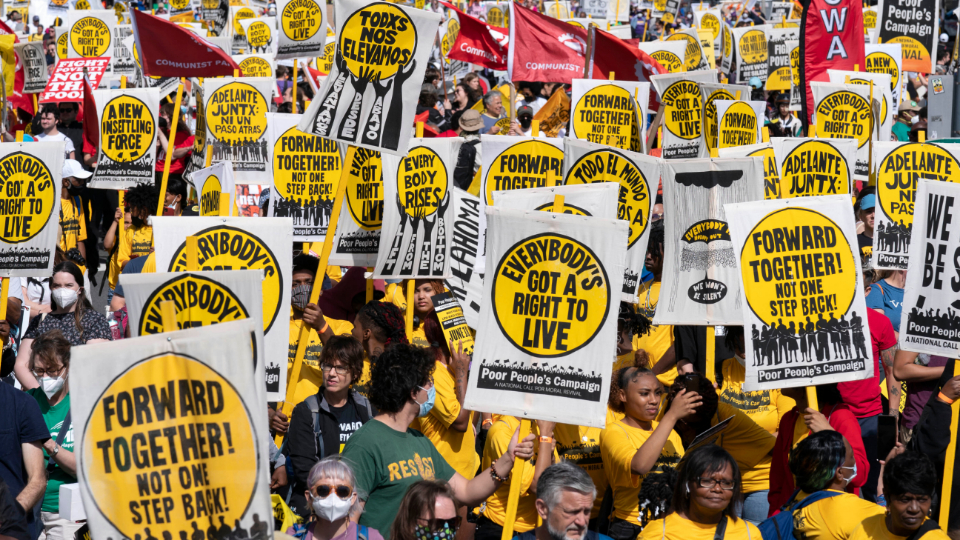 The growing alarm over the Republican Party's assault on U.S. constitutional democracy has created a new political framework for the 2022 elections. According to the latest polls, the anti-MAGA majority is "awakening" and reshaping the midterms into a competitive election rather than a Republican wave.
The shift is occurring despite the overall drop in support for President Joe Biden. Biden's 39% approval rating and even the report that 85% of people think the country is on the wrong track aren't translating into support for MAGA Republicans. Biden still leads Trump 44-41% in a hypothetical 2024 rematch, and 92% of Democrats say they will vote for him if he's the candidate (although a majority think he should not be). These polls suggest factors other than inflation and disappointment in the administration's achievements motivate many voters and shape how they will cast their ballots.
Under conventional thinking, the mid-term election following a presidential election is unfavorable to the president's party. But according to election strategist Simon Rosenberg, these are not normal times, and this is not a typical mid-term. The danger to democracy and broad opposition to MAGA policies is emerging as the most crucial driver of this election. The anti-MAGA majority, which turned out in record numbers in 2018 and 2020, is being aroused again.
According to Rosenberg, the shift in the electorate began in response to the Uvalde elementary school massacre. It accelerated after the extremist Republican Supreme Court majority struck down the federally guaranteed right to an abortion. Since then, voter alarm and anger have been growing in reaction to other SCOTUS decisions, including the weakening of the Environmental Protection Agency's ability to regulate pollution and broadening access to firearms amid a wave of gun violence massacres and daily carnage.
In response to these developments, Democratic voter enthusiasm is spiking, and support for the GOP, out of step with most Americans on issue after issue, is eroding. For example, 63% of Americans support a national law guaranteeing the right to an abortion. Independent voters' favorable views toward the GOP dropped by 24% in weeks.
Meanwhile, the ongoing House Select hearings on the Jan. 6 insurrection widely expose the massive conspiracy to overthrow the 2020 election led by Trump, involving hundreds of GOP elected officials and fascist militias. Simultaneous investigations by the Department of Justice could result in criminal charges against GOP elected officials, top Trump administration officials and advisors, and Trump himself.
The latest independent polls show Democratic candidates for the U.S. Senate leading or tied in every battleground race. Democrats could pick up enough seats to form an anti-filibuster majority. Similarly, Democratic candidates for governor are leading in critical swing state races. The race for governor in Texas, where Beto O'Rourke (D) is challenging Gov. Greg Abbott (R), and Georgia, where Stacy Abrams (D) is challenging Gov. Brian Kemp (R), has tightened.
Horrendous candidates, often with the blessing of Trump, further weaken the GOP position, including extreme, Nazi-loving, gun-toting, fringe, corrupt, or inept candidates in Pennsylvania, Georgia, Ohio, Arizona, Nevada, Wisconsin, and Missouri.
Democratic Senate candidates lead in Georgia, Arizona, Nevada, New Hampshire, and Pennsylvania (a Democratic pickup). In Wisconsin, incumbent Sen. Ron Johnson (R) is losing to three of four Democratic candidates even before the Aug. 9 primary, a deeply worrying sign for the GOP. Johnson is implicated in the fake elector scandal and could face felony charges.
Since the Supreme Court ruling on Roe v. Wade, support for Democratic House candidates has shifted by 5% in generic polling. Democrats now lead narrowly, but extreme gerrymandering by Republican state legislatures still gives Republicans a structural advantage, although not as much as initially feared when redistricting began. But the federal ban on abortions, in particular, harms GOP candidates in swing districts, and particularly among women voters.
Defending the Democratic House majority is essential. A GOP MAGA majority would kill all Democratic legislation, conduct endless Bengazi-style hearings, and, perhaps most dangerously, oversee the vote count after the 2024 elections. The MAGA Supreme Court majority will rule on the "independent state legislature theory" during its next term. If this is adopted, U.S. elections would radically change, giving state legislatures the right to overthrow the voter's will. A Democratic House and Senate could pass legislation to block this.
With nearly four months to go until the election, the dynamics of the race can still change, especially if the economy nosedives. But the political atmosphere is likely to worsen for Republicans as they double down on even more extreme and cruel policies and the consequences become visceral.
For example, GOP legislators want to criminalize women who cross state borders for an abortion, restrictions opposed by 70% of Americans. Over 90% oppose a total ban on abortions, including if the mother's life is at risk, rape, and incest. Support for MAGA peaked at 47% in the last two presidential elections, and it's hard to see the GOP winning new voters offering these policies.
Another factor that conventional pundits ignore is the grassroots mobilization of the multi-racial mass democratic anti-MAGA electoral coalition in many states. These coalitions represent the coming together of reproductive freedom, voting rights, gun safety, environmental justice, and labor movements to create a powerful political force working with the Democratic Party to create a powerful political force.
In Georgia, a battle-tested broad coalition is powering the grassroots campaigns of Abrams and the re-election of Sen. Rafael Warnock. This coalition has been registering, mobilizing, and educating voters for ten years and is committed to year-round organizing, building alliances, and working across the state. The victory in 2020 was no fluke.
The Wisconsin Democratic Party and its allies employ a similar strategy, which has resulted in winning multiple statewide contests, including the election of Gov. Tony Evers (D) in 2018 and Biden in 2020, despite the GOP controlling the state assembly and Supreme Court.
In Michigan, a coalition supporting reproductive freedom collected a record number of signatures for a ballot initiative to amend the state constitution guaranteeing abortion rights. Fifty-nine percent of Michiganders support the amendment, and it's particularly galvanizing women voters. Gov. Gretchen Whitmer (D) has a sizeable lead over her GOP challenger.
The anti-MAGA majority, led by the mass democratic movements and working in alliance and through the Democratic Party, can go on the offensive in this new election environment. Just suppose these movements and top Democratic leaders like President Biden, Speaker Nancy Pelosi, and Senate Majority Leader Chuck Schumer clearly articulate the election stakes, offer a sharp contrast to Republicans, and go all out to mobilize voters.
In that case, the American people can deal the fascist menace a historic setback.
As with all op-eds published by People's World, this article represents the opinions of its author.