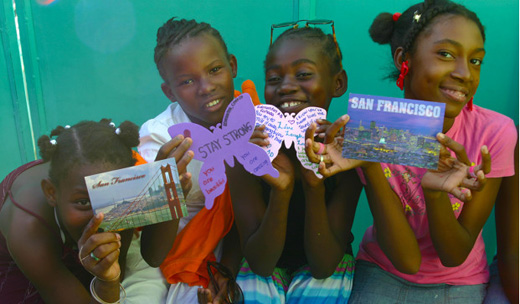 One could argue that we live in a world where young girls are taught from an early age that their voices, opinions, and thoughts aren't as valuable as those of their male counterparts. They are taught that their value comes from how much they can be objectified.
The embedded sexism in our system can be hard to combat. Many people, throughout the decades, have challenged it in a variety of ways. One of the less-highlighted ways is through art as activism.
This is where painter Kelly Sullivan comes into the picture. Sullivan, a New Jersey artist, is using her project, Mighty Fingers Facing Change, to make bold strides across the globe to empower young women in order to create a stronger society.
This campaign, a large mural project that connects young women across the world, has already traveled to Quetzaltenango, Guatemala, Edmonton, Canada, San Francisco, Calif., Jackson, Wy., Port-Au-Prince and Jacmel, Haiti, and Santa Caloma, Spain. This December they are aiming to make Uganda their seventh location.
In a recent interview we were able to talk with Sullivan on the importance of the project, about feminism, and about art as activism. She's had a number of celebrities be a part of FingerSmear, inclusing Bruce Springsteen, Carol Burnett, Harrison Ford, all of the Rolling Stones, and more. Yet her focus stays on the young women, and what giving them a voice in their own lives through art can contribute to the world.
How did FingerSmear get started?
"I moved to California when they had just begun cutting art education funding in public schools, which was a really bad idea. Particularly for the kids in more challenging environments. These kids need a safe space to express what they go through. Art provides that. It encourages critical thinking. Teaches them about turning ideas into reality. First statement I made was at an art festival at Fort Mason that I organized. We had very little money. We couldn't afford having many brushes, so that's where the first finger smear came about. The idea took off from there, and I've been creating these collaborative painting projects for twenty years since."
Why the focus on adolescent girls?
"I was an adolescent girl at one time, having to deal with being told that if I pursued this "art thing" that I would end up living on the streets of New York in a refrigerator box. My parents wanted me to go to nursing school. Something stable. I obviously didn't listen to that. I'm trying to take this painting around the world. All the girls do a piece of art about themselves, add to the large piece that goes to the next location, and also do an exchange to take to the next location as well.
For some of them its the first time they've ever put their hands in paint before. Or its the first time they've been allowed to express themselves through symbolism and art. Or to direct the art materials based on their thoughts and feelings. No matter the socio-economic status they come from, they all walk away feeling better about themselves. They're happy and they're smiling. Its done on a bag intentionally so they can fill the bag with whatever they want to (poems, letters, etc) so they can go back to those bags and check in. To remind themselves of their life and about keeping around the people that support them, and getting away from the ones that don't.
Would you say this is a feminist project?
I never thought about labeling it like that. Its certainly a project to empower young women. I have no problem with the word feminism. Thank God it exists, or else… Its an art based initiative geared towards growing stronger females around the world. If that's feminist, then sure.
Why go international with this project? Doesn't it cost more to go around the world?
It needs to be international because we are a global society. A couple of years ago I did a project for a school in Wyoming. The grant was originally for recycling. They asked me to be the resident artist and go for the grant. My response was that recycling is important, but if we don't learn to understand each other, we're gonna blow each other up, and it doesn't matter. That seems more important to me. So we wrote a proposal (for a global exchange) and we got it.
What is your goal? Where do you see this project heading?
Ideally I would do ten more locations, hit every continent. We're in the process of developing a package. A finger smearing kit that you can get it, and do it with your girls. You can then upload it to a site and share with others around the world. It would take some managing, but I would love for that to happen at some point. Would love to raise more money, especially for the girls (such as in Haiti) who need the continued support. I would love to do that, but I don't know how as just one woman.
Do you think art has to be connected to activism?
I think art, on its own, is beautiful and important. Art doesn't have to be tied to activism. I think it makes activism stronger. The art will make any project far more powerful. For me, to just paint, just putting paintings in a gallery, I don't think I would be inspired by that as the totality of my lifetime.
What's the one message the public should take away from this project?
Community and connection as a human is incredibly important for a healthy productive survival. We need strong communities. Women tend to be better at creating and maintaining them. Adolescent girls are key to that. A girl who is inspired and empowered… Art is the power that helps in that. I think art is part of the four basic needs; food, shelter, water, and art. If the world had more of it, it would be a better place. Money goes to the wrong places, and not enough to art education. Its an incredibly powerful thing that gets far too little resources.
For more information on how to help with the funding for Mighty Fingers Facing Change you can visit https://www.indiegogo.com/projects/mighty-fingers-facing-change-uganda#/.