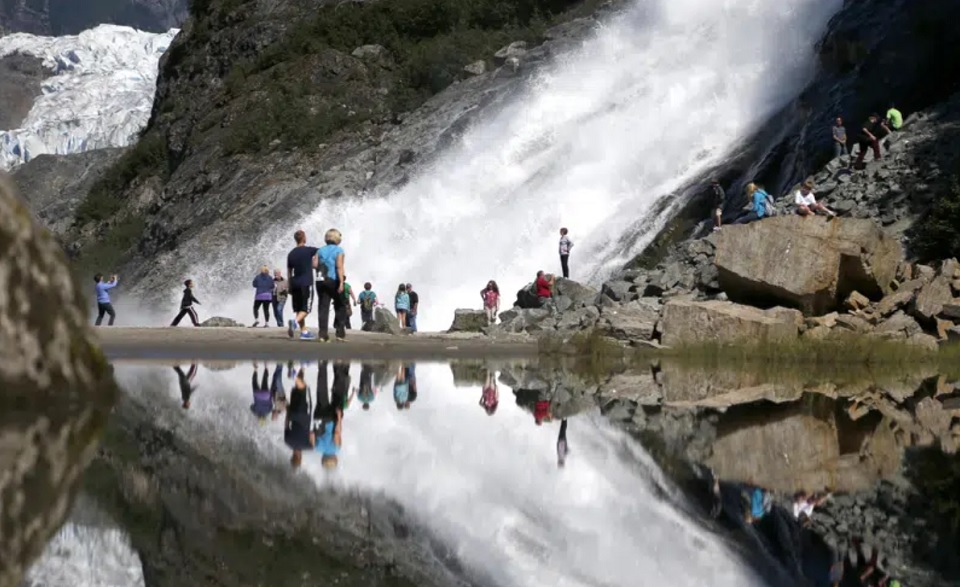 JUNEAU, Alaska (AP) — A federal agency said Wednesday it is reinstating restrictions on road-building and logging on the country's largest national forest in southeast Alaska, the latest move in a long-running fight over the Tongass National Forest.
The U.S. Department of Agriculture in late 2021 announced that it was beginning the process of repealing a Trump administration-era decision that exempted the Tongass — a rainforest that is also home to rugged coastal islands and glaciers — from the so-called roadless rule. The agency on Wednesday said it had finalized that plan.
The new rule will take effect once it is published in the Federal Register, which is expected to happen Friday, said agency spokesperson Larry Moore.
The Tongass is roughly the size of West Virginia and provides habitat for wildlife, including bears, wolves, bald eagles, and salmon.
Roadless areas account for about one-third of all U.S. national forest system lands. But Alaska political leaders have long sought an exemption to the roadless rule for the Tongass, seeing the restrictions as burdensome and limiting economic opportunities. They supported efforts under former President Donald Trump to remove the roadless designation for about 9.4 million acres on the Tongass.
Republican Gov. Mike Dunleavy on social media Wednesday said people in Alaska "deserve access to the resources that the Tongass provides — jobs, renewable energy resources, and tourism, not a government plan that treats human beings within a working forest like an invasive species."
The dispute goes back more than two decades.
The U.S. Department of Agriculture, in revisiting the issue, cited a directive from President Joe Biden at the start of his term to review and address rules enacted under Trump that might conflict with environmental and climate aims laid out by Biden.
U.S. Agriculture Secretary Tom Vilsack in a statement called the Tongass "key to conserving biodiversity and addressing the climate crisis. Restoring roadless protections listens to the voices of Tribal Nations and the people of Southeast Alaska while recognizing the importance of fishing and tourism to the region's economy."
Conservation groups and southeast Alaska tribal leaders applauded the change.
Joel Jackson, president of the Organized Village of Kake, said in a statement: "We are tied to our lands that our ancestors walked on thousands of years ago. We walk these same lands and the land still provides food security — deer, moose, salmon, berries, our medicines. The old-growth timber plays an important part in keeping all these things coming back year after year; it's our supermarket year around. And it's a spiritual place where we go to ground ourselves from time to time."
People's World has an enormous challenge ahead of it—to raise $200,000 from readers and supporters in 2023, including $125,000 during the Fund Drive, which runs from Feb. 1 to May 1.

Please donate to help People's World reach our $200,000 goal. We appreciate whatever you can donate: $5, $10, $25, $50, $100, or more.