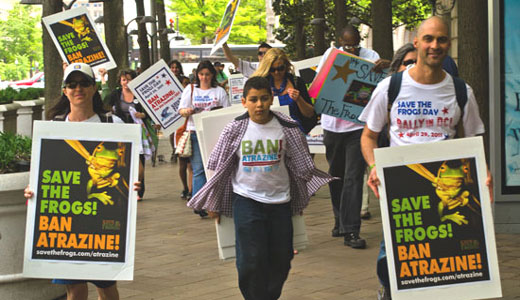 On June 12, the U.S. Environmental Protection Agency will hold a Scientific Advisory Panel public meeting in order to determine how best to respond to the ecological risks posed by atrazine, one of the most widely used herbicides in the U.S., according to a press release by Save the Frogs. The EPA is seeking comments from the public on a potential ban of the chemical.
Atrazine – produced by Swiss agrochemical corporation Syngenta – has been banned in the European Union since 2004, but in the U.S., approximately 80 million pounds of it are used during a year, including on golf courses and lawns. This makes it the most commonly detected pesticide in American groundwater. It is used primarily on corn, sugarcane, and rice. Over half a million pounds of atrazine, moreover, are redistributed each year, mixed with rain and snow, after it is caught in the airstream after spraying.
The herbicide poses serious multiple health hazards: It has been proven to cause immunosuppression, hermaphroditism, and complete gender reversal in male frogs. It has also been associated with reproductive defects in fish, prostate and breast cancer in rodents, and recent epidemiological studies conclude that it is also carcinogenic to humans. To make matters worse, atrazine is a persistent chemical; it is still detectable in France 15 years after its last usage there.
Syngenta – the largest agrochemical producer in the world – have established a nasty reputation for aggressively selling numerous toxic products, most of which have had acute or chronic effects on farmers who regularly use them, reports The Public Eye.
And Syngenta's hard push doesn't end with marketing and sales; the EPA tried to ban atrazine once before, but the corporation arranged 50 meetings behind closed doors with agency members and managed to avoid the ban. Syngenta has been linked with fierce lobbying efforts and known to conduct smear campaigns on scientists who call out their irresponsible products.
The most recent of these incidents occurred in May, after a new documentary called "Last Call at the Oasis" debuted, highlighting the water pollution in the U.S. Midwest that is a direct result of atrazine's poison. In response, Syngenta launched a PR counter-attack, downplaying the environmental effects of the herbicide and putting up a website called "Saving the Oasis." The obvious jab at the documentary's title not withstanding, the project is using paid spokespeople posing as independent experts and researchers to tout atrazine as environmentally beneficial, and a "job creator."
Headquartered in Basel, Switzerland, the agrochemical giant took in approximately $1.4 billion in profits in 2010 alone. Because its pesticides are banned in Europe, most of the company's profit is acquired from sales of the chemicals in other countries – namely, the U.S. Because of this, many activists have slapped Syngenta with the slogan, "Selling elsewhere what can't be sold at home."
The documentary in question, meanwhile, has been bringing to light a real issue regarding water contamination. EPA results from water sampling across four states (Illinois, Nebraska, Iowa, Minnesota) have indicated that atrazine is still being found there. Furthermore, average results demonstrate that levels of atrazine found in drinking water are five times the level associated with adverse health effects, like low birth rates in infants.
On Apr. 29 – marked by many activists as international Save the Frogs Day, demonstrators gathered at the steps of the EPA headquarters in Washington, D.C. There they called attention to the negative and life-threatening effects atrazine is having on frog life – amphibians worldwide have been rapidly declining, which many correlate to the use of these types of pesticides. The activists also called for a federal ban on atrazine.
Dr. Kerry Kriger, founder and executive director of Save the Frogs, then led a rally there, and hand-delivered 10,012 petition signatures to the EPA's Pesticide Division the very next week.
"Now that we have the EPA's attention," said Kriger, "we are a large step closer toward protecting our food supply, our drinking water, and our wildlife" from this chemical. "However, only a few percent of Americans have ever heard of atrazine, so raising awareness of the issue is critical if we are to overcome the lobbying power of the billion-dollar agrochemical giants" like Syngenta.
Photo: Activists join a rally in Washington D.C. on Apr. 29. Savethefrogs.com