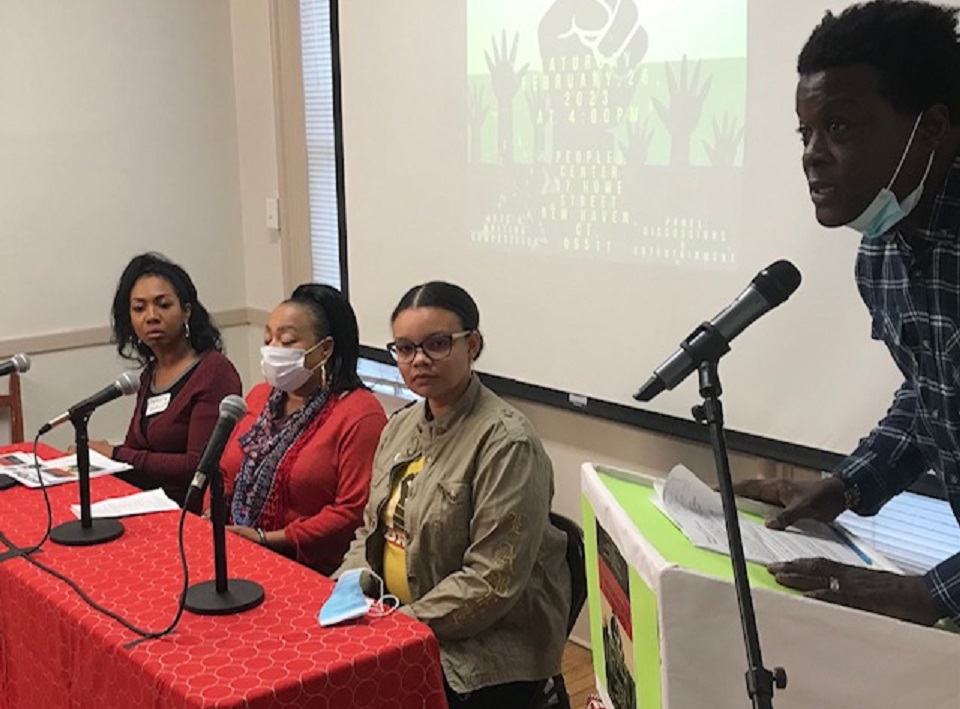 NEW HAVEN, Conn – The New Haven Peoples Center which serves as a home for social justice, labor organizing, education, culture, and peace, was filled to capacity on a cold windy February afternoon as attendees of all ages and walks of life arrived for the 49th annual Peoples World African American Celebration, rightfully titled, The Power of Youth. The Power of Collective Action, the Third Reconstruction 2023: Equity Requires Revenue."
This year's celebration focused on pushing forward the demand to reconstruct our society from the bottom up to undo the injustices of centuries and address inequities for Black and Latino and Asian Pacific Island and Native Americans.
As the seats started to fill, a traditional African drum set performed by renowned musician/drummer, Brian Jarawa Gray and Friends welcomed everyone.
The emcee of the evening was Mary Thigpen, a member of the Art Perlo Yale Workers Club, who spoke to the crowd on the importance of upholding the legacy of Black History Month, carrying the freedom struggle forward, and upholding the teaching of Black history and the histories of all oppressed people and LGBTQ people now under attack by the extreme right-wing.
Soon after Tonya Ricks, a member of Unite Here Local 34 at Yale, came to the podium to open up the program with a lovely rendition of "Lift Every Voice and Sing." The crowd rose to their feet to sing along word for word with Tonya.
Two of the judges, Vanessa Glenn-Person and Susan O'Leary, presented the winners for this year's arts and writing competition entries for students grades 8-12, the highlight of the event. The theme was "The Power of Youth: The Power of Collective Action."   The second-place winner, Eva Berthelot-Hill recited her poem and the first-place winner Carlos Munoz described the meaning of his artwork.
After, the Recovery For All CT coalition was presented to the audience by Jahmal Henderson, a member of Unite Here Local 217, union steward and organizer for the Connecticut Communist Party. He started the conversation off with an introductory speech on the importance of the third reconstruction and the demand for racial equity and economic justice for all.
"Tax the Rich is a demand for racial equity. It is a demand for economic equity, and it is a demand for our future. It is a demand for the Third Reconstruction," he said.  Panelists Alicia Hernandez Strong from the New Britain Racial Justice Coalition, Stephanie Deceus from 1199 health care workers union, and Jill Marks from New Haven Rising represented organizations that are part of Recovery for All.
Henderson then presented three rounds of questions to the panelists.
Alicia Hernandez-Strong, executive director of the New Britain Racial Justice Coalition spoke about the importance of unity among the working-class people in central Connecticut and approaches towards achieving funding for schools and housing, mutual aid programs, and services for prisoners returning home.  She described how organizing pushed the legislature to end charges for phone calls to prisoners, making Connecticut the first state to win that victory.
Asked what the Third Reconstruction means to her Hernandez-Strong said "it starts with community members recognizing the inextricable link between capitalism and racism. The Third Reconstruction is multi-racial solidarity."  She said her organization is committed to "help and teach people how to do the organizing work so they can do it in their own communities".
Local 1199 organizer/ leader Stephanie Deceus emphasized that healthcare benefits are needed for long term care workers struggling, still in poverty, and trying to make ends meet.  She said she realized that a winning multi-racial movement was being built when white union members voiced their understanding that the reason benefits were so hard to win is that the majority of long term care workers are Black women, and the fight for equity for Black women is a fight for all workers.
"We must build a social safety net that protects everybody, the State of Connecticut has so much money.," said Deceus calling on those present to testify at public hearings at the state legislature for a budget that funds affordable housing, health care for all, safer communities and an end to poverty wages by taxing wealth.  "We all deserve to be treated like human beings," she said.  "Enough is enough."
Jill Marks, organizer and activist with New Haven Rising, stressed better access to good paying jobs and livable wages for impoverished communities of color in New Haven, the need for more opportunities for young people, and the constant demand to hold Yale University accountable for providing more employment opportunities to New Haven residents, especially those of color.
"We have to talk more about the issues that cause disparities in our communities, rich people getting richer, not paying taxes, poor people getting poorer. At the Poor People's Campaign Moral March, I saw people unite together and we were happy to join them. Third Reconstruction means to me, more consolidated togetherness and showing big world love," said Marks.
"We're looking for people ready to stand up and fight," she said.  "When we fight we win."
Miguel Garcia. a student who has been bringing the Connecticut People's World newsletter to families in the Dwight Edgewood neighborhood of New Haven each week, called for contributions toward the fund drive. Those present dug into their pockets as the collection buckets were passed along row by row through the crowd.
For the program finale, African-American youth dancers Diamond Hula and Earl Ali Randall performed and the celebration closed with poet/activist Sun Queen sharing a few pieces of her poetry.
People's World has an enormous challenge ahead of it—to raise $200,000 from readers and supporters in 2023, including $125,000 during the Fund Drive, which runs from Feb. 1 to May 1.

Please donate to help People's World reach our $200,000 goal. We appreciate whatever you can donate: $5, $10, $25, $50, $100, or more.