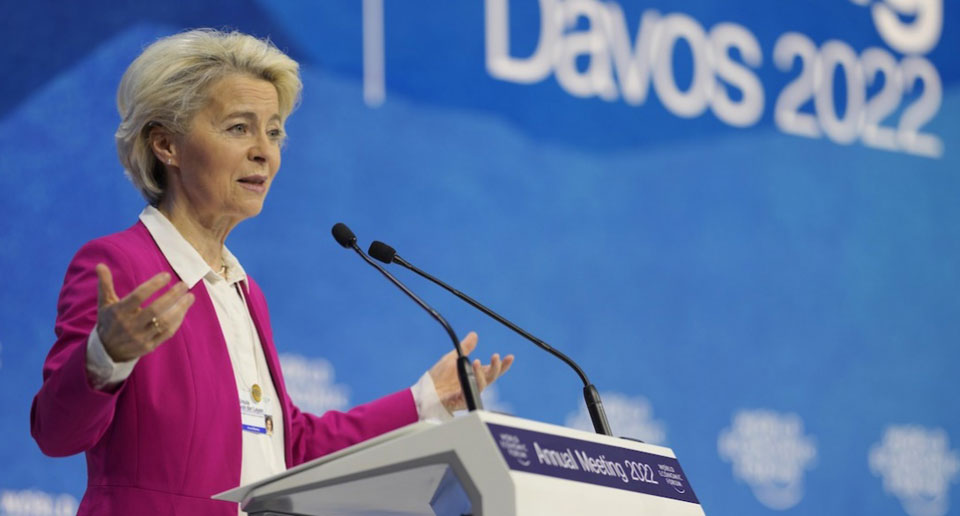 European Union chief Ursula von der Leyen has performed a U-turn over a ban on Russian oil, saying that it would be wiser to continue imports.
In an interview broadcast on MSNBC Saturday, she said the EU would do more damage to Russia by continuing to buy Russian oil than via an embargo.
"What we also always have to do is find the right balance between not hurting our economy too much, because this is the strongest leverage we have against this Russian aggression, [President Vladimir] Putin's aggression," she said.
The European Commission president said there was a need to think strategically about how the EU approaches the topic of Russian oil. She had previously insisted it would be cut off entirely by the end of the year.
If the EU completely banned Russian oil imports immediately, she said, Putin might be able to take the oil that he does not sell to the EU to the world market and sell it for more, filling his war chest.
Von der Leyen would not say how long it would be before a full embargo could be implemented.
"Over time, what we do is get rid of the overall dependency of Russian fossil fuels and never go back," she said.
Oil divisions
However, her hopes that the rest of the world will join an embargo of Russian oil have been dashed, with most of the international community rejecting such an approach.
On Saturday, South Korea's state-run gas company Kogas said it would continue to buy Russian liquified natural gas and had no issues, with Moscow accepting payment in dollars.
Serbia, meanwhile, has rebuffed the EU's calls for global sanctions and has landed what it calls an "extremely favorable" oil deal with Russia, President Alexander Vucic announced on the weekend. Vucic said the deal was reached in a phone call between himself and Putin.
It is expected that the deal will be signed by both sides at a June meeting in Belgrade with Russian Foreign Minister Sergei Lavrov.
"What I can tell you is that we have a three-year deal that is very favorable to Serbia," Vucic told reporters Sunday. Serbia is not a member of NATO, and opinion polls there show people favoring good relations with Russia. They have bitter memories of the days when NATO bombers attacked their country during the days of the Clinton administration.
Vucic said he told Putin that he "hoped peace would be achieved soon in Ukraine." Serbia depends on Russian gas, and its energy companies are owned by Russia. It is not clear how Serbia will get the Russian gas since the EU says it will eventually shut off supplies that travel by pipeline over its member states, through which gas would have to pass to reach Serbia.
On the issue of new and broader sanctions against Russia, EU chiefs are due to meet Tuesday and Wednesday, when they will discuss a new Russian sanctions package.
But Hungary was set to veto a ban on Russian oil, with Prime Minister Viktor Orban having outlined his opposition last week. There are reports that the EU will have to design some type of carve-out for Hungary.
Urban, a right-wing autocrat, has long backed Putin on many issues. But neighboring Poland, also run by a right-wing autocratic government, is on the opposite side, having called for stepped up arming of Ukraine to fight the Russian invasion.
Because of their repressive policies, both countries are in violation of EU requirements for member nations that they meet minimum democratic standards. Other than verbal criticism, however, the EU has taken no action against either country. In reality, it allows not just Poland and Hungary but also countries like Latvia, Lithuania, Estonia, and Turkey, where political opponents are jailed and opposition parties are banned, to continue their EU membership and to host NATO weaponry on their soil.
Italy's economy is sliding into a recession which, according to the government, would worsen if they ban Russian oil. Rome has said that a total ban on Russian oil will cost 500,000 jobs. Germany says it is braced for similar losses in the event of bans on Russian oil. French President Emmanuel Macron has said he will continue to try talking to Putin about ending its invasion of Ukraine.
Germany ups military spending
Meanwhile Germany, as a member of NATO, has been forced to amend its constitution. One of the requirements NATO imposes on its members is that they give up their control over how much money they spend on defense.
The amendment allows Germany to create a "defense" fund of $100 billion Euros in order to meet targets set by NATO, the Finance Ministry announced this weekend.
The ruling Social Democratic-Green-Free Democratic coalition by itself did not have enough of the two-thirds vote required in parliament to amend the constitution but was apparently able to gain enough votes from the opposition Christian Democrats to do it. The 35 Left Party members of parliament were a solid block against the amendment.
Negotiations with the opposition center-right were led by the Green Party member, Foreign Minister Anna Baerbock. The extra money will allow Germany to meet military spending requirements set by NATO. With the amendment, Germany essentially meets the demands Donald Trump made on Chancellor Angela Merkel when he was president. Trump then wanted a minimum of 2% of Germany's budget spent on defense. The same figure is demanded now by NATO and the Biden administration.
Chancellor Olaf Scholz announced the plans at the World Economic Forum in Davos, Switzerland on Thursday, citing "the new conditions created by Russia" in Ukraine.
He said the move was needed to defend Germany, which has not been threatened with attack. Polls show concern is growing among large sections of the German public that a new arms race in Germany will seriously impact already shortchanged social programs in the country.
Defense contractors are apparently anxious to sell Germany systems that allegedly defend against incoming ballistic missiles. The Pentagon and U.S. defense companies are in talks with the Germans about this but have released no information other than that they are talking.
The peace movement in Germany has been loud and clear in expressing its position that the U.S. medium-range nuclear missiles currently positioned in their country, not theoretical attacks on Germany, pose the greatest threat. U.S. missiles in Germany are there under the guise of NATO and make the country a prime target if there ever was a war.
Another requirement NATO imposes on member countries is that they give up control over decisions to place weapons on their territory. Between that and the requirements on military spending, a significant sacrifice of national sovereignty is required of a country when it joins NATO.