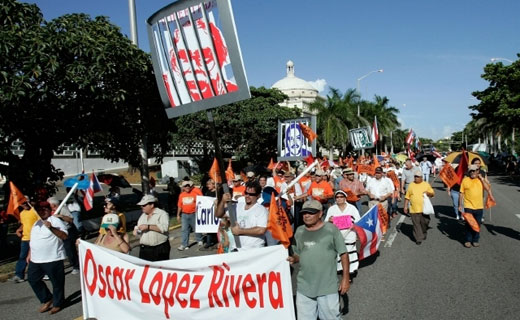 ORLANDO, Fla. – Supporters of Puerto Rican independentist Oscar Lopez Rivera marked the 32nd anniversary of his imprisonment on May 28 with events in Orlando, Chicago, New York, New Jersey, Puerto Rico, Washington, D.C., and other places.
They added their voices to the swelling chorus saying ¡Basta ya! (Enough is enough!) and demanding Libertad para Oscar (Freedom for Oscar), through a pardon from President Barack Obama, for Lopez, 70 – the longest-held political prisoner in the history of Puerto Rico.
The Central Florida event, a candle-light vigil, organized by the Orlando chapter of the National Boricua Human Rights Network, was held at a church in east Orlando.
Lopez's struggle and sacrifice make him an inspirational figure for many Puerto Ricans, who compare Lopez to former South African President Nelson Mandela, who spent 27 years in prison for resisting that nation's apartheid regime. Many of his supporters believe that Lopez's real "crime" was advocating for the independence of his homeland.
"Oscar's not a criminal," said Carlos Rodriguez, of the NBHRN (Orlando). "He's just a guy who was talking about the freedom of Puerto Rico."
"We have been held as a colony of the U.S. for 115 years," said Rodriguez, adding that Lopez is "no different from Simon Bolivar and George Washington" and other leaders who helped liberate their nations from colonial powers.
Colonialism is "a monumental injustice according to the norms of civilized humanity and a crime under international law…that constitutes a violation of the charter of the United Nations…No nation…has the right to take over another nation," said Lopez at his 1988 trial for conspiracy to escape from federal prison. Some believe that case resulted from "a plot conceived and carried out by government agents and informants/provocateurs." Lopez was sentenced to an additional 15 years, to be served after the 55 years he had received earlier.
At this stage, Lopez's only hope for freedom lies in a pardon from President Obama. His release enjoys wide support among Puerto Ricans, on and off the island, as well as from international dignitaries such as South African Archbishop Desmond Tutu.
In a letter to President Obama, Tutu wrote that "after more than 30 years, Oscar Lopez Rivera is in prison for the crime of seditious conspiracy, conspiring to free his people from the shackles of imperial injustice. Now is the time for his immediate and unconditional release. In working for reconciliation and peace, we once again feel compelled to repeat the biblical call of Isaiah to set free those who are bound."
"The release of … Oscar López Rivera, after 32 years in prison, is an issue directly related to the basic principles of social justice, humanity and compassion," said Puerto Rican Gov. Alejandro Garcia Padilla in a prepared statement. "Justice demands his release." Garcia also raised the issue of a pardon for Lopez during a meeting with Attorney General Eric Holder on June 10.
"The Puerto Rican People, no matter what party they are, they want Oscar Lopez back–back to his family," said Rosario Martinez, of the NBHRN (Orlando). "He's never had a chance in the last 32 years to have a Christmas, to go to the beach, to have a family reunion."
Lopez is a decorated Vietnam veteran and former community activist working on issues of poverty, discrimination, education, and police brutality in Chicago's Puerto Rican neighborhoods.
He was arrested in 1981, and convicted of seditious conspiracy, for allegedly being part of an underground group, the Armed Forces of National Liberation (FALN, in Spanish), which engaged in armed resistance in the 1970s for the independence of Puerto Rico. Lopez was sentenced to 55 years in federal prison. He was not convicted of participating in any acts that caused injury or death to any one.
Lopez spent 12 years in solitary confinement in conditions that the NBHRN says were "not unlike those at Guantanamo under which 'enemy combatants,' are held, conditions which the International Red Cross, among other human rights organizations, have called tantamount to torture."
While in federal prison, Lopez has been denied permission to attend the funerals of his father, mother and sister, and has had his life endangered from substandard medical care. After his release from solitary confinement and transfer to a federal prison in Terre Haute, Ind., the abuses against Lopez have continued, which he detailed in this statement:
"Since I have been in the gulags all of my communication has been intercepted and monitored, including my legal mail. My family has been persecuted and criminalized….
"The last 14 years I have spent in this gulag, Terre Haute. And the harassment has not stopped. Several times my art materials have been confiscated or lost, art work destroyed, family visits stopped, and I still have to report to the jailers every two hours.
"In those 14 years, in spite of all the provocations and harassment, the jailers haven't been able to accuse me of committing any infractions. But that doesn't stop them from doing what they've been doing to me for the past 31 years. And I'm fairly certain the other political prisoners continue experiencing the same treatment and conditions."
Those interested in learning more about Rivera's life and struggle may want to check out Oscar Lopez Rivera: Between Torture and Resistance, a book released in February. It was edited by Lopez's lawyer, Luis Nieves Falcon, and is based upon Lopez's statements and letters he has written to Nieves and family members while in prison. The book's introduction is by Archbishop Tutu.
Letters of support only (no money or printed materials) may be sent to Oscar Lopez Rivera:
Oscar Lopez Rivera # 87651-024
FCI Terre Haute
P.O. Box 33
Terre Haute, Ind. 47808
Photo: People march for Oscar Lopez Rivera. AP