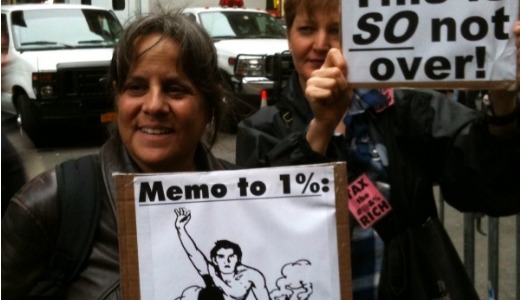 NEW YORK – "Shame, shame, shame," shouted several hundred protesters encircling Liberty Park as police arrested a few individuals attempting to enter the now seized Occupy Wall Street occupation site. The protesters were awaiting the New York state Supreme Court's decision on Bloomberg's forced eviction. The court later ruled in Bloomberg's favor.
Retired police captain Ray Lewis, who came from Philadelphia, said, "I have tremendous sympathy for those that suffer. These people are suffering while the bankers and Wall Streeters are drinking champagne while looking down on us."
Leina Bocar, 25, who hopes to return to school for her Masters degree in social work, said, "I'm here because I've been here for eight weeks and I'm protesting the raid last night. Specifically, I'm here for social and economic justice, but I'm protesting Bloomberg and NYPD for use of force and illegal seizure of property."
Sanitation workers, when asked where they were taking tents and other personal property from Liberty Park, said "to the dump," reported WBAI.
Mayor Bloomberg told 1010 WINS radio yesterday that property was being kept safe at a city location.
Jonny Cerbo of Fresno, Calif., said, "I came here to be a big part of this, and they're not going to get rid of me, especially after what happened last night. I'm sticking around for good. I plan on staying well into next year if I have to."
Student loans were a big concern of Cerbo's. "Getting financial aid has been one setback after another. That's one of the reasons I'm here. I've been unemployed since I graduated high school. It's been impossible to find a job."
He continued, "Both my parents have lost their jobs recently, but the state still thinks they are making too much money."
Laura Schleifer, whose entire family supports OWS, said, "I'm here protesting the downright fascist – there is no other word for it – eviction of a peaceful group of protesters who were sleeping in Zuccotti Park and have the legal right to be here. They have the legal right by court order as of this morning."
Robin Mahonen, a licensed social worker from Wheeling, W. Va., said, "I'm here to support our brothers and sisters in this brave struggle against corporate greed and government corruption which has sold out the 99 percent in favor of the 1 percent."
Mahonen had a private practice for 14 years but was driven out of business by HMOs. "In the last years of my practice, the HMOs made it so difficult for me to collect the money owed to me by their clients – who paid their premiums. They found every reason in the world to deny payment."
She continued, "In the last year I was collecting one-third of the services I billed. I raised four children as a single mom and the HMOs put me out of business." She then smiled, "My children support this. They are a little worried about their mother".
The next big action will take place in support of Occupy Wall Street will be Nov. 17. Over 50 organizations including many unions will participate.
Photo: Gabe Falsetta/PW