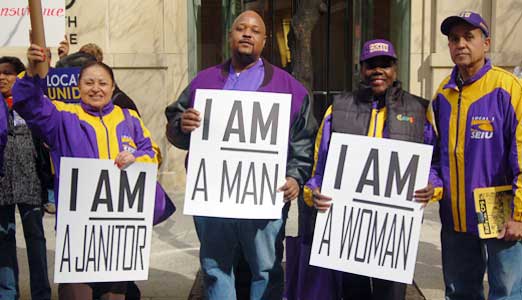 CHICAGO – They lined the cavernous streets of the financial district here, waving flags and holding signs saying, "I AM A MAN, I AM A WOMAN, I AM A JANITOR."
Only this time, it was April 4, 2012, and it was janitors, not sanitation workers, carrying the signs. With a united front of community members standing shoulder to shoulder with them, they did it here this morning in homage to the Memphis sanitation strikers Dr. Martin Luther King Jr. was leading just before his April 4 assassination 44 years ago.
"People of all faiths and people of no faith stand here with the janitors today," declared the Rev. Booker Vance, who as a youth, had worked with the iconic civil rights leader. Vance condemned "corporations that are using the financial crisis as an excuse to pay workers wages on which they cannot support themselves and their families. These men and women," he said, pointing to the hundreds of janitors holding up their signs, "deserve a living wage, and a contract, but, most of all, they deserve respect.
"It is a sin, it is an abomination, it is a disgrace when companies treat workers as though they were less than human," he declared, asking the crowd rhetorically, over and over again, "How long for justice?"
"Not long," their voices rang out in response, over and over again, evoking the memory of countless King rallies marked by the same exchange between the iconic civil rights leader and his listeners.
For the first time ever, the Service Workers' janitorial contracts in Chicago and 10 other cities expire in the same year, 2012.
The sunshine and blue skies overhead here contrasted sharply with the rain and clouds that often hung so heavily over the picket lines in Memphis in 1968.
The weather was a welcome boost to the spirits of the Chicago janitors today who had just authorized a strike if their bosses don't agree to a new contract by April 8, the date the current one expires.
"Some 13,000 janitors who clean downtown and suburban commercial buildings, Chicago Public Schools, City of Chicago facilities and Chicago's airports are fighting for wages that would enable them to pay their bills and the health care needs of their families," said Nell McNamara, a spokesperson for SEIU's Local 1. "As the janitors struggle to keep their families out of poverty, building owners and office space tenants like Bank of America and JPMorgan Chase are making huge profits."
The struggle for economic justice by 13,000 janitors in Chicago is especially significant, she said, when the overall economic situation in the city is taken into account.
Chicago has the highest poverty rate, the second highest foreclosue rate and the highest rate of racial income disparity of any major city in the U.S. Many of the city's janitors are African American or Latino.
On the 44th anniversary of the assassination of Dr. King the poverty rate in Chicago for African Americans is nearly 30 percent and for Latinos it is 20 percent.
On the opposite economic pole Chicago is home to 27 Fortune 500 companies and is sixth in the nation for cities with the most millionaires.
"These contrasts are reminders that the goals of Martin Luther King Jr. have not yet been realized," McNamara said.
Photo: John Wojcik/PW